27 Apr 2022
5 ways to get the most from your ERP system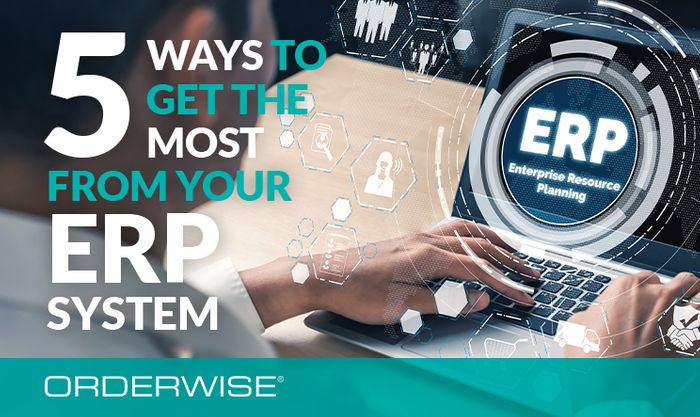 Enterprise resource planning is itself a resource. Make sure you know how to extract the most value possible.
How can you get the most from your ERP system?
Have you ever wondered how your business can maximise on it's ERP investment? Regularly reviewing the performance of sales, staff and suppliers is a given for most businesses. But what about reviewing the performance of your ERP system?
If nobody is responsible for trying to get the most from your software, how can you ever be sure you're maximising your investment?
5 ways to get the most from your ERP system.
Develop your ERP system step by step
Slow and steady wins the race: It might sound like a basic concept but developing your existing ERP system needs to be done in small fragments, one department at a time. This is a process that shouldn't be rushed or overlooked. If it is, you run the risk of missing potential quick wins.
Start by defining each department's purpose, identify their core functions, and evaluate what still needs improving. Your ERP system is invaluable when it comes to new ways of working, but it's a lot easier to implement when with a clearly defined and aligned strategy as your foundation.
2. Assemble a cross-departmental team
Don't handle the responsibility on your own. Put together a cross-functional team with key members of each department. People like to be heard, and by utilising voices from different departments and different expertise from teams such as operations, IT and accounting, you're ensuring full commitment from every corner of your business. Gathered together, this team can also ensure your ERP system is serving individual teams effectively.
Likewise, collaboration should be encouraged where possible. For example, if your ERP system allows for sales and marketing to work together in pursuit of a revenue goal then make this the focus of your cross-departmental check-ins.
3. Arrange training for your new workforce
Any modern ERP system won't stay the same for long. New updates, custom development or new rules and regulations are just a few of the factors that will affect the evolution of a system. With that in mind, your business must make it a priority to stay on top of these changes through regular training. Businesses often fail to reassess how much users have retained after the initial training period is complete. With employee training and development playing a significant role in getting the most from your system, it's critical that new and existing staff are comfortable with the tools in front of them. Well-trained staff are not only more likely to increase their productivity but are far more likely to use their own initiative within the system.
4. Utilise every-day dashboards
ERP systems have an overwhelming amount of data in them. Exploring and manipulating that data is a no-brainier when it comes to getting the most from your platform. To make it manageable, you must utilise resources such as dashboard reporting so you're seeing the most relevant metrics and important KPIs for your role. It's great being able to dive into the detail of every department with reporting, but trying to keep on top of all of it on a day-to-day basis will be a distraction for most.
If utilised and displayed properly, these simple insights from your dashboards can transform decision-making and productivity, and help you understand all the moving parts of your business.
5. Make the most of alerts
Credit control, stock level alerts, automated billing – these are just some of the ERP features there to make the life of your workforce easier. By getting to grips with the alerts and built-in safety nets available in your system, you can start to create an environment where your team can work confidently.
As well as providing the ability to stay on top of changes within your business, these alerts give workforces the power to engage with customers at critical stages of their journey. This could be groups of customers whose contracts are up for renewal or individuals with outstanding payments.
Long term, that insight unlocks a range of distinct benefits and empowers you to make the most of the information provided by your ERP system.
For more support in getting the most from your ERP system, we recommend continuing your reading with our guide to business partnering in your growing organisation. At OrderWise, we understand that while making the most from your ERP system is important, it's only possible with the right provider. If you want to find out more about OrderWise ERP you can contact a member of our team today to discuss alternatives to your current software solution.