04 Apr 2022
5 ways to improve field service efficiency in the machine building industry with Industrial IoT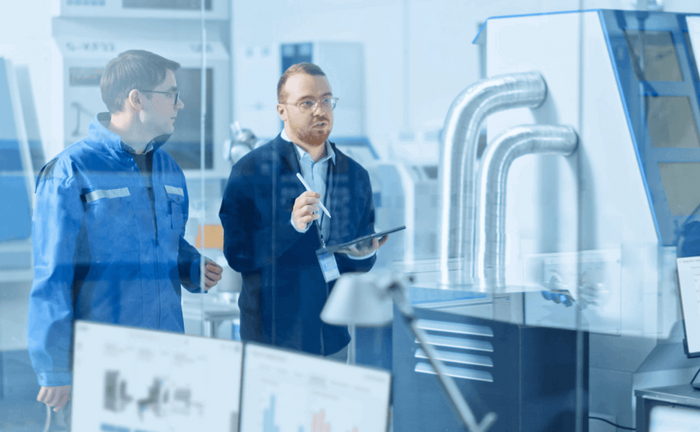 Discover how Industrial IoT provides service engineers with advantages that help increase their field service efficiency in manufacturingIIoT in day-to-day business.
How IIoT can help improve your field service efficiency
IoT provides direct access to machines in the field for fault analysis, insight into operator usage and allows for remote troubleshooting. In addition, data can be stored and visualised over longer periods of time to discover trends.
Tools like IXON Cloud combine the power of remote access and Industrial IoT. This enables machine builders to improve their field service efficiency by taking advantage of the following benefits that come with it:
Benefit 1: Improve first time fix rate to decrease customer visits
Having to return to the customer's location due to bringing the wrong parts is often caused by lack of information. For example when manuals get lost and there's no direct reference to the serial number of the component. It's a serious loss of productivity and efficiency. According to research by Aberdeen, approximately 25% of service trips require at least one follow-up visit to completely solve an issue, which means many companies have quite a low first time fix rate.
Remote access to the PLC of machines in the field helps to solve this. By logging and visualising machine data in the cloud, engineers get insights into machine issues and can perform analysis to better understand the problem. This will also help them to estimate the time needed to solve the issue, the skills needed to dispatch the right service engineer, and the parts needed so the engineer doesn't have to return.
Benefit 2: Troubleshoot from anywhere for better response times
How often does it occur that field service engineers travel to the customer's location for easy-to-fix issues, such as malfunctions caused by obstacles or configuration faults? As a result, you often have to react ad hoc and leave whatever you're doing to go to the customer's location. It takes a lot of valuable time which is frustrating.
A smartphone is always at hand and gives engineers ultimate flexibility. Easy-to-fix issues can simply be solved via the IoT portal app, even on the road or during the weekend. By taking over the HMI the engineer can adjust settings and view data trends. With alarms the engineer will receive push notifications with preventive warnings when something is wrong with the machine.
Benefit 3: Support operators remotely to save time
It regularly happens that the customer needs instructions for new settings or repairs. Customers can easily contact a service engineer and ask him to remotely troubleshoot an issue without having to travel to their location. But sometimes the customer needs to do it himself and is not able to do that without directions from the machine builder. However, understanding each other can be difficult over the phone if you live in different parts of the world.
By combining an IIoT platform with visual support via an IP camera, an augmented reality headset, or simple tools like Microsoft Teams, engineers can support customers remotely with a live view of the machine. Barriers and misunderstandings are removed and the engineer at the office can see exactly what is happening at the customer's location. He can give targeted feedback and instructions via text, audio, video or by sharing documents. On site, the customer has his hands free to adjust or repair the machine.
Benefit 4: Access machine information from one central location
To optimally benefit from an IIoT solution, it should be your core tool for everything: from fleet management to real-time data and camera access. But also having manuals and support information available per machine and the ability to integrate with third party tools such as an ERP system to monitor spare parts stock.
To collaborate optimally with colleagues, customers and partners, an advanced user management system is extremely valuable. By giving every user access rights, they see all information they need in the platform. In short, an IIoT platform ensures you have everything at hand and don't have to switch between different platforms.
Benefit 5: Predict maintenance to decrease unplanned downtime
With the advent of Industrial IoT, data from machines in the field can be collected and visualised in an IoT platform. Dashboards can be created for data analysis. This makes it possible to recognise data patterns so alarm triggers can be set to notify the machine builder when parts are operating outside of normal parameters or when failure is imminent.
This helps machine builders to predict when maintenance is needed, so their engineers can better organise their planning. Maintenance can be scheduled well in advance, and only when needed, so equipment can be repaired or replaced before it breaks down and downtime occurs.

Take advantage from improved field service efficiency
After implementing Industrial IoT and using it for one of the above-mentioned purposes, you will immediately notice an increase in efficiency. This brings considerable advantages alongside your implementation, such as:
Improved uptime
Time and money saved due to less or more efficient field service trips
Reduced resource costs
Happy customer due to fast support
Increased flexibility
New revenue streams with additional service opportunities