08 Oct 2021
The ABC of Milling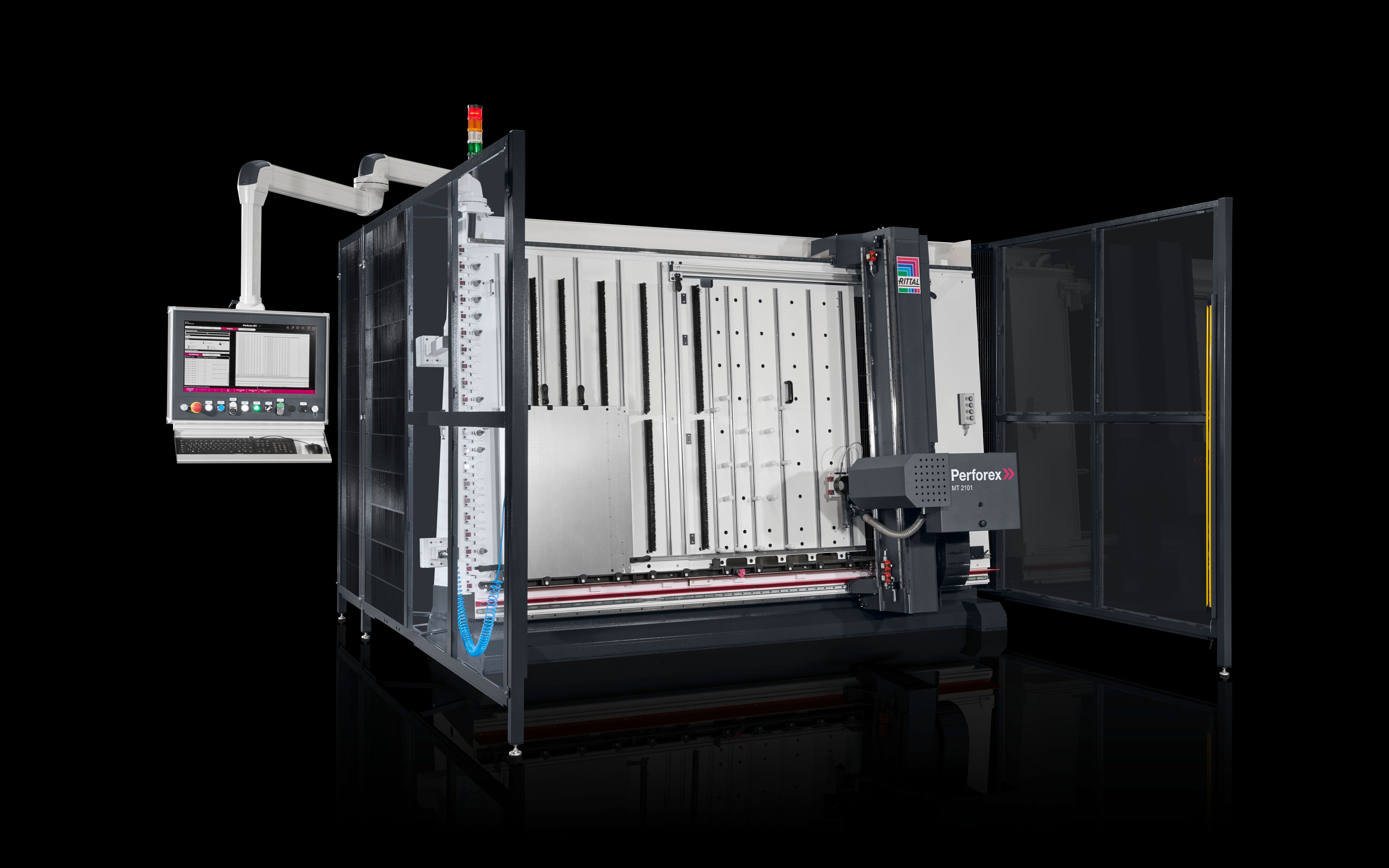 Milling, drilling, thread tapping – there are very few switchgear manufacturers who love metalworking. Fortunately, there is a solution! Automated machining centres such as the Perforex MT can help. The following three tips show how it can be used to its full advantage.
The task of machining enclosures, housings and mounting plates takes switchgear manufacturers a lot of time if they have to carry out the work by hand. It can easily add up to four hours or more – reading through plans, marking out holes, tapping threads, deburring cut-outs and then cleaning the machined parts. In a small company that doesn't have a dedicated metalworking department, electricians and switchgear engineers end up doing the work, which takes up valuable time that they lose when it comes to building and wiring the switchgear.

The Perforex MT has an automatic tool changer and tool magazine that can hold up to 21 tools. It takes care of all work in a single pass, without operators having to intervene and can machine all materials generally used in switchgear, such as steel, stainless steel, aluminium, copper and plastic. Enclosures made of stainless steel can be machined better and more efficiently on the Perforex LC.

75 PER CENT FASTER
State-of-the-art milling machines can cut machining time by up to 75 per cent. The savings are even more impressive when it comes to laser machining systems, which cut the processing time for steel enclosures by up to 85 per cent. When working with the Perforex MT, there are a few tips that can help companies achieve these savings:

Clamping on the Perforex MT:
With the right accessories, panels can be clamped in place so as to reduce vibrations and bulging. Â The end result is that tools last longer.

TIP 1: CLAMP COMPONENTS TO MINIMISE VIBRATION

Clamping has a major influence on the service life of milling tools. Wear occurs at the point at which the cutting edge of a milling tool comes into contact with the material it is machining. The more defined this contact point is, the more efficiently material can be removed and the less wear there is on the tool. The experts at Rittal Automation Systems recommend ensuring that components are securely clamped in place, which reduces relative movement between the milling tool and the component.
Use as many clamping elements as possible, such as manual clamps and pneumatic clamping elements.
Line clamping elements with cushioning to prevent bulging in the components.
Brace the component at close intervals using spacer bolts or, better still, brush strips. This ensures the cutting edge can work more effectively.
Use a clamping frame when working on small enclosures. This enables you to machine several boxes at the same time.
These measures help to reduce the movement of the components and extend the service life of tools.
TIP 2: ADJUST FEED FLEXIBLYÂ 
How can you extend the service life of milling tools? In general, the faster the feed speed, the shorter the service life, and the lower the feed speed, the longer the service life.  Feed should therefore be adjusted to requirements.  Tools should also be properly cooled and cooling lubrication systems regularly checked, because the strength of machining tools declines as temperatures rise. 
Shortly before a milling tool breaks, the metal will melt, usually at a localised point - the cutting edge disappears and the tool breaks against the cut edge of the component.  Speed and feed should also be coordinated.  The machine manufacturer will provide initial guide values, but it is a good idea to document feed and speed values during operation and optimise them for your own product mix. 
TIP 3: SELECT THE RIGHT TOOLSÂ 
Besides feed, speed and cooling, the milling tool itself also determines its own useful life to a large extent. For instance, the more cutting edges a milling tool has, the more edges engage during one revolution, the more material is removed in one revolution and the less stress is placed on each cutting edge. This extends the service life of the milling tool. By contrast, higher feed speeds lead to more tool change intervals. If higher speeds are necessary or longer tool change intervals are required, carbide milling tools with four edges can be used. However, not all carbide milling tools can cope with the vibrations on the components. This is another area where users should follow the recommendations of specialists from Rittal Automation Systems, who have the right product for every application scenario.