18 Dec 2020
Assisting Tees Components with the Commissioning of the RSS Sir David Attenborough Vessel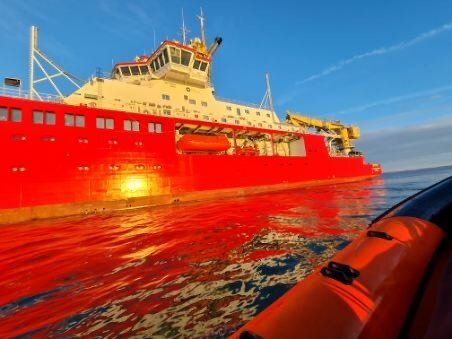 Applied Integration (AI) based in North Yorkshire, Stokesley have partnered with Tees Components to assist with the RSS Sir David Attenborough project.
Tees Components initially issued the commissioning of their Tees White Gill Thrusters for the polar research vessel which will be operated by the British Antarctic Survey to carry out scientific research, cargo operations and berthing in both Antarctica and the Arctic. The vessel, owned by the Natural Environmental Research Council, is part of a £200m Government investment to maintain the UK's position at the forefront of ocean and climate research.
The configuration and FAT test of the project was completed by Tees Components. AI have provided the onsite commissioning support alongside their electrical and mechanical engineer. Our onsite commissioner will be heading to meet the boat for a three day Sea Trial which will be the final stage of commissioning. Once completed, the vessel will be ready to explore the oceans to complete its research in the race against climate change.
The four 60-T3S-QR azimuth thrusters can either be controlled independently or by the Dynamic Positioning System. This enables the polar research vessel to manoeuvre and position accurately allowing the researchers to carry out their procedures within the extreme weather conditions in the region of Antarctica. The thrusters will ensure the RSS Sir David Attenborough vessel will be one of the most advanced polar research vessels in the world.
Graham King, Director at Applied Integration says, "We are extremely proud to say we have supported Tees Components with the RSS Sir David Attenborough Vessel, to be part of such an amazing project is important to usâ€'.
Applied Integration is a leading systems integrator, specialising in delivering the latest industry technologies with a focus on Industry 4.0, Digitalisation, Internet of Things (IoT), Analytics, Big data / Cloud Technologies, Safety Critical Systems (SIL1, SIL2, SIL3) and Robotics and Collaborative Robots (Cobots). Founded in 2005, AI has a dynamic, 50+ strong engineering team with many years combined experience.