27 May 2022
Blower use case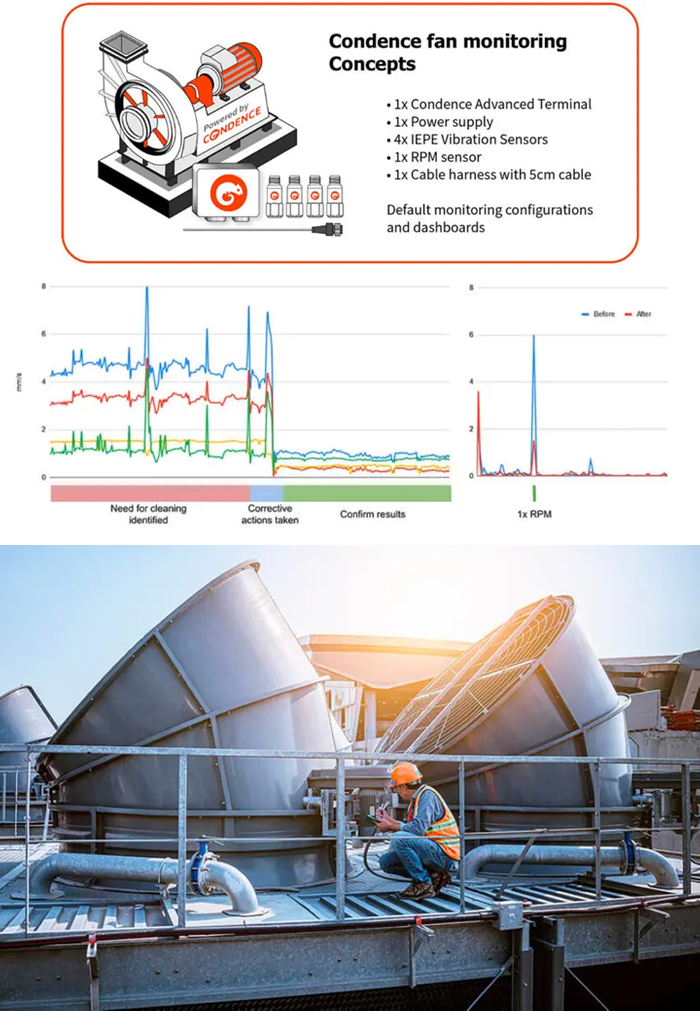 A customer with an industrial plant specializing in building materials had an issue with a critical, interruption-insured 500kW process fan. Even under normal process conditions, the fan blades kept fouling due to particles in the process air, this resulted in an imbalance. A regular cleaning routine was in place, and the fan was part of the route-based condition monitoring program. The troubling observation was that even with regular cleaning and balancing, the results were short-term, and the vibration levels held at a steady elevated level even after planned maintenance.
Problem

The customer concluded that the regular, manual inspection routine was not enough. To understand The customer concluded that the regular cleaning and balancing did not expect results, or the impact was only short-term. With manual inspections detection of cleaning needs was achieved, yet cause and effect were suspected to be partially uncovered. To understand the situation in more detail, the customer reached out to Condence for options to gather more and better data to achieve a more comprehensive understanding.
Solution

Condence blower monitoring concept was installed on the machine. Condence terminal and sensors were installed by the customer's technician and analyses configured remotely with the assist of the Condence team. Once the first analysis results were received, it was clear that the regular cleaning routine for the machine was not enough. The high vibration levels were especially evident during the coast-down period for weekend stops.
Read the full story at https://condence.io/2022/02/21/case-study-critical-process-fan-imbalance/