19 Jan 2021
Case study: Bespoke compressed air container projects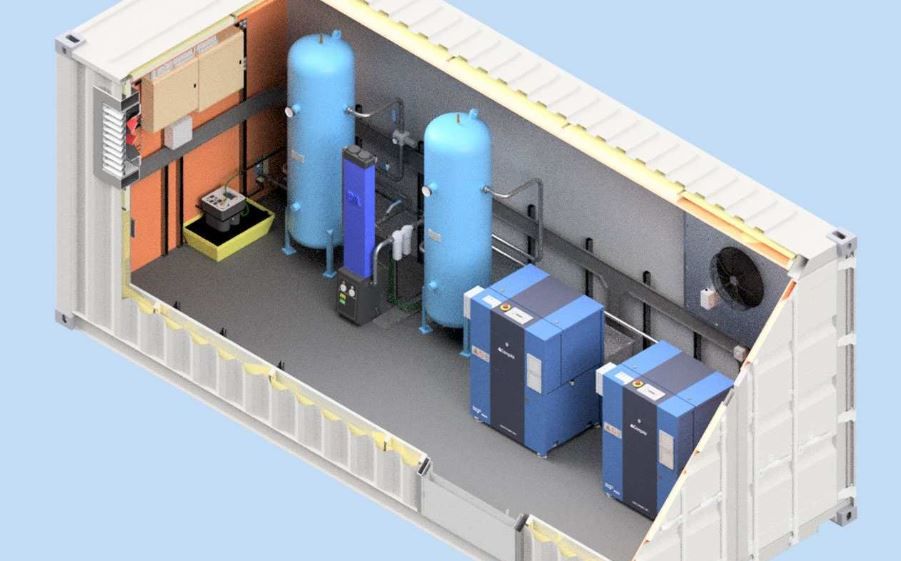 Container projects are a 'plug and play' solution designed for customers with special requirements. These requirements could include sites which need minimal disturbances or temporary service packages. As containers are easily manoeuvred, they get used for varying applications.
Installation is complete before reaching customer site and the container itself acts as the plant room. This eliminates the need to invest in builders and furthermore reduces costs.
The container houses everything necessary for the specific compressed air system. From the actual compressors, to downstream equipment and its mechanical and electrical connections.
Direct Air's Projects Team have delivered many container projects. One of the projects was for a UK manufacturer with international operations.
THE BRIEF
The customer needed a container solution due to the nature of their compressed air requirements.
They needed to power specialist equipment to provide power to an entire city. Considering the importance of this requirement, a reliable backup plan needed to be in place in the case of failure. Another consideration for the customer was access to site was quite limited, so a solution with minimal onsite visits the better.
OUR SOLUTION
The container provided acts as an emergency starter support system for their specialist equipment, in case of any unexpected issues. The container was a perfect one-action delivery solution to ensure minimal visits and for short periods of time. There was no customer site installation needed.
Direct Air tailored the container specifically to their requirements. Due to the coastal location of the customer site, the risk of corrosion upon the equipment became clear. A high specification anti-corrosion paint was used to create a barrier against the hostile saline environment.
To meet the customer required standards, much like a manufacturer would do, the compressed air package was supplied CE marked as a working assembly. This verification confirmed that everything installed into the container was legally acceptable and compatible with international standards.
The final more technical adjustment made to this project, is that the entire system is remotely controlled. This was done due to the high importance and need of the system in the case of an emergency. It provides a lot more control, which furthermore reassures the customer too. 
View video: https://youtu.be/3k45_EdpZA0
Steve Brant, Project Manager at Direct Air, commented:
"Container projects provide a unique challenge for us; inside space is very limited, and we need to take into account the transportation and site positioning after manufacture as well as the usual cooling, heating, and service access requirements. As we have total command over the internal space it allows us to assure the highest quality to our customer as they know the entire installation is taking place at our premises and we can control all aspects of the project a lot more effectively than one on a remote site."