15 Dec 2021
Comparing sensors costs and securing a higher return on investment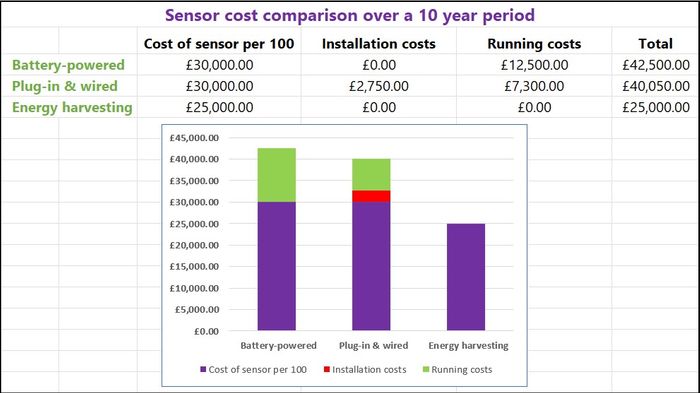 Sensors that incur installation and running costs produce a lower ROI.
A search on Google for sensors produces nearly 4 billion results. Consequently, engineers searching for sensing and monitoring solutions are confronted by a market flooded with options. Therefore, it is crucial to compare availability, functionality, investment costs and running costs. Furthermore, engineers need to consider the impact that sensors can have on their workload, specifically if ongoing maintenance is required.
Comparing sensor costs begins by placing sensors into 3 groups based on their power source. Within this article we break down the costs of battery-powered, plug-in, and energy harvesting sensors to illustrate which provides the best operation for value. Furthermore, we compare 100 of each sensor type over a 10-year period.
Battery-powered sensors need continuous maintenance
Battery-powered sensors for industrial applications average £300 each. They may be 'off-the-shelf' and ready to deploy, however understanding the ongoing costs and persistent maintenance is important. On average, batteries need replacing every 2 years with some extending to up 10 years. If you only need 5 sensors, that sounds manageable. Yet larger sites can easily require hundreds of sensors.
Typical replacement batteries cost as low as £5 and can exceed £55. To illustrate cost comparisons, we estimate replacement batteries at £25 each. Therefore, 100 battery-powered sensors at an average price of £300 will cost £30,000 for the initial purchase. Because batteries will need replacing every 2 years on average, you will spend an additional £2,500 every 2 years. Additionally, your engineers will be tied up replacing batteries instead of performing important tasks.
Plug-in, wired sensors require expensive installation
To implement plug-in sensors, there are important aspects to consider. The first step is to schedule an electrical engineer for installation. In some case, this can take up to 6 months and you can expect to pay an average of £30 per hour for an electrical engineer's time. Considering 100 sensors need installation, that can take weeks costing up to £2,500 in labour, plus an additional £250 in materials. Furthermore, plug-in sensors are reliant on infrastructure and available electricity. Without these, monitoring efforts won't include hard to access equipment and locations. Meanwhile, the average cost of a plug-in sensor is £300. Therefore, 100 sensors will cost £30,000 plus the cost of installation. Running costs include the electricity that each sensor uses is estimated at £730 per 100 sensors per year. Consequently, over a 10-year period this can add up to £7,300 in order to maintain function.
Energy harvesting sensors offer superior performance
In stark contrast, energy harvesting sensors offer a higher functionality. They offer more flexibility by monitoring more metrics in combination and can include hard to access equipment. They are ultra-deployable and can be easily installed by any member of your team therefore eliminating any installation costs. Additionally, these self-powered sensors can be up and running within minutes. The typical cost of a common energy harvesting sensor for industrial applications is £250. Powering themselves using energy sources available in the local environment, they eliminate the need and cost of battery replacement. As a result, 100 sensors at a cost of £250 equates to an investment of £25,000. Notably, there are no installation and ongoing maintenance costs.
An engineer at a UK manufacturer had this to say, 'DCO's energy harvesting sensors let us deploy more quickly and cost-effectively than wired-in sensors. But still give us higher monitoring performance than battery-powered sensors.'
DCO Systems offer energy harvesting sensors that can significantly advance your current monitoring efforts. Energy harvesting sensors also secure a faster and higher return on investment compared to battery-powered and plug-in sensors.
To learn more about DCO's adaptable, ready-to-deploy products, go to https://dcosystems.co.uk/contact/ or email: info@dcosystems.co.uk.