Compressed air distribution: not just piping. With Teseo products, support starts from the compressor room all the way to machine side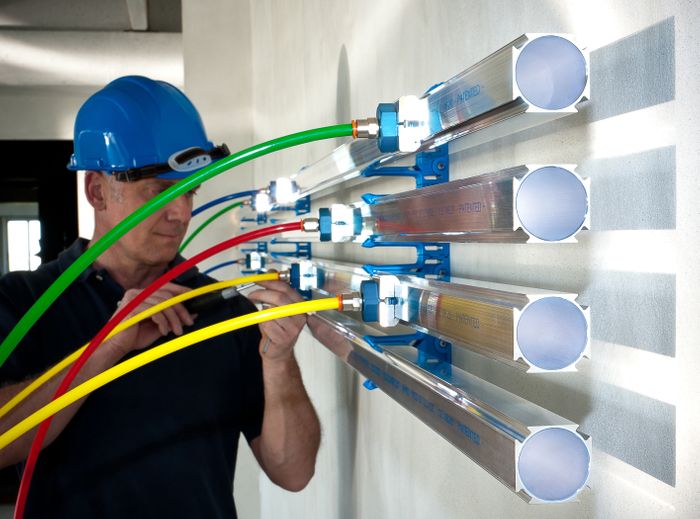 There are many elements that contribute to the success of a compressed air distribution system: elements that are often designed in a compartmentalised way, overlooking the overall picture. TESEO SRL, which was the first in the world to invent a modular aluminium profile system for compressed air distribution, on the back of its long-standing experience and in-house technical team, offers its customers not only piping but also a range of design services and customised ergonomic products such as swinging arms, downpipes, manifolds, workbenches and trolleys, all capable of transporting fluid energy: products that make up a complete system, optimising functionality and costs.
The distribution of compressed air for industrial automation is made up of many elements, which even today are often designed and installed without taking into account the bigger picture: the compressor room often runs separately from those who deal with the distribution system and from those who deal with the machinery that will receive the energy needed. An overall view of the system, like a "conductor" may have of the various instruments that make it up, helps to have a system that performs over the long term and at the same time is flexible, capable of adapting to the customer's needs, even into the future.
TESEO SRL, a historic Italian company that invented a market by developing the modular aluminium piping systems HBS, AP and AP Multi-fluid, and now an international reference for compressed air and fluid power distribution, is well aware of this. It is thanks to the experience gained in the field of compressed air and technical fluids distribution, and an in-house design and R&D team, that TESEO is able to offer customers not only piping, but also consultancy, design and a wide range of products tailored to ergonomics, making it a solid and reliable partner from the compressor room to the machine or workbench, via the entire production area. Tailor-made products, from the compressor room to the point of use. In addition to aluminium piping, TESEO offers ergonomic products that integrate with each other and with the piping system to provide a system from the compressor room to the point of use, taking into account the specific characteristics and needs of the end customer, seamlessly providing tailor-made products, reducing costs and time. The range of aluminium manifolds is revolutionary. Their ideal use, but not exclusively, is on automatic machines to feed the various servomechanisms or on injection moulding or die-casting machines to cool the moulds. Thanks to their extreme modularity, TESEO's Technical Department can study and design special manifolds that are supplied to the customer already assembled.
The downpipe manifolds made by TESEO, in fact the end of a downpipe column, are also extremely versatile as they are excellent for supplying a machine as well as a workstation. Specifically, they consist of a single pre-assembled piece, rotated by 45° in such a way as to have multiple pick-up points. Again, each downpipe manifold can be designed by the technical department according to customer requirements and then supplied pre-assembled.
Ergonomic products also include the ATS system, which consists of a rail on which a trolley equipped with a compressed air outlet and a tool attachment slides freely. Its uniqueness lies in the fact that it allows the customer to have fluid and electrical energy sources readily available along the entire trolley travel. If fluid or electrical energy is to be supplied from above, not in a straight line but in a circular one, TESEO's swinging arm supports for compressed air supply are excellent. They allow pneumatic tools to be supported and supplied on a circular or semi-circular surface, as they combine rotary and linear motion, allowing very large working areas to be covered. Everything can be configured according to the customer's needs.
The automotive trolley is another example of how TESEO's products integrate with each other: it runs on the standard TESEO HBS 50 modular pipework system, which serves as both rail and compressed air duct, while the trolley is able – along the entire length of the rail – to support and feed a moving part customised for the customer. It has compressed air to power pneumatic tools, electricity to connect electronic devices, any monitors for the instructions the operator needs, accessories, adjustable support tables, hook holders, etc. Again, the fields of application are many, ranging from automotive to the white goods industry.
The workbenches are also fully customisable, specifically equipped to carry out assembly or assembly with pneumatic or electric tools. This is due to the fact that one of the two columns of the structure is designed to be pressurised. The structure can also support the ATS system. The benches are supplied by TESEO in various ready-made models (in any case designed to provide a customised product for the customer) or 100% tailor-made according to the tasks to be performed by the customer. They can be single- or double-sided, height-adjustable, with one or more pressurised parts, tailored equipment and adjustable crossbars to which the workpiece boxes can be attached. Thanks to design flexibility, the models can be customised quickly. All these ergonomics products from TESEO cover a wide range of possible fields of application and areas of use. They often help to provide flowing power and electricity from above, avoiding any inconvenient pipes on the ground, which often get in the way of operators. They also contribute to the avoidance of waste and additional costs thanks to the aluminium, a sustainable material in itself, and the modularity of the components, which allows for modifications and interventions on already installed systems, making it possible to remove or add elements according to the customer's future needs.
This is complemented by an in-house team offering consultancy and design services with a view to corporate safety, energy efficiency and environmental and economic sustainability. Each TESEO plant is a tailor-made project, thanks to the in-house technical department that provides each customer with a specific design optimising geometries and routes. It then offers its customers advice on regulations, training of installation technicians and supports the customer from design to final acceptance, and then facilitates the task for the installers, but also the use of the system within the company, in order to be up and running in the shortest possible time.
Contact: teseo@teseoair.com www.teseoair.com