06 Jun 2022
Condition monitoring: driving progress toward sustainability goals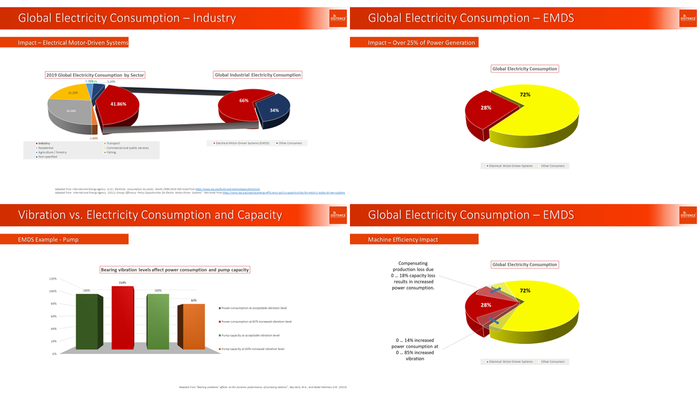 In this article, we'll walk you through:
The impact of sustainability and net-zero goals on manufacturers
How organisations can close the gap
7 ways manufacturers can impact sustainability goals
How cost savings can help offset sustainability investments
Mitigating the impact: online monitoring and automated analysis
Sustainability and net-zero goals
The United Nations Department of Economic and Social Affairs has created 17 Sustainable Development Goals as part of the 2030 Agenda for Sustainable Development. Of particular interest to manufacturers are those related to energy and emissions reductions, including:
ensuring access to inexpensive, trustworthy, sustainable, and modernised energy
advocating viable economic improvement and industrialisation
championing change
The call to action for the global community includes slowing climate change, creating sustainable, safe conditions for all people, and ensuring that manufacturers' and consumers' behaviours support these goals.
These are massive but necessary undertakings, and the world has responded in significant numbers. Over 90% of the world GDP is now covered by net-zero commitments, according to The Glasgow Climate Pact agreed at the UN Climate Change Conference UK 2021.
Mitigating the impact: online monitoring and automated analysis
The future development of a new generation of energy-efficient electric motor-driven systems will significantly shift the manufacturing industry's contribution to global emissions.
However, the current focus needs to be on safeguarding the current installed base of machines. For example, you can closely monitor the performance and condition of existing machines in real-time. With predictive and prescriptive data analysis outcomes, you can perform precision maintenance tasks before the energy consumption and accompanying CO² emissions escalate.
With the help of the right tools, accurate condition monitoring can optimise maintenance across your facility. In addition, remote options remove the need for manual checks on hard-to-reach locations, cutting travel time and strain on human resources.
Read the full blog here: https://condence.io/2022/06/01/condition-monitoring-driving-progress-toward-sustainability-goals/