15 Mar 2022
Customised connectors and cabling from HARTING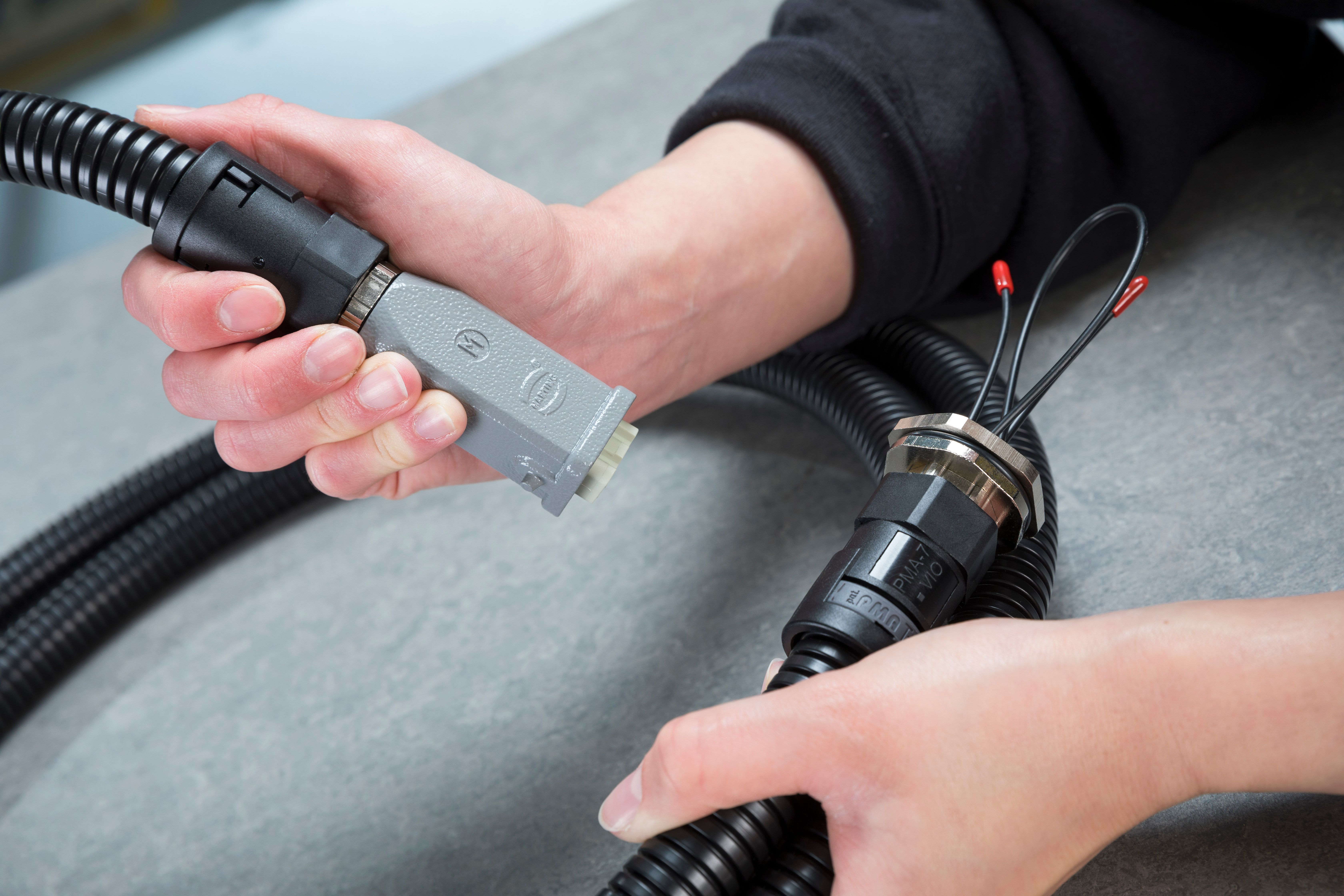 With specialisms including box builds and inter-car jumpers for the rail market, HARTING design and create custom solutions tailored to exacting customer requirements. Backed by the global HARTING brand, they can also support you through the entire production process, from design and prototyping through to thorough in-house testing of cabling and wiring.
No matter what the degree of complexity, HARTING have the capacity to produce bespoke box builds and project-specific assemblies to suit your needs, including installing components, efficiently routing cable harnesses and fabrication. To further assist you, an in-house design team can create a 3D CAD visualisation of your build beforehand to ensure absolute accuracy before manufacturing begins.
HARTING also have experience of building cable assemblies for the UK market and can offer you standard or custom cable lengths and a range of plastic or metal housings. All customised products are built at their manufacturing facility in Northampton and are based on market-leading connectors from the extensive HARTING range, including M12, RJ45 and modular solutions.
Using these standard products, they can design and manufacture cable assemblies for the transmission of data, signals and power. Forty years of manufacturing expertise means they can create solutions for a wide range of markets, including transportation, mechanical and plant engineering, automation technology, data centres and energy distribution.
For example, they offer a wide range of all-purpose M12 circular connectors, available with a traditional screw connection or the new, fast PushPull locking mechanism. As space for installing components becomes increasingly scarce, the M12 PushPull offers an intuitive connection technique. The two sections are clicked into place by hand without the need for tools, with an audible click indicating the connection is secure.
Not only does this simplify tricky installations in hard-to-reach areas, the tool-free installation method also means the assembly density can be significantly increased, helping to save valuable space.
Other cable assembly options include RJ45, the perfect solution for transmitting high data rates in harsh industrial environments. Like the M12, they are available with PushPull connection technology for installations where space is at a premium. HARTING also offer the innovative ix Industrial®, their answer to the challenges presented by Industry 4.0 and the IoT. This solution is suitable for the next generation of miniaturised products as the PCB jack is 70% smaller than the RJ45 socket. In addition, the ix combines both data transmission and power supply into a single interface.
Inter-car jumpers are designed to run connections between train carriages, including roof or underfloor systems, ensuring a reliable supply of data, signals and power along the train. The Han-Modular® series allows you to create a flexible and versatile solution by combining individual inserts for different transmission media into standard-sized industrial connector housings. The series offers over a hundred different inserts, enabling a wide range of customisable combination options.
The HARTING manufacturing facility holds ISO 9001 certification for Quality Management, the ISO 14001 Environmental Standard and UL certification for Wiring Harnesses ZPFW2 / ZPFW8.
If you'd like to know more about HARTING UK's manufacturing capabilities and customised solutions, please visit www.harting.com/UK/en-gb/solutions/harting-customised-solutions-uk or email salesuk@harting.com .