06 Jul 2020
Ductbusters Ltd and Support Desk Pro Casestudy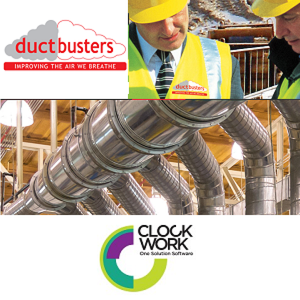 Client Profile
Ductbusters Ltd was established in 1996 as the need for specialized ductwork cleaning in a wide range of commercial and medical premises became more apparent Since its inception, Ductbusters has been of service to all sizes of organization from the smallest fast food outlet to major UK Hospital projects.
Whilst the main focus of the business is ductwork cleaning, Ductbusters have now expanded into Air Handling Unit maintenance, Kitchen Extract cleaning, the provision of Risk Assessments, Fire Damper drop testing and LEV testing.

The Challenge
Having benefitted from using a CRM system for a number of years, the Senior Management team at Ductbusters recognized their need for change. Given that their rapid business growth and continued expansion of services, this required a fresh look at systems that had the flexibility that they needed. They also knew that they needed to engage the services of a software company that could respond quickly and efficiently to their dynamic environment. After a considered and lengthy search process, they identified Support Desk Pro as their preferred choice.
The Solution
Due to Ductbusters' changing needs, it was essential that the whole team was consulted and gain a detailed insight as to their current needs and, more importantly, their future 'vision' of how the system could work for them. During these scoping and specification meetings, we ensured that all members of the Ductbusters' staff were represented and had the opportunity to contribute to the discussions on what was practically needed. It was only then that we could plan the development that was required for a successful implementation.
The back-office process was, by and large, more than enough for the current operation although there proved to be several huge time savers that we could immediately implement such as individual complex quote templates and part payment options.
The main focus of the development was to provide the field-based teams of surveyors and engineers the ability to do their job without the need for reams of paperwork that was inherent in their industry.
Creating a workflow that linked a site survey to the provision of differing types of services, we gave the field-based teams a tool that enabled then to plan and work much more efficiently. For the surveyors, this meant the provision of an accurate estimating tool that encapsulated all aspects of the service required from access doors to necessary equipment for the job. For the engineers, once the job was scheduled, using a 'drag and drop' scheduler, this then translated into ensuring that they could not leave for a job without checking that the equipment required was provided in the first instance. Further enhancements allowed engineers access to building schematics and the ability to easily identify and capture 'before and after' photos that could be annotated for customer reports.
'Due to the magnitude of the change that we embarked upon, we anticipated that there would be a 6-12 month 'settling down' period after implementation of the new system. We were delighted that our expectations were completely exceeded when full adoptioon of the system took only 3-4 months.'
Gemma Quinn, Managing Director
Ongoing Benefits
In the short time that Ductbusters have adopted Support Desk Pro the business has continued to grow and develop. Additional services have been brought on board, as anticipated, and the system further developed to encompass these new processes.
'What we love about Clockwork is their interest in our business and their ability to respond innovatively to our ever changing needs. Nothing seems to be too much trouble and they have a real 'can do' attitude that continues to surprise and delight us.'
Gemma Quinn, Managing Director
Changes in industry standard auditing procedures required an immediate amendment to specific processes and forms. By adding the ability to hand draw a schematic drawing and the rework of an existing form/certificate meant that Ductbusters quickly met their compliance measures with flying colours.
'Due to the magnitude of the change that we embarked upon, we anticipated that there would be a 6-12 month 'settling down' period after implementation of the new system. We were delighted that our expectations were completely exceeded when full adoption of the system took only 3-4 months.'
Gemma Quinn, Managing DIrector
Key Business Benefits
Improved scheduling – reduced travel time and costs by 25%
Reduced visits by ensuring availbility of correct equipment for correct service
'Whole Business' system ensuring consistently throughout the company.
Ability to send multi-service complex quotes
Link to Sage ensuring double typing a thing of the past!
Regular account manager liaison/meetings with all departments
Speed of response both for a further development basis and techical support
COVID-19 Update
Since the arrival of the global pandemic, Clockwork IT customers have been able to continue their field-based work, safe in the knowledge that;
Field based operatives do not have to attend the office to collect paperworkField based operatives can remain 2 metres apart from clients but have full knowledge of the job requirementsField based operatives can take photos of job completion documents if clients do not want to 'sign' on the tablet/smartphoneBack office staff have been able to log into the system from home ensuring business continuity