The easy, quick way to a linear robot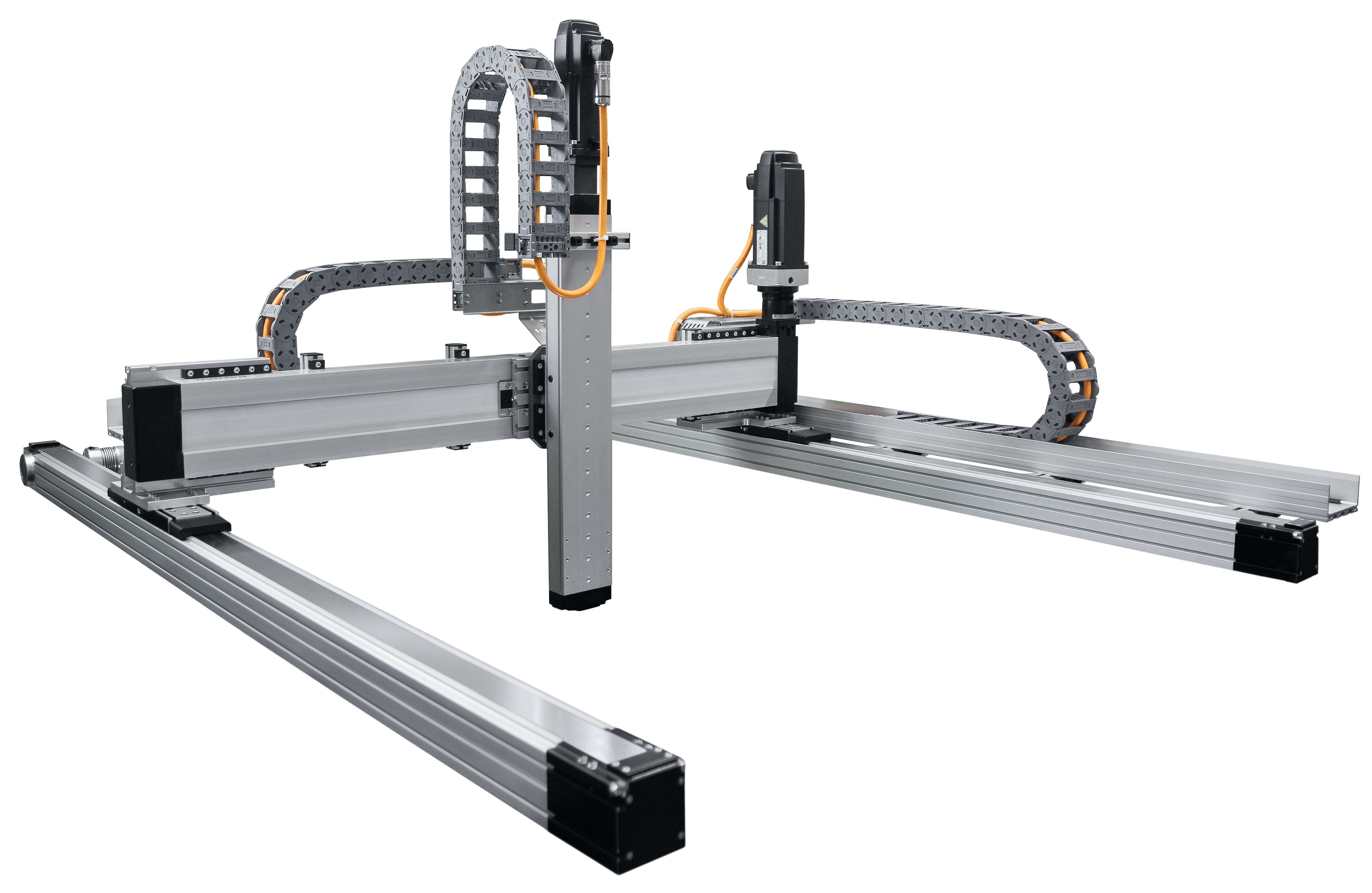 Clever engineering with predefined axis combinations and preassembled multi-axis systems reduce the time to market
Save time: the intuitive, step-by-step way to a linear robot using e-tools
Predefined axis combinations for a wide range of applications
Everything from Bosch Rexroth: ready-to-install complete solutions
Software option for straightforward commissioning and programming
Bosch Rexroth sets a new benchmark when it comes to engineering multi-axis systems. Cartesian robots for typical handling tasks can now be designed and configured up to 90 percent more quickly. A fully digital tool chain guides users step by step through the process, generates a rotating live preview of the system for subsequent configuration and provides CAD data and documents immediately. After seamlessly ordering the system from the e-shop, users get a preassembled multi-axis system with components tailored exactly to each other.
With a new fully digital and intuitive process for quickly sizing, selecting, configuring and ordering systems, Bosch Rexroth is setting new standards when it comes to engineering multi-axis systems . In just a few minutes, users can create linear robots for a wide range of handling tasks with transport weights of up to 100 kg and workspaces of up to 13 m3 using predefined axis combinations.
Applications range from palletizing, pick and place, positioning and sorting work to separating or assembly tasks. Compared to articulated robots, multi-axis systems offer high maximum rigidity, precision and dynamics. They fit easily into production environments, reducing costs and saving space.
Easy product sizing and selection
Using five predefined axis combinations available in 36 sizes, the LinSelect selection software guides users through the design process – in a step-by-step manner and intuitively from the very beginning. Thanks to newly integrated reference processes, complex motion sequences can be described easily with just a few parameters. LinSelect then automatically selects all the mechanical drive systems – including controllers and motors – according to the service life and precision requirements.
At the push of a button, LinSelect transfers all product data and parameters to the online configurator for final adjustment. A live preview shows the selected system as a realistic 3D model. The multi-axis system with all its specific features can thus be viewed from any perspective. Once the detailed selection work, e.g. the motor position, is complete, the documents and the CAD model can be downloaded. The multi-axis system can then be ordered directly from the e-shop.
Preassembled with everything from Bosch Rexroth
In order to minimize installation times, Bosch Rexroth supplies the selected handling robot in preassembled form. If required, it can be supplied with a complete energy chain and cable management. All components in the subsystem, i.e. the mechanics, motor and controller, are perfectly tailored to each other. The fact that the relevant axis parameters are saved in the motor encoder memory and can be read out from there makes commissioning easier too. Various attached parts and interfaces make it easier to mount the axis unit on the substructure using clamping fixtures.
Smart linear robot option
The commissioning and programming outlay at the place of use as well as the work needed to connect the robot to a higher-level control system can be reduced by up to 80 percent if the user chooses the Smart Function Kit option. In this case, the multi-axis system becomes a plug and produce solution with the ctrlX DRIVE controller, the ctrlX CORE control system and preinstalled software. A wizard guides the user through the commissioning process in just a few steps. The entire system is parameterized and the axes are referenced automatically. Instead of laboriously entering code, the linear robot can be programmed visually with the help of prepared functional modules.