28 Apr 2022
ERP Comparison Guide – UK's Top 12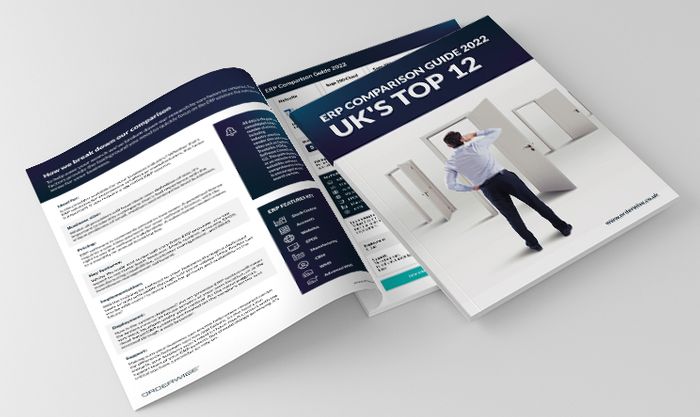 ERP Comparison guide – UK's top 12 – Where can you get the best support for Enterprise Resource Planning software in the United Kingdom? Compare and contrast to find the answer.
Enhance your knowledge of software in our ERP comparison guide
Enterprise Resource Planning (ERP) software solutions have the potential to streamline, integrate, and ultimately transform any business willing to invest. Whether it's retail, manufacturing or distribution, ERP is designed to centralise all the key aspects of your business. For some that might include stock control, supply chain and financial management, for others it may require warehouse management and specialist integrations.
The different range of operating systems and configurations can make directly comparing ERP solutions difficult. Some will offer a degree of customisation, some will cater for a specific industry, others will be more suitable for large businesses. With those variations of suitability in mind, you must also consider price, scalability, support, as well as a number of other important aspects. Once these factors have been considered, you're then tasked with the challenge of making an informed comparison.
Whether you're new to ERP or nearing the end of your current contract, finding the right system can be time consuming and overwhelming. So, to streamline your search, we've compiled and compared 12 of the best ERP providers for businesses in the UK.
Download your copy of our ERP Comparison Guide here.
All data in the guide was attained using a number of sources, including industry standard, vendor sites, review sites such as Capterra, TrustPilot, PCMag, Software Connect, and G2. This ERP comparison guide should act as a rough estimate of ERP suitability and a more-in depth analysis is encouraged as your search narrows.
Netsuite
Sage 200 Cloud
Sage 300
Sage X3
Intact iQ
Brightpearl
Khaos Control
Odoo
SAP Business One
Epicor
Kerridge K8
OrderWise
Next steps for your business
Whilst finding the correct functionality is important, it's also important to consider the relationship you and your new provider will have to shape for the next several years (and possibly beyond). Even with the most powerful piece of technology, there's still the potential for pitfalls to creep up. And when they do, you need to ensure you're with a business you can trust to be there.
For your business, this means making sure you're speaking to providers about more than just the installation of the physical solution and back-end technicalities. Details such as project timescale, deliverables, budget and resource are important factors to discuss.