20 May 2021
EUCHNER BAGS FIRST PLACE IN THE GIT SECURITY AWARD 2021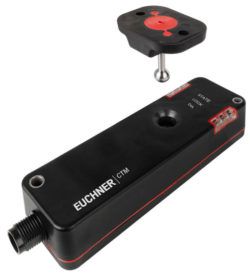 An independent jury nominated the finalists for the GIT Security Award, which were then voted for by readers. The selection criteria favored only the most innovative, most useful and the most unique products. EUCHNER's CTM won the jury and the readers over on all of these characteristics and emerged as the winner in its category.
"We developed the transponder-coded guard locking device CTM in response to the specific, real-life requirements of our customers,â€' says Anne Fieg, product manager at EUCHNER. "They needed a small, bistable guard locking device with the highest possible safety level that was also available as a hygienic version for use in the primary packaging and food industries.â€' The design concept proved feasible, and the CTM was developed especially for use on small, lightweight doors, boasting impressively small dimensions of just 120 x 36 x 25 mm. As one of the smallest guard locking devices on the market, it is particularly easy to integrate into the machine design. It can even secure doors with extremely small pivoting radii.
Its compact design by no means reduces safety. The bistable guard locking function ensures that the door is kept locked even in the event of a power failure. The CTM is therefore ideal for the protection of persons and processes and meets the maximum safety level PLe.
EUCHNER always has its sights set on the future, however, and is due to release a version with open-circuit guard locking onto the market soon. What's more, the first CTM versions with guard locking activation via IO-Link will be available from June.
This new feature will allow guard locking devices in series connection to be controlled individually via a communication interface. This means that up to 20 guard locking devices can be field wired – using just one cable at that. The CTM also offers intelligent communication capabilities, which makes it particularly future-proof in the age of Industry 4.0.