08 Oct 2021
THE FINDER 72 SERIES OF CONTROL RELAYS AND LEVEL CONTROLLERS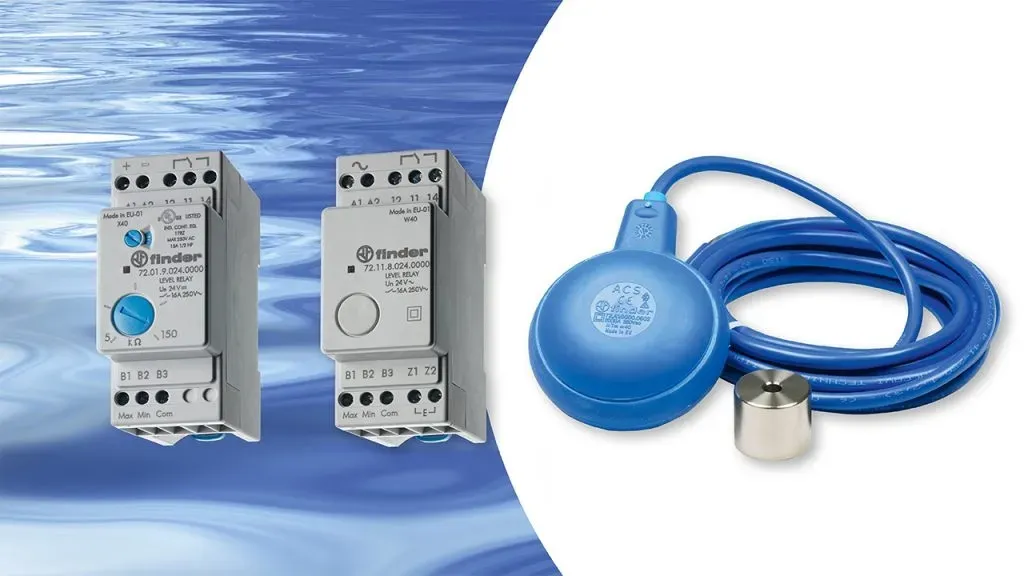 The 72 Series level control relays are designed specifically for controlling the level of liquids contained within tanks and cisterns, keeping the level constant over time and usage.
The range includes control relays and float switches with both emptying and filling functions, intended for the management of conductive liquids and liquid foodstuffs.
Most 72 Series products can be used in multiple types of applications such as in the food industry – where they can be used for: condensate control within refrigerated cabinets and cold rooms, the detection of liquid foodstuffs, for the level control of potable water within tanks and cisterns – and for the treatment and distribution of water where a specific level is to be maintained using either  the filling or emptying mode.
Finder control devices are used in the agricultural sector for: controlling the water level in canals and irrigation systems or water tanks, water basins and underground wells. They are also used in residential and commercial sectors for control and monitoring of the water level in swimming pools, fountains and aquariums, or for anti-flood control in laundry rooms and for the control of submersible pumps. These devices can also be used in the control of water levels within solar heating systems.
The 72 Series includes the Type 72.01 and Type 72.11, both suitable for the level control of conductive liquids, and the Type 72.42 priority change relay – recommended for use with pumps, compressors or motors when the system is equipped with both main and standby duty equipment .
The range also includes the Type 72.A1 float switch level regulator for white water, the Type 72.B1 for black water and the Type 72.C1 space-saving float level regulator.