25 Feb 2020
HARTING to showcase latest products at Drives & Controls 2020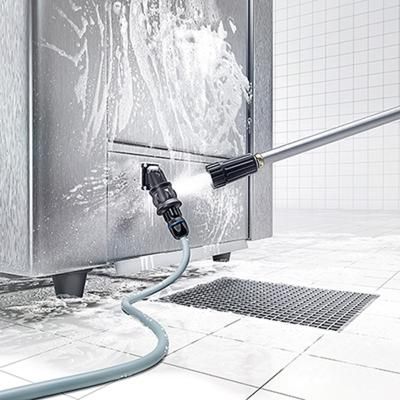 HARTING Ltd will be demonstrating their innovative connector and Industry 4.0 solutions at the Drives & Controls Exhibition at the NEC in Birmingham from the 21st to the 23rd April 2020.
On show will be the newest addition to the Han® portfolio, the Han® F+B, a range specially designed for the food and bottling industries, where hygiene and safety are key considerations. All hoods, housings and seals are IP69K rated, so the connections are fully resistant to the water jets used to clean equipment.
They have large nooks and surfaces in accordance with the guidelines of the European Hygienic Engineering & Design Group (EHEDG), which allows cleaning agents to flow unhindered. The range is also Ecolab approved, meaning it is resistant to highly aggressive cleaning agents.
A key trend within industry is that of miniaturisation; as machinery and equipment becomes more compact, so connectors take up more of the available space. HARTING has responded by producing the Han® 1A, a compact interface which requires up to 30% less space than the Han® 3A.
It employs a system of modular inserts, making it an efficient solution for connecting tools and smaller machine modules such as control terminals and drives.
HARTING's miniaturised solutions don't stop with the 1A; the ix Industrial® is a compact, robust replacement for the RJ45 with a 70% smaller PCB socket. The ix combines both power and data transmission into a single interface and is built to withstand the rigours of tough industrial environments.
HARTING are also at the cutting-edge of new product development and will be discussing the T1 Industrial, an IEC 63171-6 standardised industrial interface for Single Pair Ethernet (SPE). The factory of the future will require high data streams and the T1 Industrial brings Ethernet from the cloud to every sensor, thus enabling Industry 4.0.
Current Industry 4.0 products on display will be led by HARTING's MICA (Modular Industry Computer Architecture), a compact and rugged industrial computer designed for use in production environments. It allows manufacturers to access information from machines such as energy use and cycle times and combine it with production figures to generate valuable real-time data.
Thanks to its open source software, MICA is extremely versatile and can be used to undertake a variety of projects across a range of markets, including asset management.
Also on show will be a range of robust and versatile UHF Radio Frequency Identification (RFID) products. Our portfolio includes special transponders, known as RFID tags, which can be used as smart labels on containers or for identifying tools in stores.
An RFID system can cope with harsh, industrial environments, being able to endure wide temperature variations and high humidity. Transponders can also be securely encrypted and password protected to protect sensitive data.
To learn more about our innovative solutions or to discuss your requirements with one of our product experts, please visit us on stand S320 at the Drives & Controls Exhibition.