28 Apr 2023
i3 Group Solutions acquires Cambridge Automation Simulation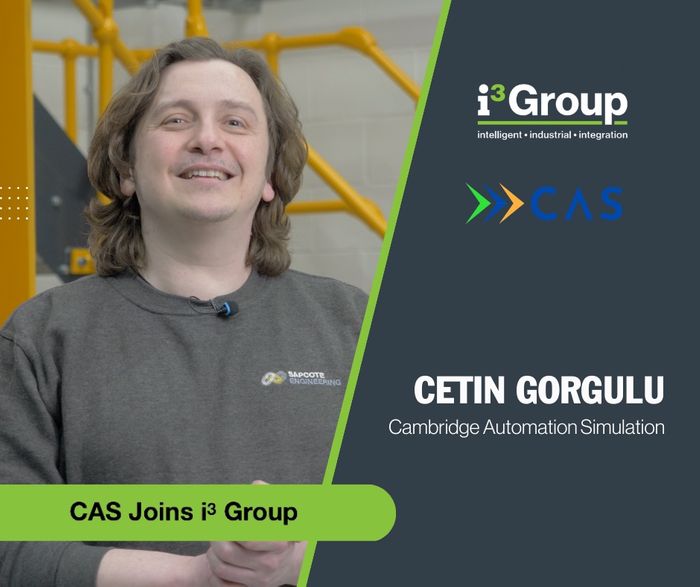 Alongside the acquisition, i³ Group Solutions has invested over £700,000 in new manufacturing capabilities, focused on developing its people and processes. This investment has also generated 12 new high-value jobs in the local area and will allow them to develop even more advanced robotics and automation systems.
"Joining forces with i³ Group is a fantastic opportunity to expand our reach and capabilities in the Robotics and Automation sector. We're thrilled to be part of such a dynamic and forward thinking company and we look forward to delivering innovative end-to-end solutions to our clients."
Cetin Gorgulu, Managing Director,
Cambridge Automation Simulation.
To celebrate this exciting news, i³ Group held an open day for all employees, where they announced their latest multimillion contract win for a major domestic appliance manufacturer. This news comes at a time when leading manufacturers are looking to invest in and re-shore manufacturing capabilities back in country.
Cambridge Automation Simulation has an impressive track record, with clients including Jaguar Land Rover, KN, ITS, LK Metrology and New Intelligence. This acquisition enhances i³ Group's offering of advanced simulation and Digital Twin capabilities, which helps optimise automation performance.
"We have worked on a number of projects with Cetin and his team, delivering huge value to projects through simulation as part of the design phase. This allows us to further optimise designs for performance, reduces project cost and reduces risk and cost across the overall project. By combining our expertise with Cambridge Automation Simulation, we can develop even more advanced simulation capabilities that will benefit our clients across a wide range of industries,"
Ewan Lloyd-Baker, Chairman, i³ Group Solutions.
This acquisition marks an exciting new chapter for i³ Group Solutions and Cambridge Automation Simulation, as they look forward to working together to deliver cutting-edge robotics and automation solutions for their clients.