09 Nov 2022
ICONICS join WiredScore's Accredited Solutions Program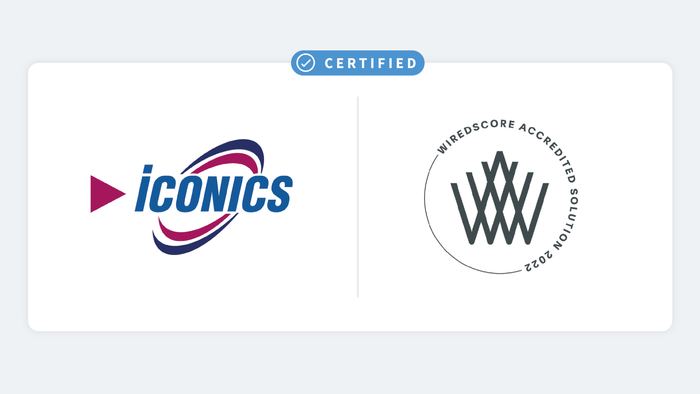 With the launch of the WiredScore Accredited Solutions program, Landlords and Developers can scale with the available market solutions that best fit their needs and specifications. As pioneers in data connectivity and user experience, ICONICS' partnership with WiredScore will help deliver and measure buildings designed to make a difference to both the planet and the lives of their tenants.
Andrew Dyke, Director of Intelligent Buildings at ICONICS UK has this to say:
"We've been excited for the WiredScore Solution Accreditation launch for a while now, and we're thrilled to announce that we are an early launch partner. 'Better together' has long been our mantra when it comes to Digital Transformation, and in partnership with WiredScorewe look forward to building a future where the benefits of data-driven buildings aren't so complicated to reach"
Why SmartScore?
SmartScore is the global smart building certification that evaluates, improves, benchmarks, and promotes cutting-edge smart technology in the built world. If a building meets their strict criteria for reliable, secure, and future-ready in-building technology, it is awarded one of our four SmartScore certification levels to reflect this excellence.
Arie Barendrecht, the founder and CEO of WiredScore commented:
"Since launching SmartScore - our smart building certification - in 2021, we've noticed that 'smart' continues to be an opaque subject for the real estate industry. Many continue to seek guidance on how to implement smart buildings, what solution providers to work with, and even what 'smart' itself means. We are confident that our Accredited Solutions offering will help to demystify how to successfully deliver a smart building."
Get Up and Running Fast with ICONICS
IBSS can either act as an Independent Data Layer (a sort of Digital Backbone for your building), or an end-to-end software stack for out-of-the-box Landlord, Workplace, and Sustainability initiatives. From a Microsoft Azure-based Cloud Platform to SaaS apps for User Experience and Operational Excellence, our plug-and-play approach will help maximize your existing PropTech investments (think already-installed sensors, systems, and cloud head-ends in your building), as well as save you time and money in the often-expensive onboarding costs associated with bringing new buildings online.
If you're interested in bringing your real estate to life with data and IoT, as well as aligning to best practices when it comes to future-proofing those investments, get in touch with the WiredScore team, or take advantage of a free consultation session with one of our solution architects.