06 Aug 2021
Introducing the Manufacturing and Engineering Week Industry Advisory Council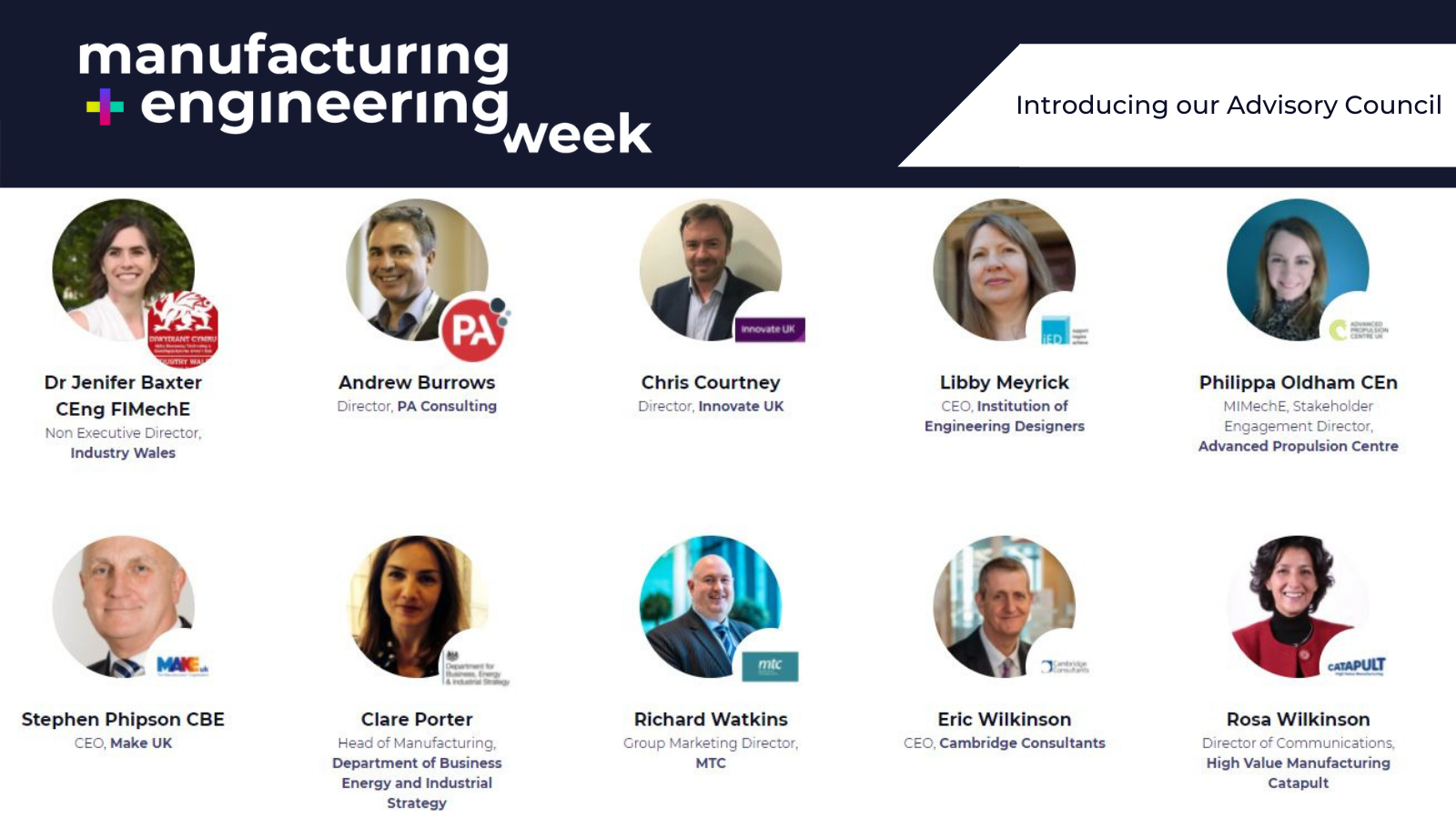 The Manufacturing & Engineering Week Industry Advisory Council will support and help shape the event to ensure it delivers on quality and meets the needs of the sector.
We are thrilled to introduce the Manufacturing and Engineering Week Industry Advisory Council which includes highly respected and regarded industry leaders from across the sector, including
Libby Meyrick, CEO, Institution of Engineering Designers,
Eric Wilkinson, CEO, Cambridge Consultants,
Andrew Burrows, Director, PA Consulting,
Philippa Oldham CEn, Partnerships Director, Advanced Propulsion Centre
Stephen Phipson, CBE, Chief Executive, MAKE UK
Dr Jenifer Baxter, CEng FIMechE, Non Executive Director, Industry Wales
Chirs Courtney, Director, Innovate UK
Clare Porter, Head of Manufacturing, Department of Business Energy and Industrial Strategy
Richard Watkins, Group Marketing Director, MTC,
Rosa Wilkinson, 'Director of Communications, High Value Manufacturing Catapult

The incredible industry backing indicates the importance and timely relevance of the event for the sector.'The Council will help shape the content at each of the sector specific live events.

'We are delighted to have the support of these leading names from across the industry. M&E Week will deliver a true celebration of the industry serving the needs of the sector, our advisory board are in place to help steer, direct and support the content planning of the event to ensure we deliver a high quality event that's a must attend for suppliers and professionals alike.'
Ed Tranter, Event Director, Manufacturing & Engineering Week.

Meet our Industry Advisory Council'here.