24 Feb 2022
IXON becomes member of OPC Foundation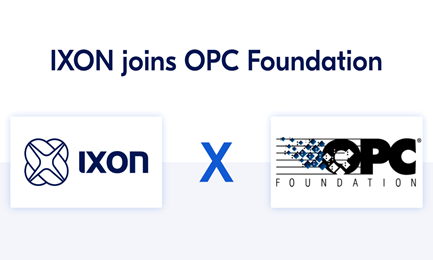 IXON strongly believes that OPC UA will become a standard protocol in the market in the next few years. With increasingly complex projects and a scarcity of engineers, OPC UA frees up technical resources that can be used for the machine builders' business. The membership in the OPC Foundation is therefore a logical step for IXON as it will strengthen the integration of OPC in future developments.
Willem Hofmans, founder and CEO of IXON comments: "We know that implementing IIoT and new service models can be challenging for machine builders, but it's crucial to stay relevant. We believe in OPC UA as the industry standard since it ensures a smooth digitalisation process. Our membership in the OPC Foundation is the logical next step, as we share common virtues: interoperability, scalability and security."
"The OPC Foundation warmly welcomes IXON as a new member of the largest ecosystem for secure industrial interoperability. OPC UA enables seamless, secure data transport from the field to the cloud and back - also with the IXON Cloud. This is crucial to exploiting the complete potential of IIoT and Industry 4.0. In addition, machine builders can take full advantage of the operability of IXON Cloud and OPC UA."
Stefan Hoppe, President and CEO of the OPC Foundation