21 Feb 2022
Manufacturers, is the sun setting on your existing software?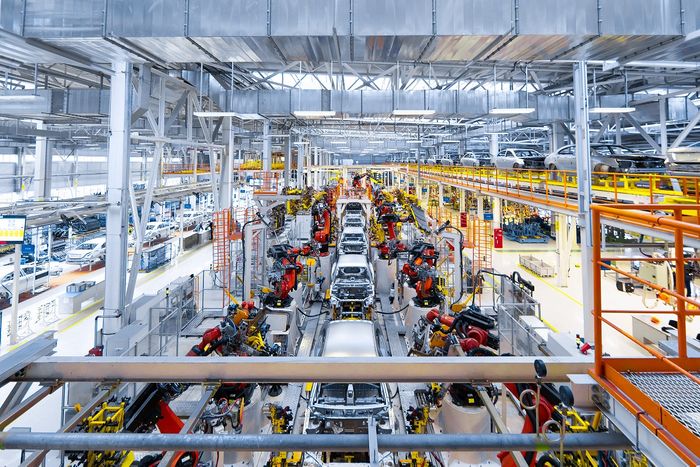 If your manufacturing software strategy isn't supporting your business needs, consider these areas before making a new investment leap.
Many manufacturers are facing crossroads. Businesses are already feeling the pressure of the pandemic fallout, fluctuating markets and Brexit regulations. Now, sun-setting software, or software no longer fit for purpose, is the added stress that no business wanted on this year's to-do list.
Sage 50 and Sage 200 have retired their manufacturing software modules, meaning support, fixes and development will end for users for their manufacturing software. Moreover, The Annual Manufacturing Report states that over 80% of manufacturers across the industry are also struggling around outgrown systems. As a result, a growing number of manufacturing businesses are searching for a future-proofed alternative.
Technology has raced ahead towards Industry 4.0., offering opportunities to innovate with manufacturing software suited to each business' requirements. Acknowledging the ongoing pressures the industry faces, consider these areas when casting your sights on a software investment:
Forecasting and lead times for better stock control
This year, when faced with a growing backlog of costly delays and shortages, many manufacturers have simply been left unable to cater for consumer demand.
Patchwork systems have left businesses in the dark about which components they need and when with no ability to delve into data and make proactive decisions to drive operations forward. Manufacturers are under or overselling their available goods with costly miscalculations. Instead of being able to monitor when stock is due to arrive and allocating ahead of time, or even substituting available components to increase fulfilment, their racks are full of other unsold, ageing stock while vital opportunities are being missed.
The reporting and forecasting abilities of your manufacturing solution should allow you to spot stock control problems ahead of time, and even eliminate them entirely. With full visibility of your inventory throughout the supply chain, your system should automatically identify stock demands from across all areas of operation. This includes any outstanding sales, current and desired stock levels, future forecasted demand and any manufacturing requirements for chosen locations. Meanwhile, the software should also account for stock held in the supply chain, lead times, buffer times and works order timescales.
With this knowledge, you can intelligently forecast seasonal changes, preserve your cash flow, and easily manage and trace stock across locations to effectively meet demand.
Accounting for fluctuating supplier and shipping costs
The rising costs of raw materials, shipping and freight costs are forcing many manufacturers to tighten their purse strings. Moreover, with the added complications of customs paperwork and delays from new Brexit regulations, manufacturers need to ensure their software provides accurate calculations of landed costs for cross border trade. Calculations should also automatically take into account any fluctuating individual prices and multiple currencies, and incorporate these additional sums into the total cost of stock expenditure, rather than just averaging costs over time. That way, you can be informed to make the best decisions as prices adjust for your operations.
Also, when trading cross-border, businesses want to rest easy in the knowledge that their software can adapt and be customised as any regulations change over time or as their particular sector requires. Before deciding on a provider, it is worth checking how they might handle any custom developments you may need.
Innovating the warehouse
As Brexit regulations mean many businesses have needed to make quick changes to their documentation and despatch processes, and even set up warehouses within Europe to adjust to cross border trading, it's never been more important for manufacturers to ensure warehouse automation and real-time accuracy in their operations.
Businesses need a system that offers complete cross-site visibility and connectivity for each stage of their processes. Plus, you need to be able to communicate with your business partners and couriers effectively, with direct integrations for a seamless go-between. Where too many manual and rekeying operations are involved across manufacturing operations, the whole process can be left open to widespread errors, delays and a lack of traceability.
For complete management of your works orders, look for software that can flexibly schedule based on detailed reporting and data analytics. That way, you can match your workflow and with your available production capacity. Whether you need limitless subassemblies for complex builds or the ability to calculate your available builds from existing stock, with comprehensive handling of your Bill of Materials, you can allow for easier component quantity variations, revisions and substitutions to ensure you can fulfil ongoing requirements.
On the warehouse floor, your employees should be able to access all the benefits of your software on-the-go, by incorporating handheld technology that synchronises with your manufacturing solution in real-time. Scanning barcodes and even plotting the most efficient routes for picking based on items, distance and staff capability, you can create a huge difference to your fulfilment levels and all-around precision.
Through this approach, controlling your resources becomes easier too, freeing up your time and cash flow with accurate tracking and real-time logging of stock, labour and equipment.
Ecommerce and service to connect with consumers
In the past, some manufacturers have seen their operations as middle-movers that rarely communicate directly with consumers. Over the last year, this has changed as we've seen a huge trend in 'servitisation' for both B2B and B2C manufacturers. This means businesses are seeking to orientate their operations increasingly around the wants and desires of the end customer with additional or adapted services. When taking customer payments, operating an ecommerce store or entering into marketplaces, manufacturers must ensure their systems can keep up with the volume of orders and transactions taking place.
Some software providers can fall short in these areas, unable to provide the end-to-end solution required, or else offering integrations that are simply too slow for purpose. In patchwork solutions such as this, the result is often bolt-on workarounds with mounting costs, rekeying and errors – all limiting factors to business expansion.
With a provider that covers all these bases from one central system, syncing your stock and order data across sales channels is an automated and traceable process. Whether you need a specific ecommerce platform, marketplace integration or a payment portal, your solution needs to seamlessly download orders and payments. Synchronising areas like your stock levels, prices and order statuses means your team and your customers have immediate access to the information they need from one source.
With a solution that connects to your customer payments, order processing and ecommerce operations, you can start to work ahead of time. Stock can already be reserved before it has landed and works orders can also be allocated to on order transactions, reducing production delays due to stock availability and driving order fulfilment. Online, items will register as out of stock before you oversell, based on real-time available to build calculations. When payments are processed and items are customised, back in stock, or ready for despatch, you'll have the ability to send automated messages that will keep your valued customers in the loop.
Find out more about your perfect manufacturing solution
If your manufacturing software is no longer able to support your business needs, it might be time to consider a new strategy. With the right solution, you can springboard your business to success instead of battling to stay in step with the day-to-day.
At OrderWise, we understand the difficultly of adjusting to a new software provider. That's why our accounting software is able to replicate the abilities of Sage 50 while supporting the extra functionality you need, through a customisable end-to-end solution built with manufacturers in mind.
Writing and supporting our software for the future, our development, customer success and training teams will ensure you can maximise your business success. For more information on the changes impacting the manufacturing industry, or guidance on what your business can do to innovate, you can contact our OrderWise team of experts today.