28 Aug 2020
Manufacturing Post COVID-19: Marching Toward Innovation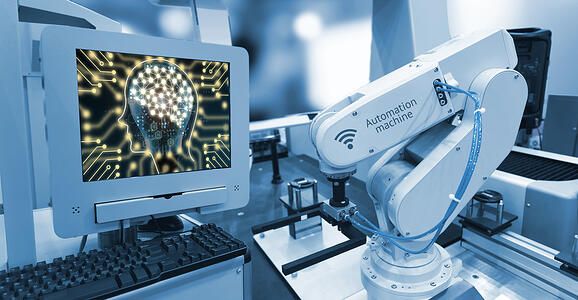 The COVID-19 pandemic fundamentally changed the way people live. Social distancing, face coverings, and remote working when possible are the new norms. Manufacturing, deemed an essential service, must forge on, finding new ways of working that balance the safety of workers with maintaining a production schedule to meet supply chain demands and sustain profits.
Manufacturers find themselves navigating the new normal of split team working, digital platforms, and remote working that can make worker connectivity and productivity challenging. There is a light at the end of the tunnel for manufacturers willing to embrace digital platforms and other technology designed to circumvent such issues.
Overcoming Difficulties
With the manufacturing sector accounting for 16 per cent of the global Gross Domestic Product (GDP), it is a major part of the economy that must be encouraged and sustained. A glaring report from the United Nations Conference on Trade and Development predicts global Foreign Direct Investments (FDI) will shrink by as much as 15 per cent. The downfall is attributed to factory shutdowns that occurred at the height of the pandemic to curb community spread of the virus.
COVID-19 presented new challenges for manufacturing.
1. Maintaining a safe environment
Adhering to government guidelines designed to flatten the curve of COVID-19 is an ongoing priority for global manufacturers. Governments issued guidance for manufacturers on operating safely during the pandemic. Some companies temporarily shuttered manufacturing plants to combat the spread, while others continued at reduced capacity or with strict safety protocols in place. The UK Government provided a lengthy document on its website devoted to measures designed to maintain a safe environment for workers. It applies to factories, plants, and warehouses, and it is updated as new information and safety methods become available.
Ensuring these new safety guidelines are followed poses unique challenges to the manufacturing industry. Some manufacturing plants, such as those where electronics products are assembled by hand, were tasked with ensuring social distancing. Assembly line operators normally are spaced at 0.6-metre intervals. Under COVID-19 measures, the spacing was increased by up to two metres to keep in line with World Health Organisation (WHO) recommendations. Meeting the new spacing requirements may reduce the total number of workers on the line, thus reducing overall production.
Manufacturing facilities also are required to provide workers with access to personal protective equipment (PPE), including masks and gloves, while working. Providing PPE increases operational costs for manufacturers. It also introduces the possibility of reducing finger dexterity, which is important for accurate assembly of products with smaller components, such as electronics. Reducing dexterity, in turn, slows down the production line.
2. Supply chain disruptions
One of the biggest disadvantages of depending on a global supply chain is what happens when it is impacted by a situation like a global pandemic. COVID-19 caused widespread disruptions, with 75 per cent of companies reporting they were affected in a March survey from the Institute For Supply Chain Management. A troubling aspect of the institute's survey revealed more than half of respondents relied heavily on components from China and that they had no backup plan when delivery of those items was delayed.
Smaller companies and those producing specialised products are most at risk since they often rely on single-sourced components. When China shuttered its economy in early 2020 in an aggressive attempt to slow the spread of COVID-19, it had devastating effects on companies that rely on components produced there. Electronics giants were not spared from the effects of the virus, with both Apple and Samsung reporting a 20 per cent decrease in sales for the first quarter of 2020. Demand dropped as consumers cut non-essential spending, causing the worst decline in sales the smartphone industry has experienced.
Supply chain disruptions are expected to continue for the next 24 months. Some companies are addressing the ongoing situation by securing new suppliers and shifting product lines to different regions to combat periodic shutdowns. The idea is if one country closes up shop in the continuing effort to slow the spread of the virus, companies can turn to a product line in a country that still is open to keep their production lines rolling.
3. Limited movement
The ability to freely travel and move products is another part of the equation. As countries closed their borders to control the spread of the virus, it became more difficult to obtain components needed for production and to transport finished products to consumers. Building and maintaining relationships with suppliers is more complicated, as is solving complex engineering problems. Both rely on in-person interactions, which are strictly limited during the pandemic.
Manufacturers are finding ways around the restrictions on movement, including warehousing available inventory in areas outside of quarantine zones near ports for easier access to shipping. They also are buying ahead to procure inventory and raw materials that are in short supply.
Marching Toward Innovation in the 'New Normal'
Manufacturing traditionally is a slow-moving industry. COVID-19 has created challenges that are forcing innovation at lightning speeds if manufacturers want to keep their heads above water.
Automation of some aspects of manufacturing is an important factor in safeguarding consumer and workforce health and wellbeing as companies navigate through this 'new normal.' A digital mindset is required if companies are to survive and thrive post-COVID. Some companies already have embraced digitalisation to ensure remote workers can stay connected.
Digitalisation involves more than collaboration technology for remote workers. Shifting toward e-commerce platforms and evolving the traditional procurement processes are among the ways the manufacturing sector is marching toward innovation.
Cobots: An Important Piece of the Puzzle
Collaborative robots or cobots are a form of artificial intelligence capable of communicating and collaborating with humans. Robots are not a new concept in manufacturing. They have been used for decades to help speed production and enhance accuracy. In some cases, they replaced human labour.
Cobots are different in that they are used to enhance the human workforce, not replace it. Humans and robots work side-by-side to increase efficiencies and improve productivity. The versatility of cobots makes them ideal for completing manufacturing tasks such as welding, materials handling, product quality inspections, and manual tasks (picking, packing).
Cobots are designed with the following criteria in mind.
Power and force limiting provide cobots with information that prevents them from exerting more force than a human can withstand. They are programmed to immediately cease operations if those limits are exceeded.
Safety monitored stopping sensors provide awareness of the proximity of human workers. Cobots stop an activity if a human gets too close to them to prevent injury.
Speed and separation monitoring sensors are used to reduce operating speeds for cobots when humans are nearby.
Hand-guiding features that include an end-of-arm device sensitive to pressure. It allows the cobot to adapt to the best way to hold an object without causing damage.
Using cobots allows manufacturers to enable further automation and use their human employees for performing more intricate work.
Next Steps
A June survey from PricewaterhouseCoopers (PwC) revealed that 80 per cent of manufacturers expect the pandemic to have lasting financial effects on their businesses. Martin Thomas, European Marketing Manager at Radwell said "Problems caused by the global pandemic will not disappear overnight. Manufacturers that hope to survive in this new normal must quickly embrace innovative technologies and focus on comprehensive proactive modelling."