08 Oct 2021
Maximum process transparency with robust 360° process visualisation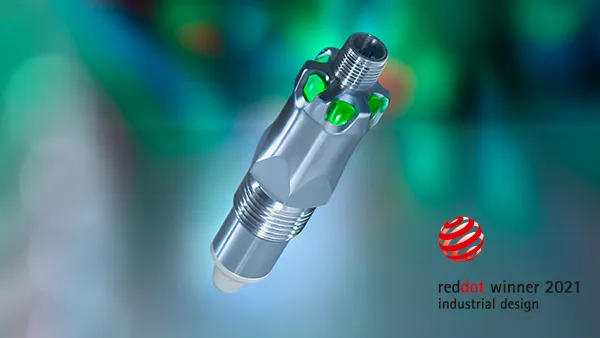 What medium is currently in the tank? Is the process proceeding as planned or are the values outside the tolerance limits? Plant operators can effortlessly get all this information at a glance with the robust 360° KingCrown process visualisation.
During the level measurement with the CleverLevel PL20, five defined colors indicate whether the level has been reached, what medium is in the tank, or if there is a malfunction. Thanks to the 360° LEDs, this information is visible from all locations all the time, allowing reliable processes. Its minimalist and robust design has won the Baumer KingCrown this year's Red Dot Award in the Product Design category. The stainless steel electrical connection in combination with the visual status display is distinguished, among other things, by its maximum robustness and long-term tightness according to the Baumer proTect+ tightness concept.
Process transparency based on color indication
The 360° LED crown provides immediate visual indication of the system's operating status, with which malfunctions can also be indicated and directly localized. This increases the process safety and reduces the response times in the case of malfunction. Thanks to the Baumer KingCrown, the process visualization is clearly visible at a glance directly on site in any installation position, without blind spots. What is more, the intense colors are easy and quickly visible in any production environment, even in daylight.
Reliable in demanding ambient conditions
In production conditions involving high humidity, temperature changes, or water spray, sensors require greater impermeability and robustness. Designed in accordance with the proTect+ impermeability concept, the KingCrown is the right solution for such challenges. The test series developed by Baumer first simulates the effects of aging before the sensors are subjected to the impermeability test according to the IP protection directives. The stainless steel sensor housing with an LED crown for visual process indication protects the electronics from environmental influences, minimizing downtime and failures. The sensor is also distinguished by exceptional resistance to impacts and fracturing during installation and production. As a result, the level switch CleverLevel PL20 with KingCrown can be used even in demanding production environments.