18 Feb 2022
MHA, a leading firm of chartered accountants, tax and business advisers, join the line up of leading brands participating at Manufacturing and Engineering Week 2022 (M&E Week).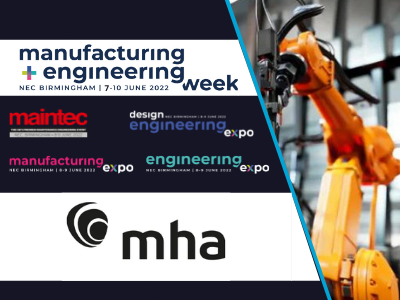 MHA, offer a comprehensive range of financial and business strategy services to clients across the UK, enabling them to achieve profitable growth and build sustainable long-term success.
They will be the official Audit, Tax and Advisory Sponsor across all 4 events taking part during M&E Week and will also be running an Audit, Tax and Advisory Clinic during both days at the show. Here their team of manufacturing accountants and auditors will use their in-depth knowledge of the sector for advising businesses across manufacturing and engineering, from start-ups needing guidance through to developing growth strategies for multi-national organisations.
Chris Barlow, a Partner at MHA comments: 'MHA are delighted to be the Audit, Tax and Advisory sponsor of Manufacturing & Engineering Week. With our client focus and sector- led approach we advise many manufacturing and engineering companies across the various stages of their development; working alongside entities during acquisition or sale, advising them on tax planning or providing them with a value-added audit process we consider ourselves a true partner in terms of audit, tax and advisory work to the sector. We do this through the power of great relationships, great conversations and great futures.'
'
M&E Week Event Director Natig Asadullaev also adds, 'We are thrilled to have MHA involved with M&E Week 2022. Their agile and responsive approach means they are always on hand to have the right conversations at the right time, helping clients identify goals and business needs both now, and in the future.'
Find out more about MHA on their website https://mha-uk.co.uk/
'
To find out more about exhibiting, sponsoring or partnering with M&E Week click here.
To register your interest in attending M&E Week click here.'
'
Notes:

Manufacturing & Engineering Week features 4 co-located live shows on 8-9 June at the NEC in Birmingham.
'
Manufacturing Expo
Manufacturing Expo is a 2-day free to attend event created specifically for manufacturing process and management professionals to keep up to date and discover the technologies and equipment to ensure the efficient running of the manufacturing site, maintain a competitive edge and optimise manufacturing process and production for the future.
Design Engineering Expo
Design Engineering Expo is a 2-day free to attend event where the UK's design engineering community can connect directly with leading suppliers from design services, electronics, embedded design through to testing and measuring to drive efficiencies and propel the future of design engineering in the UK.
www.designengineeringexpo.co.uk
Engineering Expo
Engineering Expo is a 2-day free to attend event showcasing next generation engineering and tech solutions from Britain's best suppliers across the entire engineering supply chain.' Whatever the engineering sector, Engineering Expo will provide the UK's engineering community with practical advice to reduce costs, streamline and drive the industry forward.
'
Maintec
Maintec is the longest standing exhibition dedicated to the maintenance, reliability and asset management industry. Throughout its 40-year+ history, the event has continued to meet the needs of the maintenance engineer covering industrial, buildings & supply chain maintenance engineering and provides an opportunity to source the very latest technology available on the market.
www.maintec.co.uk
'