06 May 2021
Micro Crimping tool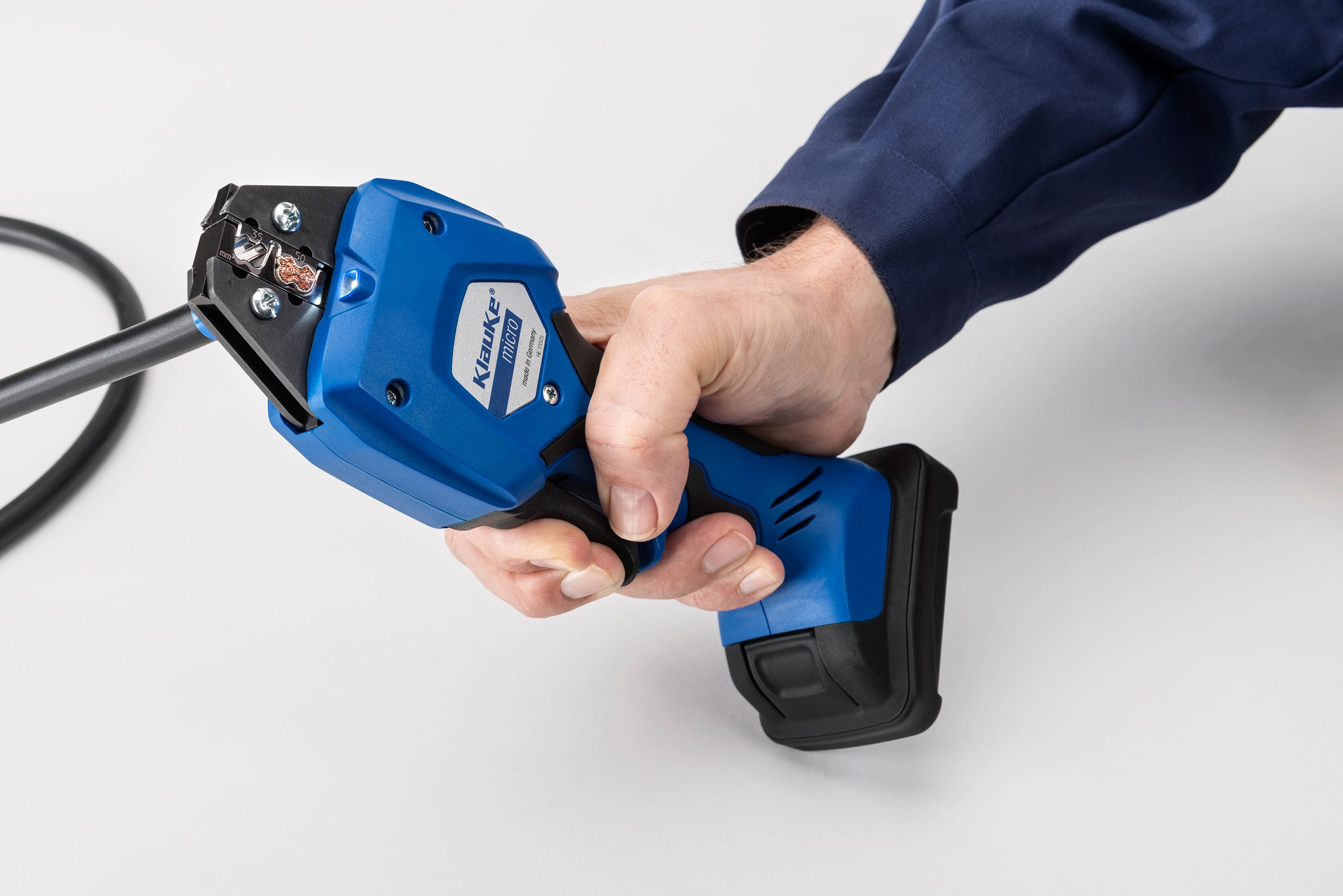 Improve productivity and Quality
For such a compact tool the results are significant. Every user of manual ratchet crimping tools knows that after a day's work the strain on your hand can be felt. The thought of a battery powered alternative is very attractive, but how beneficial can it be?
The first aspect that strikes you is how compact and lightweight the Klauke Micro is. At less than 1Kg and with 2K soft grips, it fits very comfortably in the hand. The tool jaws respond from the manual action of pulling the tools operation lever. This is purely mechanical so installers can 'feel' the connector and make sure its positioned correctly. With the connector 'pre-clamped' a further squeeze of the trigger delivers power to the 10.8V motor, completing the crimp with minimal handle load. In fact, the same low handle load for all sizes, whether 0.5mm2 or 16mm2; it is the motor taking the strain, not your hand.
The in-built Intelligent Pressing System (IPS) ensures every crimp is fully completed and the jaws finish fully closed. If for any reason the crimp is not completed correctly, the tool will alarm (audible & visual) to alert the user. Used with the Klauke iPress® software it creates time and date stamped quality certificates which improves traceability for any manufacturer.
This means more crimps can be made, for a longer period of time, with consistent quality results, without causing any strain to the user. More repeatable results, improving productivity and quality of connections made.
Suitable for pre-insulated connectors (0.5 – 16mm2), Cu tube connectors (0.5 – 25mm2) and cable end sleeves/ boot lace ferrules (0.14 – 50mm2), the benefits are Macro.