New Intrinsically Safe 4-20mA Transmitter Series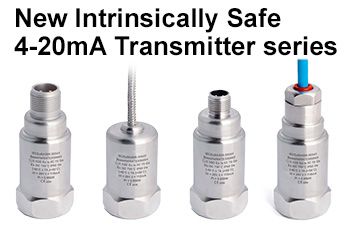 We have expanded our range of ATEX and IEC Ex certified intrinsically safe 4-20mA vibration transmitters, ideal for direct use with PLC, BMS or other 4-20mA input modules. The most recent addition is the HS-421I and HS-423I series of transmitters now giving AC & 4-20mA output in certified areas. Sealed to a minimum of IP65 and certified for use in Group II (Petrochemical) applications. This ensures the safe operation of electrical equipment in dangerous areas.
With their construction in stainless steel and the ability to withstand tough operating conditions, the transmitters offer reliability, optimum performance and long service in a range of hazardous environments. Available in a choice of either integral cable or connector, including tough braided cable, waterproof silicon cable, 3 Pin MS connector or M12 connector.
For more information view the range of HS-421I and HS-423I datasheets on our website: www.hansfordsensors.com