Next-generation hydraulic power units slash total cost of ownership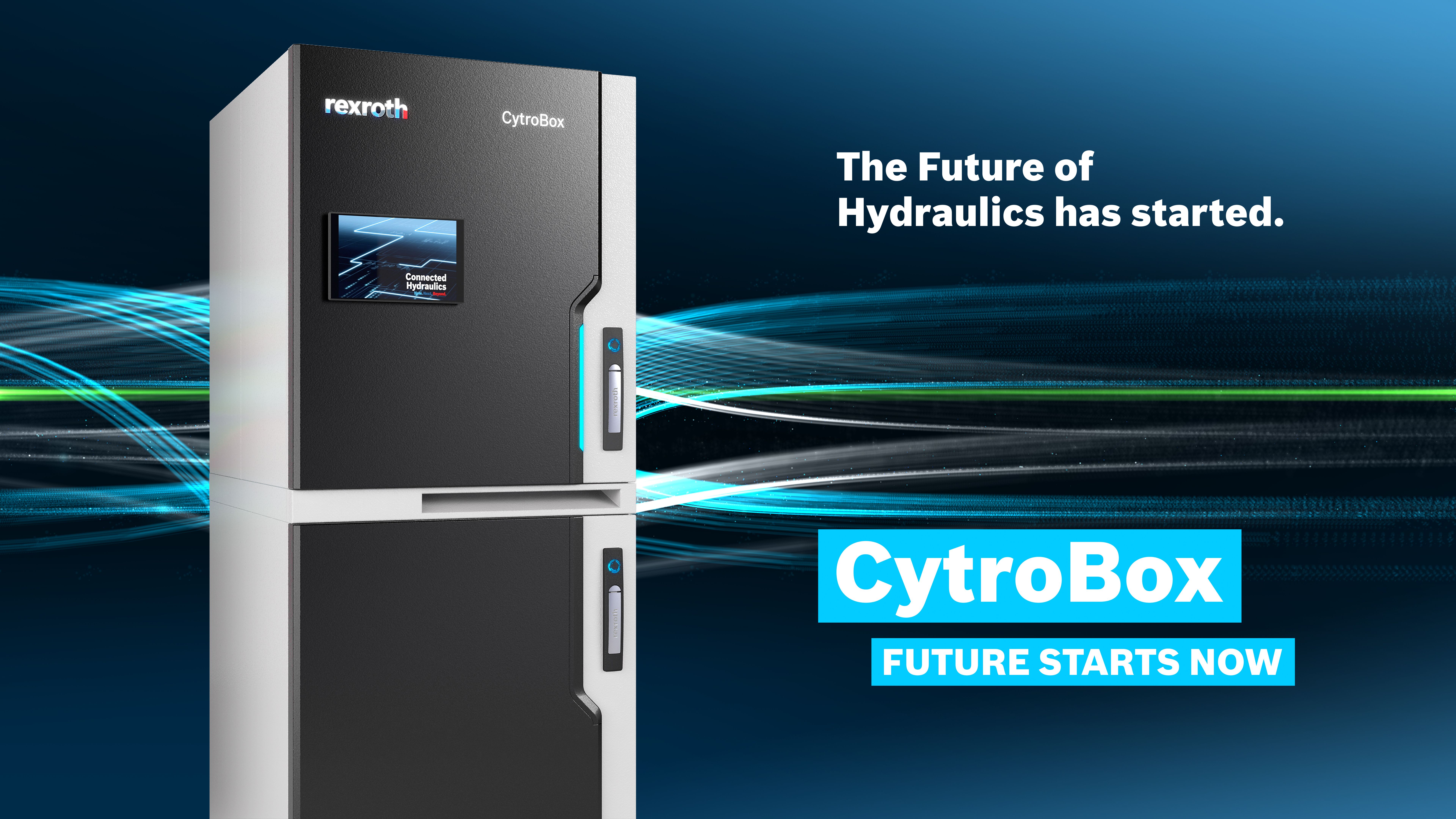 With the latest generation of hydraulic power packs, users benefit from easier maintenance, lower running costs and unsurpassed connectivity, says David Stubbs.
Hydraulic power units are sometimes viewed as just a way to generate hydraulic pressure and flow for powering machinery. With all the 'buzz' today being about Industry 4.0, the Factory of the Future and the Internet of Things (IoT), Bosch Rexroth has brought the hydraulic power unit bang up to date by launching CytroBox. Moreover, the benefits inherent in CytroBox result in a much lower total cost of ownership (TCO).
Connecting machines and facilities with IT systems offer enormous potential for more economical and intuitive processes. With its intelligent, energy-efficient, modular design, CytroBox offers huge advantages for applications requiring up to 30 kW. Thanks to integrated IoT technologies, CytroBox paves the way for implementing Industry 4.0 concepts.
Bosch Rexroth took a clean-sheet-of-paper approach to designing CytroBox with a view to improving energy efficiency, connectivity, condition monitoring and space requirements.
Improved energy efficiency
A variable-speed controller and water-cooled synchronous servo motor optimize current consumption and improve energy efficiency substantially. The variable-speed pump drive adjusts energy requirements as needed. Speed is reduced under partial- or no-load to save anergy and, conversely, increased under full load with a highly dynamic response. This saves up to 60 per cent of energy compared with conventional power units. The synchronous motor is also as much as 80 per cent smaller than a comparable asynchronous motor, saving space and weight.
A new design of high-efficiency manifold block is cast using 3D-printed sand cores. The manifold block is up to 40 per cent smaller and boasts improved flow channels. As a result, oil flow is improved and pressure losses reduced. CytroBox also features an active dewatering unit to protect against external contamination.
Connected for condition monitoring
Equipped with sensors and open interfaces, CytroBox is ready for use in connected environments. As standard, sensors monitor control pressure, oil level, temperature and pressure drop across the filter. Optional sensors monitor pump leakage, water content, dissolved air, dirt particulates and oil pan leakage. Sensor data is processed by the drive controller and, with the help of the Open Core Interface, it can also be integrated within the overall machine concept.
CytroBox is offered with a choice of connectivity options so users can realize the potential of IoT technologies. CytroConnect is a free service for monitoring performance via a smartphone, tablet or any web browser. Alternatively, there are two subscription services: CytroConnect Maintain adds trigger points (alarms) and CytroConnect Predict uses artificial intelligence for predictive maintenance and preventing unplanned downtime. All CytroBox information – from the component and operating status or forthcoming maintenance work, to predictive maintenance analyses – is available via Rexroth's Online Diagnostics Network (ODiN) so it is always close to hand.
Compact and quiet
By taking a fresh approach, Bosch Rexroth has designed a flexible and space-saving unit that is also faster to commission. Depending on the power rating, CytroBox's footprint is up to 75 per cent smaller than conventional alternatives thanks to a 'fridge-freezer' layout with the hydraulic components at the bottom and electrical equipment above. The compact configuration saves valuable floor space and makes it easy to retrofit the CytroBox to existing hydraulic systems. Using CFD (computational fluid dynamics) at the design stage resulted in a reservoir that is 75 per cent smaller and optimises flow and degassing. Oil volume is reduced from 600 litres to 150 litres, which gives a direct saving in oil costs and disposal costs when oil changes are undertaken.
With everything built into a cabinet-style enclosure with integral sound insulation, there is no need for a separate acoustic enclosure. Furthermore, the motor pump group is affixed rigidly to a polymer-concrete foundation to reduce structure-borne noise. The damping bearings that would typically transmit the noise to the tank are completely eliminated. Even at full load, CytroBox noise emissions are less than 75 dB (A), which is much quieter than the average 85 dB (A) from comparable power units. Despite the innovative cabinet-style configuration and integrated sound proofing, CytroBox still provides easy access for maintenance.
Within two years, the TCO for a CytroBox hydraulic power unit will be lower than that for a conventional unit. The ongoing benefits, year-on-year, have a positive impact on profitability.