14 Jan 2020
Online Configurator Tool allows design engineers to create their own drive specifications quickly and easily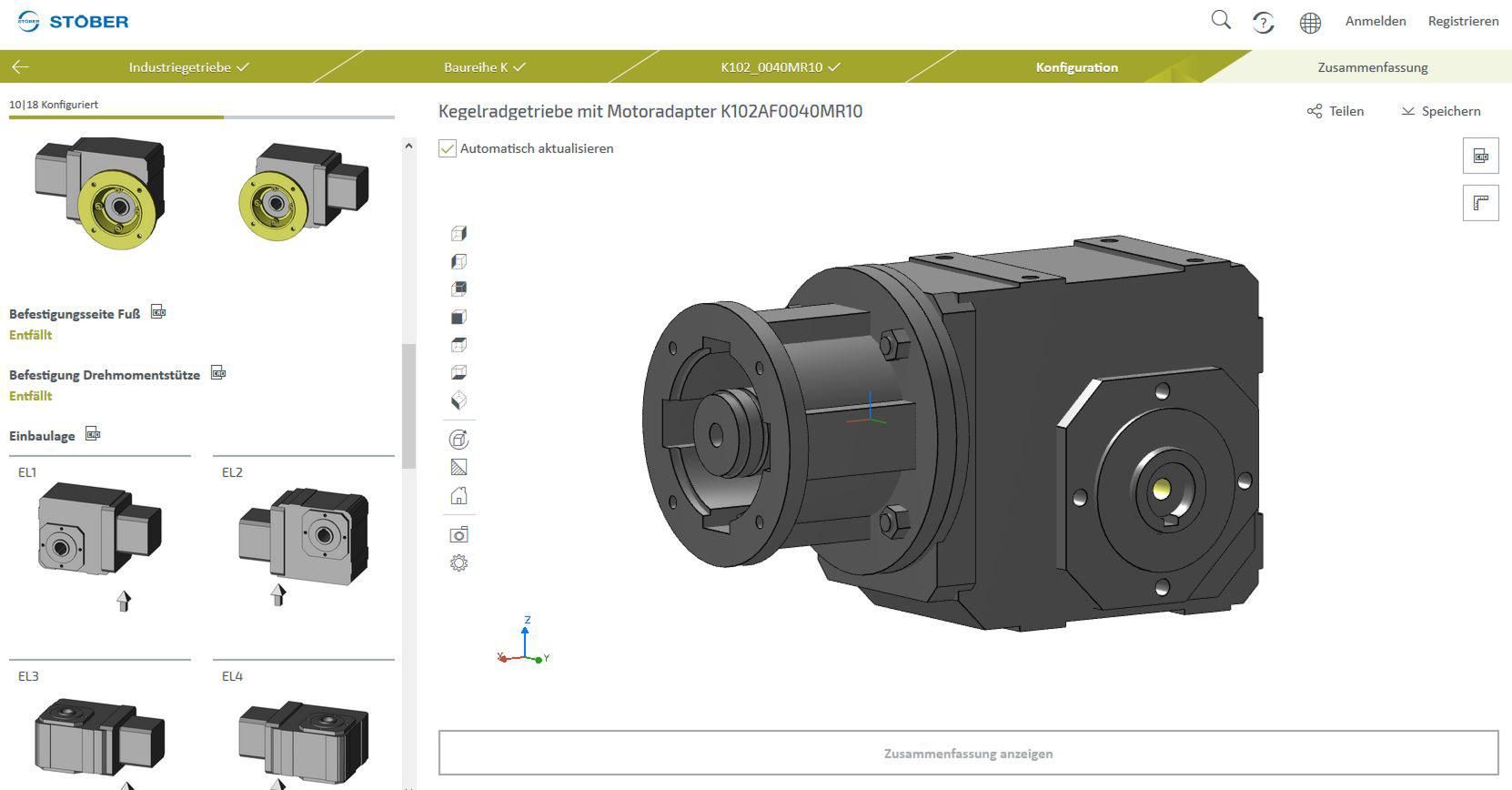 STOBER Drives has just released its new online Configurator, an innovative tool that allows Motion Control and Power Transmission drive designers and engineers to create their own drive specification in real time.
Using the STOBER Configurator, specifiers can create many different configurations, integrating products from the STOBER motion product portfolio, with just a few clicks.
Once the specifier has used the fast and easy configuration interface to build the optimum drive for their needs, the data and drawings can then be downloaded, and a quote requested from STOBER.
The powerful Configurator has the most popular 3rd party servo motor brands inside for quick selection of a STOBER gear unit to suit, or you can take the complete STOBER Geared Motor Solution.
This innovative development from the STOBER drive and automation experts is part of its strategy to provide customers with comprehensive support through its digital services.
It allows mechanical and design engineers to save a considerable amount of time, as until now, they had to gather and compare extensive manufacturer-specific documents. Now, they can use this  online resource to quickly and easily construct the right solution from gear units, geared motors, motors, drive controllers, motion controllers and matching software.
The intuitive and practically designed interface, allows users to quickly design their own unique solution in real time with just a few clicks. Numerous filters and comparison options are available within the online Configurator to make this easy.
For example, users can compare components by price, power density, backlash, speed, and depending on which filter is set, the best solution is displayed automatically. Users can then configure this result to suit their specific project needs. In the case of geared motors, for example, users will find a selection of versions for the output shaft or hollowbore, housing and even mounting position.
The latest STOBER motor technologies are all selectable, including its Lean Motor sensor-less design, Synchronous Servo, all with or without gear units, as well as Ballscrew and Rack Pinion Solutions.
Within the Configurator software, design engineers can also gain direct access to technical data sheets, as well as dimensional drawings and 3D models for immediate download. Selected items can then be quoted directly from STOBER for your application.
The finished selection can also be saved for later use and shared with others. This makes selecting the ideal STOBER product combination extremely easy.
TRY IT NOW
To try out the new STOBER Configurator, please go to https://configurator.stober.com Then, it's just three easy steps to your first drive configuration - Select – Configure – Download.
EMAIL OR CALL FOR MORE INFORMATION
For more information, please contact STOBER Drives Limited on 01543 458858 or email sales@stober.co.uk