14 Jan 2020
Play it safe with the STOBER SD6 drive controller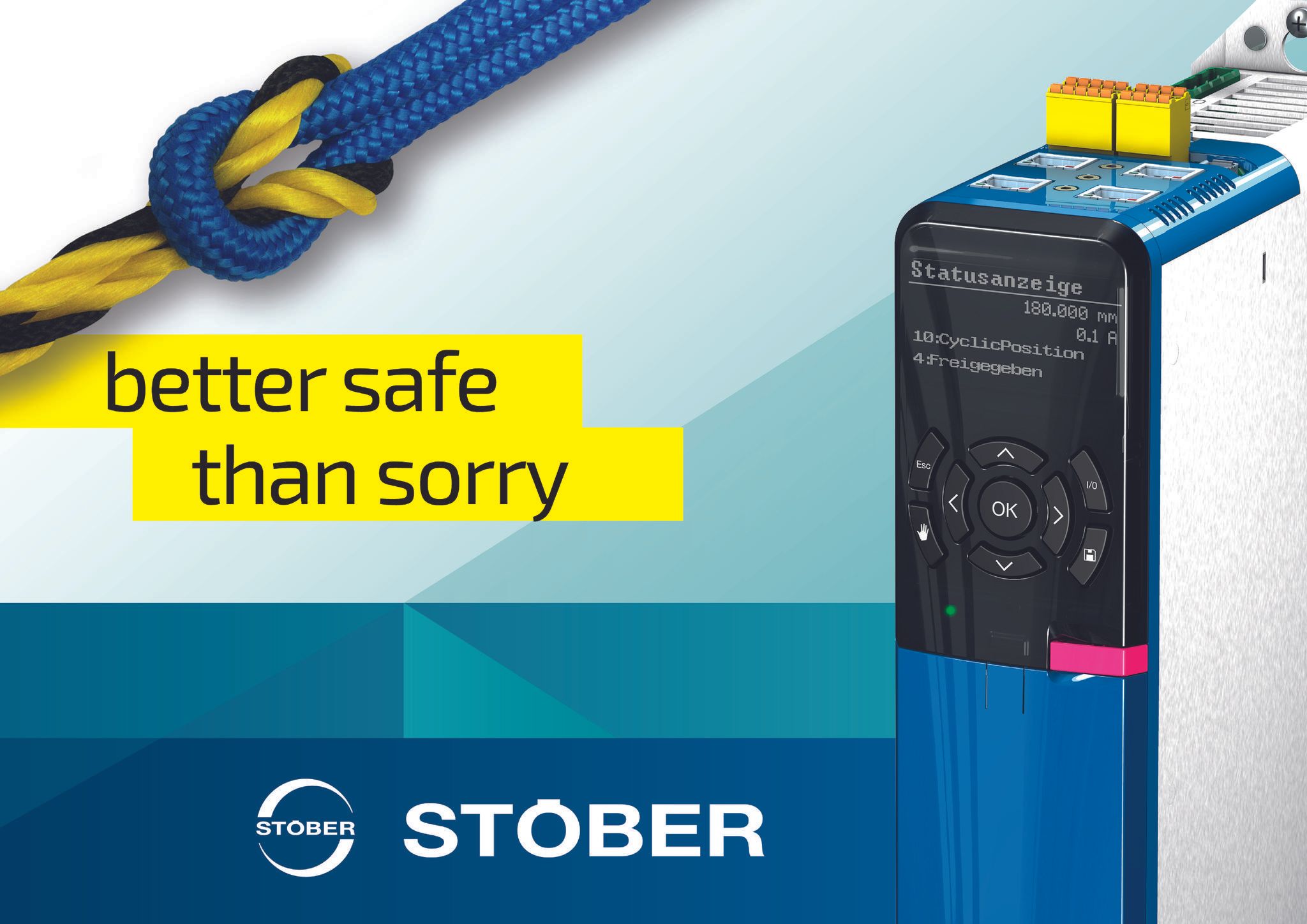 Powerful SE6 'advanced safety module' from STOBER integrates into SD6 drive controller for drive integrated safety functionality
In cooperation with Pilz-Safe Automation, leading international power transmission and motion control specialists, STOBER, has designed the SE6 safety module for their outstanding SD6 drive controller.
For those already using, or planning to specify the SD6 drive controller, the SE6 is a new module that is easy to use and allows for safe drive monitoring in safety-related applications up to SIL 3, PL e (category 4) in accordance with EN 61800-5-2 and EN ISO 13849-1. The low worst case response time of less than ten milliseconds enables fast stopping, allowing the design engineer to keep safety distances to a minimum.
One of its highlights is 'safe brake management', which consists of Safe Brake Control (SBC) and Safe Brake Test (SBT) with test cycle monitoring.  "This enables the drive controller to fulfil the requirements of the soon to be released EN 16090-1 and is based on a publication of the German Social Accident Insurance (Deutsche Gesetzliche Unfallversicherung, or DGUV)â€', explains STOBER's Drive Controller Accessories product manager, Markus Frei. "The DGUV trade publication forms the basis for the draft standard DIN EN ISO 16090-1:2016-02, where the topic of protecting vertical axes is described in a standard for the first time."
In addition to the Safe Torque Off (STO), Safe Stop 1 (SS1) and Safe Stop 2 (SS2) stop functions, SE6 also enables functions for safe movement and safe motion monitoring. The Safely Limited Speed (SLS) and Safe Speed Range (SSR) functions ensure that the drive does not exceed the configured velocity limit values.
Safe Direction (SDI) monitors the configured direction of motion, and Safely Limited Increment (SLI) limits the increment reliably. Safe Operating Stop (SOS) monitors an active stop.
The issue of real-world suitability took priority during development together with Pilz-Safe Automation and as a result, all safety functions can be used up to SIL 3, PL e (category 4).
Also, the SE6 allows the user to respond variably when a limit value is exceeded, or in the event of an emergency stop. . "It is not always a good idea to shut off the drive controller immediately and perform an uncontrolled stop of the drive when a limit value is violated. For a fast and simple restart, it is usually better to deliberately stop the drive using the controller, and only to intervene with the drive controller if the controller fails to do so," says Frei.
Special motors, encoders, cables or stall or speed sensing switches are no longer required using the SE6. The user can reuse existing drive configurations or switch to components that are suitable for the application. This, in turn, is usually associated with a reduction in system costs.
In order to continue increasing the productivity and availability of the machine, the monitoring mechanisms of the safety functions have been expanded beyond basic standardised requirements. Owing to position-based limit value monitoring, or the predictive hiding of interference signals, the intended limit values can be approached with a minimal interference distance.
As with many STOBER drive products, replacement is easy, as the user only has to swap the removable data storage and confirm the replacement. This transfers the overall device configuration to the new drive controller and can be done without the need for specialist knowledge or software tools.
Featuring a consistent two-channel structure, the SE6 tests the integrated components upon every device start-up, after every STO and during operation. As a result, cyclical function tests of safety functions that are subject to documentation at the end customer's location can be eliminated.
The 6th generation drives from STOBER offer powerful stand-alone and multi-axis drive controllers for highly-efficient multi-axis applications. The flexible SD6 single-axis drive controller, which is part of this product family, has a nominal output current of up to 85 amps and is primarily used in drive-based applications with decentralised motion control. It also controls linear and rotational synchronous servo motors, as well as asynchronous motors.
A benefit of its modular interface concept and extensive accessory range means that the SD6 can be configured with precision to solve even the most specialised drive tasks.
Communication modules for CANopen, EtherCAT or PROFINET can be selected for the connection to a higher-level controller.
EMAIL OR CALL FOR MORE INFORMATION
To find out more about how you can add STOBER's SD6 with improved safety technology to your application, please contact STOBER Drives Limited on 01543 458858 or email sales@stober.co.uk