11 Oct 2021
PLUG & PLAY - STRENGTH IN UNION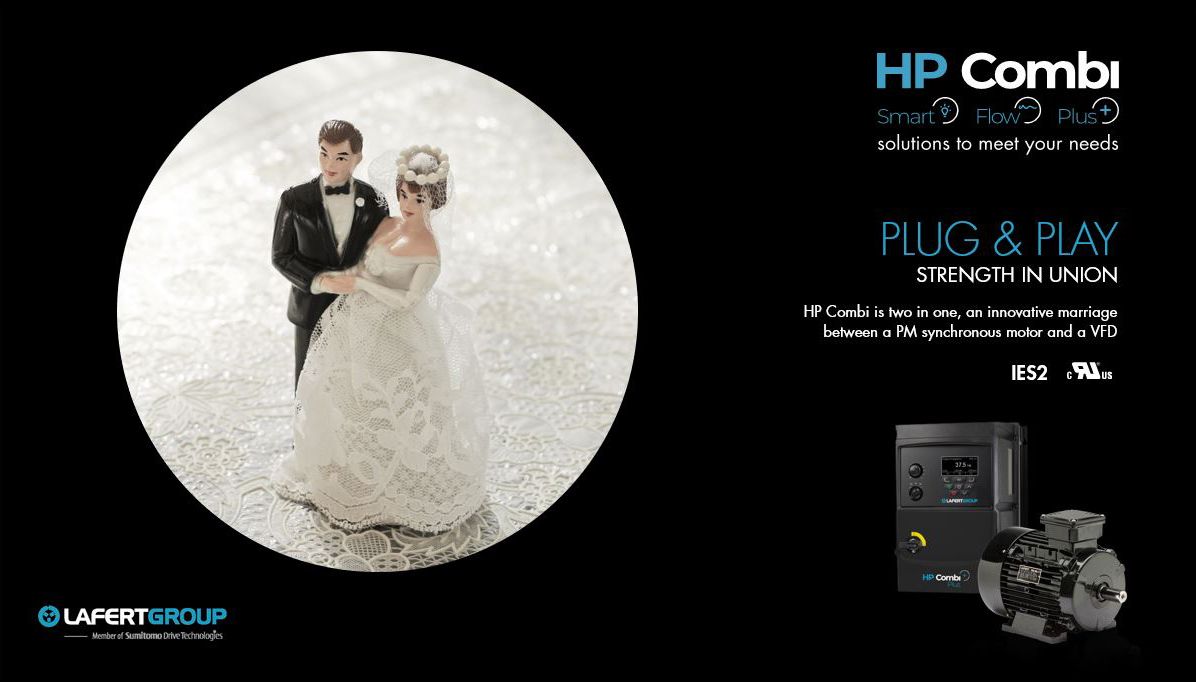 HP Combi is two in one, an innovative marriage between a permanent magnet synchronous motor and a variable frequency drive.
A system intended both for variable torque applications, typically HVAC, and for constant torque applications such as material handling, air compressors and vacuum pumps. Easy configuration, increased system efficiency and up to 50% reduction in size and weight.
 
"We created the first solution that combines a motor and drive in a single configuration where the speed is fully controllable. Thanks to the harmonious development of the motor and drive, we can optimize the performance of the package according to the application by synchronizing both drive and motor. This results in substantial energy savings and a significant reduction in development times"Â explains Davide Bravin, Sales Director of Lafert Group.
  
Key benefits of HP Combi
* drive pre-configuration that allows for immediate use after installation– the operating parameters are preloaded without the need for further technical settings
* advanced electronic control that allows you to configure the drive through HP Drive Tools, a user interface available for PC or mobile app, transferable with dedicated HP Drive Stick (USB).
* opportunity to optimize performance by adapting to the needs of individual applications by synchronizing motor and drive as a single package.
* IP66 / NEMA 4X outdoor protection for decentralized installation of the drive near the motor even in harsh environments
* greater efficiency and shorter payback time thanks to precise speed control and system optimization
* a single supplier for the motor and drive meeting the technical needs of both to ensure leading system performance
* three motor/drive configuration packages – Smart, Flow and Plus – to satisfy both variable and constant torque applications.
 
Save energy with HP Combi
 
Electric motors have a significant impact on global energy consumption: more than 75% in the industrial sector and 40% in the commercial sector. Today, increasingly demanding legislation for energy efficiency and the industry's greater awareness of environmental responsibility are changing the world of electric motors towards the use of more efficient solutions.
 
Lafert once again embraces the challenge and confirms itself as the leading company in energy efficiency solutions. In fact, HP Combi is the peak of energy saving solutions: it is a combined package of an IE5 motor and dedicated drive. HP Combi achieves significant energy savings and a reduction in energy costs of up to 50% thanks to maximum speed control from a VFD, our high-efficiency motor with permanent magnets and the variety of configurations we offer to best suit your application's needs.