15 Feb 2022
Rules of Origin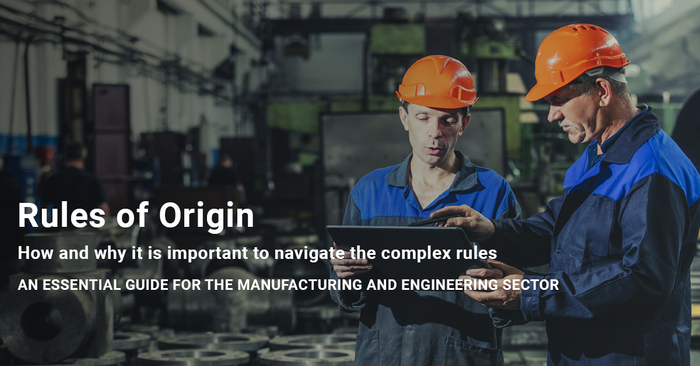 How and why it is important to navigate the complex rules - An essential guide for the Manufacturing and Engineering sector.
2022 is the year that UK businesses need to understand how to determine the "origin" of the goods that they export from the UK and to understand the impact of the rules for imported goods.
The rules around the paperwork relating to origin are tightening up. They are a key part of the trade agreement and UK businesses have been allowed a soft landing during the first year. This has now ended.
There are potential penalties and impact to commercial relationships by assuming that your goods are UK origin if they meet one set of criteria. Under the FTA, goods exported to the EU as UK origin must meet specific rules. Getting it wrong can result in goods being rejected at the border and penalties for incorrectly applying zero-tariff arrangements. The transitional period, for ensuring satisfactory supporting evidence of origin, allowed under the trade agreement expired on the 31st December 2021. UK companies who have exported goods to the EU under cover of a Statement on Origin must have all the required evidence, that covers 1st January 2021 onwards, in place by the 31st December 2021 otherwise there could be a liability for civil penalties and customers being subjected to back-dated duty assessments.
---
UK/EU Trade Cooperation Agreement (TCA)
This agreement provides the basis for trading between the UK and EU as of the 1st January 2021. Contained within the agreement are the terms with which UK and EU importers can benefit from zero customs duty tariffs on 'originating' goods.
To read the full article, please visit: https:mha-uk.co.uk/wp-content/uploads/2022/01/Rules-of-Origin.pdf?utm_source=newsletter&utm_medium=Article+link&utm_campaign=Me+Expo+22&utm_id=Me+Expo+22