01 Feb 2018
SIEMENS CONTROL SOLUTION SUPPORTS E&R's INNOVATIVE COATING MACHINERY DEVELOPMENT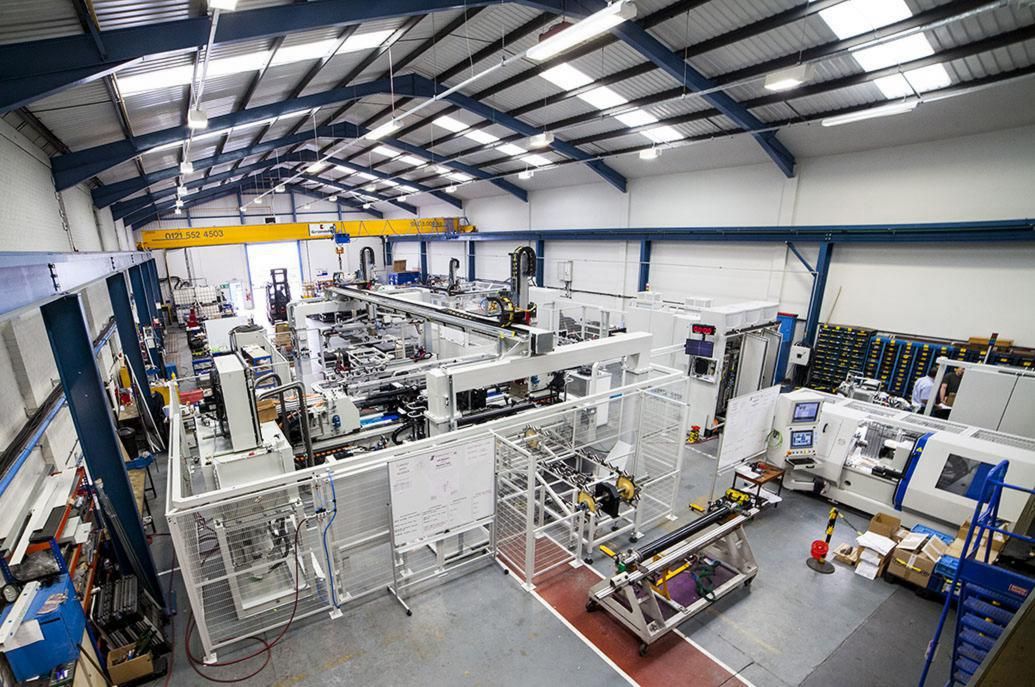 Control technology solutions from Siemens have been specified on a new range of cutting-edge coating machines forming part of a new market-leading modular production platform.
The platform has been created by leading production machinery manufacturer, Emerson & Renwick Ltd (E&R) and incorporates vacuum, wet and digital coating capabilities, with the vacuum coating solution identified as a radical and disruptive technology innovation.
Working with partner, HMK, Siemens' control technology, including S120 and 1F7 motors, S7-1500 SIMATIC advanced controllers, IPCs and HMIs, now form part of the control solution to be offered on the new machines going forward.
Gary Kitchin, managing director at HMK, comments: "HMK has worked with E&R for a number of years, specialising in control solutions.  E&R has developed a range of coating/converting machines as part of a new modular production platform, including the ability to handle vacuum, wet and digital coating requirements.  As part of the development, we were able to demonstrate the performance and reliability advantages of Siemens' control technology and help ensure it would be offered as first choice on the coating machines as they are produced as part of the modular platform.  The technology has been proven on initial development machines and will be the main control architecture on future purchased machines."
Ben Clements, managing director at Emerson & Renwick Ltd, says: "We are already seeing high levels of interest in this cutting-edge modular platform from the OEM market.  The vacuum machine, in particular, has proven particularly popular.  Large end users have visited our premises to view the technology in action, and we have already taken multiple orders as customers can see the benefits it delivers.  The coating solution is a real area of focus for the business and we believe the machines we are developing are truly ground-breaking.
"By partnering with Siemens and HMK we know we are accessing world-class technology control solutions to support the platform, and believe we have current 'best in class' control functionality, as well as a future proofed control solution going forward."
Keith Thornhill, Business Manager – Production Machines Siemens UK & Ireland, concludes: "This has been an exciting project to be involved with.  The fact that our control technology, alongside the system expertise provided by HMK, provides the answer for E&R as it continues to innovate and develop real advances in coating machinery capability is testament to what can be achieved through effective collaboration." 
Ends
Media contacts
For further information, please contact:
Paul Addison at Siemens paul.addison@siemens.com
Nicola Pittaway at McCann PR nicola.pittaway@mccann.com or 0121 713 3744
Follow us on Twitter at: www.twitter.com/siemens_press
About Siemens
Siemens AG (Berlin and Munich) is a global technology powerhouse that has stood for engineering excellence, innovation, quality, reliability and internationality for more than 165 years. The company is active in more than 200 countries, focusing on the areas of electrification, automation and digitalization. One of the world's largest producers of energy-efficient, resource-saving technologies, Siemens is a leading supplier of efficient power generation and power transmission solutions and a pioneer in infrastructure solutions as well as automation, drive and software solutions for industry. The company is also a leading provider of medical imaging equipment – such as computed tomography and magnetic resonance imaging systems – and a leader in laboratory diagnostics as well as clinical IT. In fiscal 2016, which ended on September 30, 2016, Siemens generated revenue of €79.6 billion and net income of €5.6 billion. At the end of September 2016, the company had around 351,000 employees worldwide. Further information is available on the Internet at www.siemens.com.