18 Mar 2022
Software is only part of the solution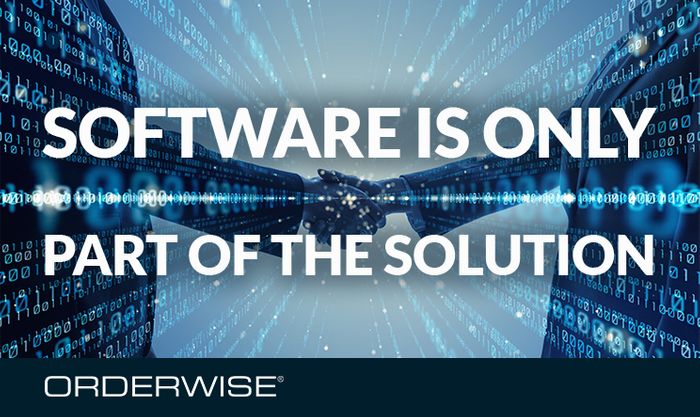 Software might be the first several steps, but the journey for your business will be a lot longer than that. Learn more about the rest of the process towards growth and success.
The ultimate guide to business partnering in growing organisations
No matter which industry you operate in or supply, your software business partner must be committed to ensuring you have maximum operational efficiency and the fastest possible ROI.
When choosing ERP or WMS software partners in business, you're not just investing in a solution. You're committing to a relationship that will sustain your growing organisation.
To help you understand distinctions in the competitive software vendor market, we have created the ultimate guide to business partnering in growing organisations.
How to approach a potential business partner?
There is no shortage of ERP or WMS software providers out there. And all of them will tell you they're the best. Nevertheless, you don't just need a solution provider. You need a business partner.
When considering how to approach a potential business partner, there are two key things that the right provider will do first.
Thoroughly assess all aspects of your business. Everything from your industry and size to your client base, existing processes, and your future goals and ambitions.
Provide you with a step-by-step breakdown of what you need from a potential ERP or WMS software solution. This will include a project and implementation timescale as well as associated costs and training
Any prospective ERP or WMS partners or companions in business who don't take the time to assess you and provide a realistic project overview are unlikely to meet your expectations.
Are they an extension of your business?
Your ERP or WMS solution will be the foundation of your business and ultimately responsible for the level of your operational efficiency.
Your software business partner should be seen as an extension of your corporation. Not merely a seller or reseller, but a specialist in your solution and industry. A business partner that can support your growth and develop a solution that scales to this growth.
When looking for a business partner, consider their expertise and support as part of your ERP or WMS solution. Changes to your business and industry can occur rapidly, so you need partners in business who are forward-thinking and proactive.
How is the support outlined and what does include? More importantly, how does this compare to their competitors?
Is support proactive?
A hands-on software business partner doesn't wait for issues to arise. They are continually developing their ERP or WMS solution to support evolving needs. Any business partner should have a clear vision of your organisation's growth pipeline and be actively assessing what you'll need out of the software to support this.
Software partners or companions in business should continually review your progress and assess where you are in terms of reaching your business goals. Then, they should assess how their solution and services need to adapt to progress this. This may involve exploring the possibility of implementing additional licences, new integrations, updates, developments or new modules.
It's this level of support, that will ensure ROI and will help your business to grow and expand. A business partner that sits back and waits for you to come them does not indicate a progressive relationship.
Start your journey today
Implementing a new ERP or WMS software and onboarding a new business partner is a critical decision. On average, companies will spend 17 weeks to make a choice.
So start the process now and request a callback from one of our software specialists to discuss your requirements and get an honest time-scale of your desired project.