14 Jan 2020
STOBER SI6 compact drive controllers increase productivity of new generation winding machines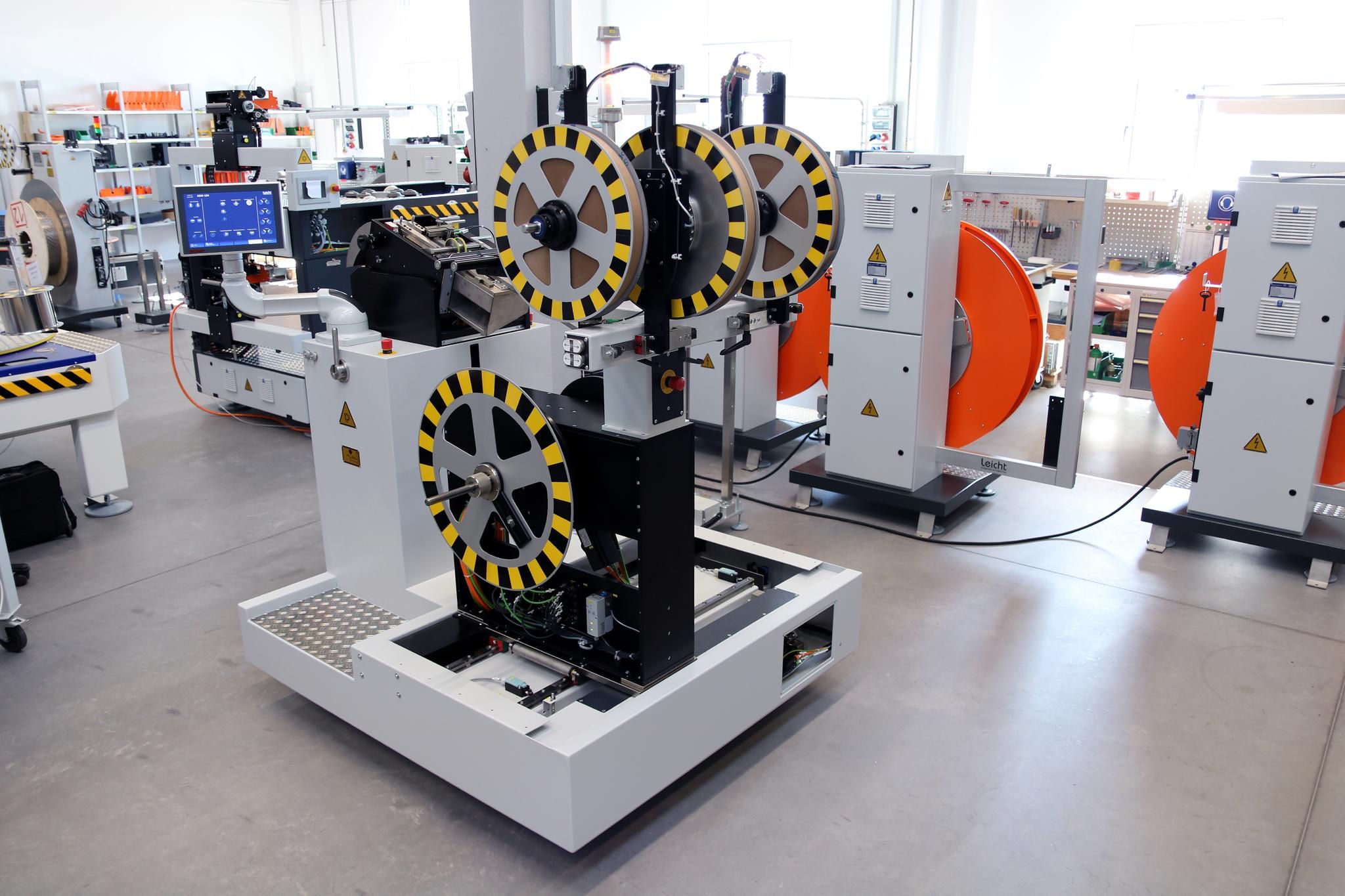 Seven STOBER drives help Leicht Stanzautomation compete in the Champions League of machine building
Leicht Stanzautomation, designer and manufacturer of systems for winding and unwinding strips and wires, has specified STOBER's SI6 series drive controllers for the latest generation of their automated multiple winders.
The STOBER SI6 has been installed into the newest generation of ASW series automated multiple winders for the first time and are key to the cost effective productivity of the new system.
Thanks to its economical space-saving design, the STOBER SI6 multi-axis drive concept gives the new Leicht system dramatically increased performance over previous generation systems.
STOBER used their long-standing relationship and experience working with the international machine manufacturer to integrate their drives, having designed them optimally within Leicht's new machines.
DRIVE TECHNOLOGY FOR PEAK PERFORMANCE
What makes this generation of winding machines different is that the system changes the reels automatically. This means that production at the upstream punching machine does not have to stop, as the reel is simply changed for the next available reel as soon as the preselected quantity has been reached.
After components are punched, the new machine automatically winds them in a few minutes. The reels are driven by coaxial synchronous servo geared motors and it takes barely two seconds to change from reel to reel with a planetary gear unit.
The highly dynamic drive controllers operate reliably, functioning unobtrusively in the background, even during the most challenging operations.
Another space-saving right-angle gear unit handles the precise feeding of the strip.
Consequently, STOBER's new compact drive controller has enabled Leicht to increase performance of their new machines substantially. 
Jurgen Leicht, managing director of Leicht Stanzautomation, says:  Dynamics and speed are extremely important for the user to be able to operate cost effectively. The faster the processes are, the more productive the machine is, as the time factor is critical for customers if they are to be competitive. "We have a total of seven STOBER drives installed in the system," Leicht explains.
To ensure complete reliability, STOBER's STO (Safe Torque Off) and SS1 (Safe Stop 1) functions are integrated within the Leicht systems. In the SI6 series, these are certified in accordance with EN 13849-1 and can be used without function tests that interrupt production.
"The drive controller has a width of only 45mm and is designed as a multi-axis drive controller," says STOBER representative Markus Stolowski, who has worked alongside Leicht Stanzautomation for many years. "A single SI6 drive controller can control up to two axes. Thanks to the multi-axis drive design, the number of axes to be controlled can be scaled without limit."
Installing individual STOBER components could not be easier. The patented Quick DC-Link modules were simply clicked into the standard copper rails for power distribution, which enables the simple installation and connection of the drive controllers.
 "The electronic geared motor nameplate is available with the HEIDENHAIN EnDat 2.2 encoder system and easily and reliably handles parameterisation of the motor and gear unit data, the STOBER expert explains. "Previously, only motor parameters could be transmitted, but now we also make it possible to transmit additional application-relevant gear unit data completely electronically."
The individual devices are connected to the central PS6 supply module. As a result, there is no need for decentralised supply modules or fuses and cabling for each axis, and Leicht saved a tremendous amount of space within the control cabinet. This means that Leicht's new generation systems enable customers to have a considerable number of winding machines in a small installation area.
Additionally, the new ASW is easily accessible, and the user can conveniently operate the system using a ten-inch display.
LEICHT'S LONG-STANDING PARTNERSHIP WITH STOBER BRINGS BENEFITS
Jurgen Leicht underlines this saying: "The development of the new multiple winder system is based on our own experience and in collaboration with STOBER to integrate and design the drives. They have been with us from the beginning and have supported this new machine from conception, through the design phase, right up to commissioning."
One of the real strengths behind the Leicht-STOBER relationship is the technical consulting and support provided by STOBER that goes back almost 25 years. This not only makes it possible for the two companies to interact positively with each other, but to benefit from shared knowledge in the development of market-leading products, like the new automated multiple winder.
To use a football analogy: "STOBER's support helps us continue to qualify for the Champions League of machine building", Jurgen Leicht says assuredly.
STOBER SI6 DRIVE CONTROLLERS
STOBER's new SI6 drive controller is a modular and scalable rack system for machine builders. It has  multiple axes that save end-user costs in in hardware, energy use and installation. The double axis module, which provides 2 x 5 amps, is just 45mm wide yet delivers a position, speed and current cycle time of only 62,5 µs.
It is available with integrated EtherCAT and PROFINET communication as well various safety options including FSoE (Safety over EtherCAT). The SI6 can control rotary synchronous servo motors and asynchronous motors, as well as torque motors. It will also work with HIPERFACE DSL one cable encoder systems. 
With five sizes and with two power options, the STOBER SI6 saves both space and energy, and is so compact that a 20 axis system occupies a space of just 495mm.
Leicht has integrated STOBER's patented Quick DC-Link system using one bus voltage, which means that energy generated from one drive can be harnessed by the other modules, resulting in more power for less investment!
EMAIL OR CALL FOR MORE INFORMATION
For more information about how STOBER's SI6 drive controller could help your next power transmission project, please call STOBER on 01543 458858 or email sales@stober.co.uk