09 Sep 2021
Stock Guaranteed - Overcoming the standard parts and components stock shortage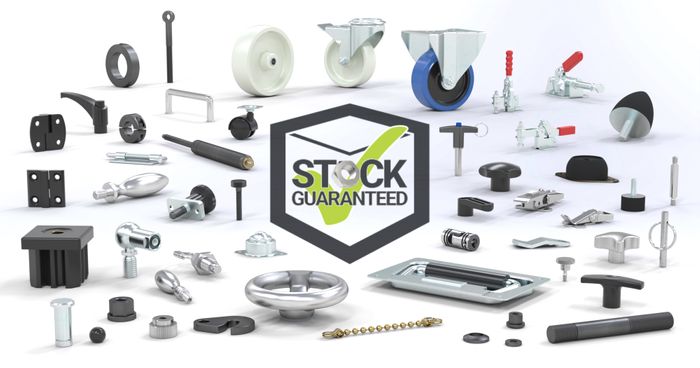 As Covid and Brexit hit UK imports - standard parts and components included - OEMs have been forced to respond. Component delays have impacted time to market and availability of existing OEM-designed products, requiring alternate supply channels or even re-specification and re-design. But OEMs can be reassured by component suppliers that combine UK manufacture with a robust stocking model, as WDS announces its stock guarantee programme.
Mark Moody, Sales & Marketing Director, WDS Components Ltd, explains why OEMs can retain confidence in component supply despite ongoing challenges.
With varying levels of impact, OEMs, ranging from machine builders to consumer goods manufacturers, have suffered from parts shortages and delays over the past 18 months. Combining the effects of Covid and Brexit, imports from EU countries fell by 21.7% between quarter four 2020 and quarter one 2021, as well as a 1% fall from non-EU countries, according to the National Office of Statistics (ONS) *1 .
Supply from China has taken up a lot of the shortfall, with the ONS reporting a massive increase of over 40% across all imports throughout 2020. While this is significant for the standard parts and components market, China being the major global supplier, this increase hasn't alleviated shortages or delays. In January 2021, the number of weekly cargo and tanker ship visits to UK ports was over 20% lower than the year before, according to the ONS.
Furthermore, the challenges facing global shipping do not appear to be going away. CNBC news recently reported that waiting times for vessels to berth at Yantian's port, one of China's most important, have increased from an average waiting time of half a day to 16 days*2. In addition to the blockage of the Suez Canal, the Financial Times reported in August that the pandemic has brought the biggest disruption since the start of container shipping 65 years ago *3.
In practical terms for UK OEMs, this has meant both delays and price rises. The report 'The impacts of Covid-19 and Brexit on the UK economy: early evidence in 2021' by The London School of Economics' Centre for Economic Performance, says that nearly 40% of UK businesses have faced a delay in stock, and a third have reported a rise in prices or costs *4 . Even concentrating only on imports from outside of the EU, the Financial Times says that there are currently 353 container ships stuck outside ports around the world, more than double the number from earlier in the year. Significantly for the standard parts and components market, the vast majority of these are found offshore of China and the far east.
*1 The impacts of EU exit and the coronavirus on UK trade in goods, ONS, https://www.ons.gov.uk/businessindustryandtrade/internationaltrade/articles/theimpactsofeuexitandthecoronavirusonuktradeingoods/2021-05-25#trade-of-goods-with-eu-countries
*2 https://www.cnbc.com/2021/06/15/china-covid-cases-causing-higher-shipping-costs-delayed-goods.html
*3 https://www.ft.com/content/10e71eff-e59c-46fb-a9aa-a480bc86c093
*4 The London School of Economics' Centre for Economic Performance report, The impacts of Covid-19 and Brexit on the UK economy: early evidence in 2021: https://cep.lse.ac.uk/pubs/download/cepcovid-19-021.pdf
Unsurprisingly then, confidence in the supply of standard parts and components has been impacted, particularly for OEMs and designers who commonly require high volume. But for WDS, the issue is more about tackling the perception of stock challenges and delays in fulfilment, than any actual stock shortfalls. WDS has onsite manufacturing at its Leeds plant and a large distribution centre houses extensive stocks with a wide range of components, parts and machine accessories. The full-scale manufacturing operation, which includes on-site R&D, is also supported by a robust supply network.
As a result, the component supply specialist has launched a unique stock guarantee offer that provides a 10% price discount if it doesn't hold the specified item in stock for the quantity required. In practical terms, this means that if 1,000 items are required and 950 are available, a 10% credit will be applied to the required 50 items. More than a thousand products are already included in the deal, assuring customers of availability with same day despatch, and products are being added frequently with announcements through the WDS social media channels.
To identify if the required item is covered by the availability assurance, a 'stock guarantee' column has been added to the product table, displayed for each individual product page on wdscomponents.com. WDS carries a catalogue of over 25,000 parts, ranging from machine and hardware to jig and fixture.
The global market of standard parts and components is likely to face continued supply issues into the coming months. Like any business that relies on an extent of goods imports, WDS isn't immune. However, onsite manufacturing and a large scale supply chain with extensive stocking facilities mean that customers' design and manufacturing production plans can remain on schedule. The stock guarantee programme provides this assurance.