02 Mar 2022
A stronger after sales strategy for OEM machine builders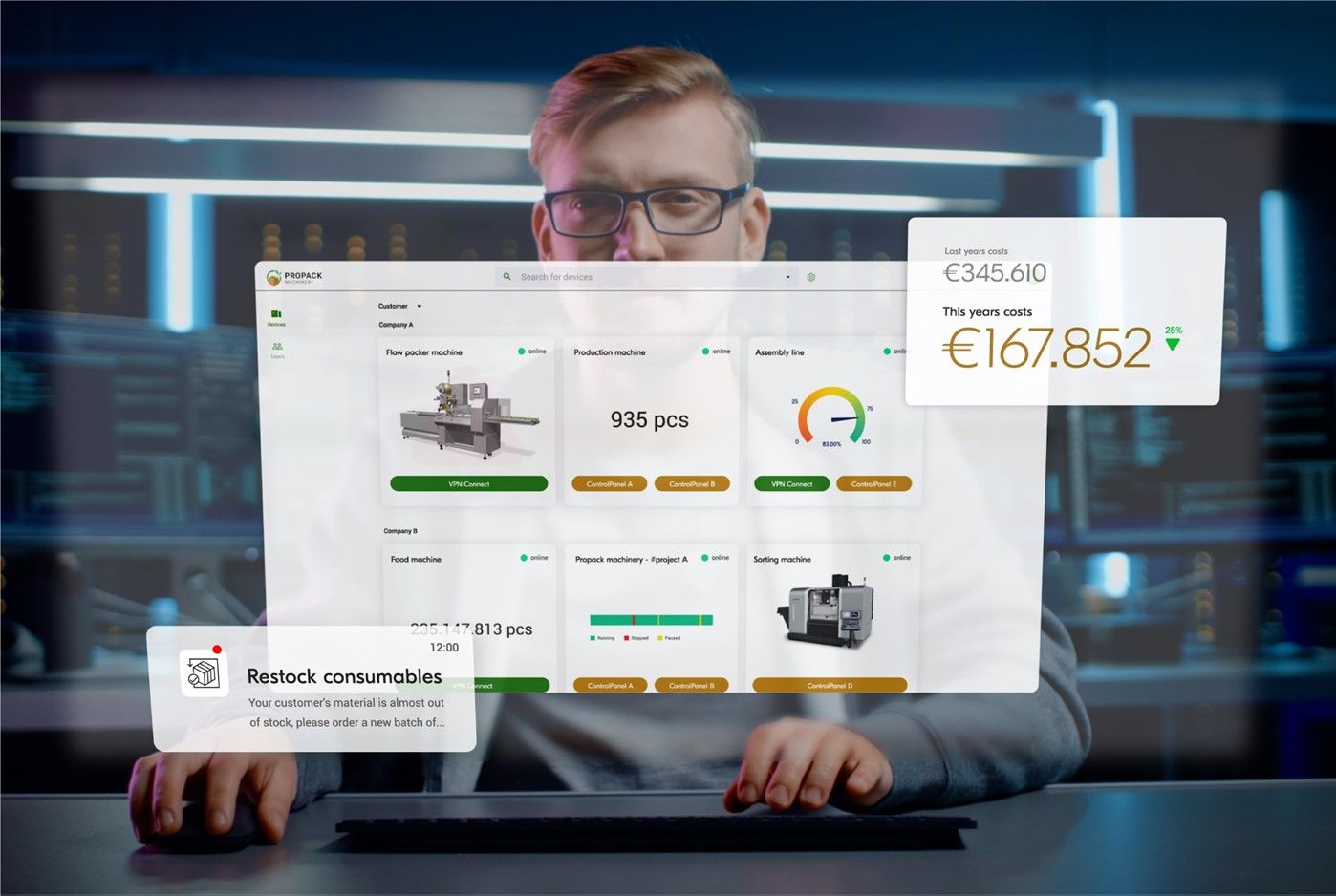 How can you create a robust OEM aftermarket sales strategy to overcome concerns and benefit from recurring revenue and happier customers?
Why you need a robust OEM after sales strategy 
We are in a competitive market, and you will start to experience that more and more. Prices are under pressure and warranty clauses are increasingly hard. Machines are sold with payment terms, such as 30/60/10% for example, which means you don't have a stable cash flow when incoming orders slow down, machines can't be delivered due to chip shortage or when a machine doesn't pass the factory acceptance test (FAT).

In addition, machines are sold with 12-36 months warranty, which means your engineers have to do everything to provide the best possible service, to prevent financial penalties. This means they have to drop everything when a customer calls about a machine malfunction. They have to react quickly to fulfil the warranty obligations. The solution to those difficulties is to draw more attention to your after sales service, which will result in: 
Profit right from the warranty period, and overcoming pricing struggles
Less worries about cash flow with revenue opportunities over the entire lifecycle of your machines
Increased customer satisfaction by unburdening them with valuable services
Less stress for your engineers due to increased efficiency and flexibility
 
What stops OEMs from improving their after sales service 
After sales service is highly profitable and already over 15% of the overall turnover for many companies. However, a lot of machine builders are concerned that a new aftermarket sales strategy will have a negative impact on production since it's often unplanned. Sometimes machine builders don't see the need because customers don't demand it, or they just don't have the money, capacity or knowledge in-house to get it off the ground. But there's no need for concerns if you choose the right strategy, as you will read in the next paragraphs. 
Next to these concerns, machine builders are usually quite engineer-driven. Their passion for technology and focus on new machine sales result in them not giving after sales service the attention it deserves, and not investing enough time and money in it to make it a success. However, a good after sales strategy can already be achieved by taking easy and small steps, without huge investments. 
According to McKinsey, full insights into your machines in the field combined with prioritising service sales above new machine sales can even increase your aftermarket sales revenue by 30 to 60% within 3 to 5 years.  
How to create a robust after sales strategy 
It's important to recognise that digital technologies are the main drivers behind after sales service, and that Industrial IoT is the enabler to create a robust OEM after sales strategy. Digital transformation is creating new opportunities for OEM machine builders, which we also see among our customers. Think of better machine insights, tapping into new business models and more efficient and flexible service operations. 
However, not a single customer would like to pay for your digital transformation. They want to pay for services that drive concrete financial benefits for their own company, such as proactive service. That's how you get happier customers. 
To ensure a robust after sales strategy it's important to think about the process during the entire lifetime of your machines, and how you can build up layers to add more value over time. Think of improving field service efficiency, lifecycle management and consumables as a service. The most essential part of your aftermarket sales strategy is to stop reactive maintenance and become a proactive service partner, meeting the needs of your customers. 
 
Use case of a profitable OEM after sales strategy 
Machine downtime costs money, especially when it's unplanned. By starting with remote service and maintenance, you can already decrease machine standstill. To overcome unplanned downtime, you need to get insights into the condition of your machine by collecting and visualising machine data from your PLC. 
By monitoring wear & tear parts, performing data analysis and setting alarms, you will be notified when a machine part is dirty or reaches a certain level of dullness. Now you know just-in-time when the part needs replacement, which prevents breakdown and therefore downtime. Here you can make the switch from reactive to proactive maintenance by contacting the customer to let him know maintenance is needed, before he even notices that parts are underperforming.
For more inspiration, read our e-book 'Service opportunities for OEMs that boost revenue and meet customer demand' with use cases and business cases of service models to add to your after sales strategy.
 
Find the right people and tools
Of course you need the right talent to start implementing your aftermarket sales strategy. Define the digital skills you need and recruit people that possess these. New young talent is hard to find and most mid-sized machine builders are not on top of their list. However, when you start with innovative digital solutions, like new business models, your company instantly becomes more attractive to young talent. 
Along with good staff, you need the right tools that enable you to bring your robust after sales strategy into practice. An industrial IoT platform like IXON Cloud can help you to achieve this with the following features:
Remote access to your machines in the field via VPN
Data logging to log data from the machine's PLC
Data dashboards to clearly visualise your data
Alarming function to receive notifications in case of an event
API to integrate with third party tools 
Advanced user management to ensure easy and secure collaboration
Extensive security 
As a full service IIoT partner, IXON's industry experts are always open to advise you and help you successfully implement your after sales strategy. Get in touch with us to discuss your options.
 
The result: recurring revenue and happier customers
Demand for machines is usually cyclical, while after sales service has a stabilising effect. Across industries, margins for after sales service are around 25%, compared to around 10% margin on new machine sales. 
On top of that, a good aftermarket sales strategy keeps you safer in times of crisis. While new sales drop because your customers avoid capital-intensive investments, service sales are more resilient because your customers rather expand the lifecycle of their machines. This makes after sales service a reliable and continuous source of income.