20 Sep 2022
Sustainability requires an energy strategy built on accurate data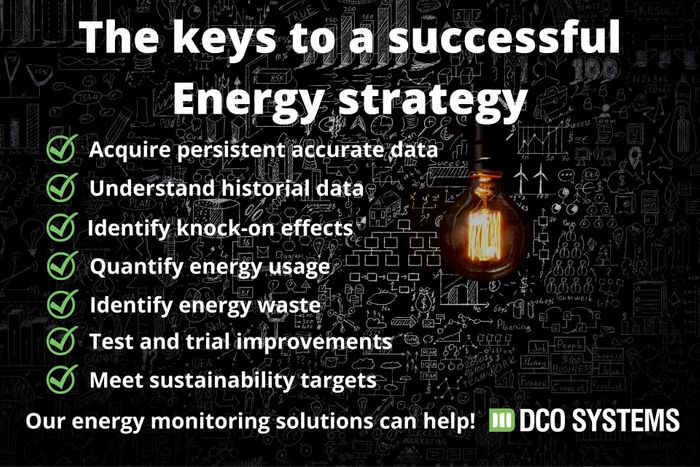 Accuracy or estimates? If you're crafting an energy strategy, you must have accurate data.
Crafting an energy strategy is a key component to achieving sustainability. It's more than a numbers game, it's a race where the real impacts of reducing energy waste and meeting sustainability targets have further implications than the plant floor. And for every day without action, the cost of energy continues to increase and cut into profitability margins for manufacturers.
The foundation of a successful energy strategy hinges on accurate data, i.e. the monitoring of assets and machines. These items pose the best opportunity to tackle energy waste. However, when current monitoring solutions have gaps in data collection, you enter into a guessing game, averages and assumptions. Unfortunately, that's not a solid foundation to develop an energy strategy on or to spend company money on. In order to make meaningful improvements, engineers need persistent and accurate data. This can be obtained by implementing an always-on energy monitoring solution. In contrast, sensors powered by batteries lose out on new data when batteries fail and need replacing. Additionally, the reporting frequency is much less when compared to DCO Systems' energy harvesting sensors that are always-on. That's why it's important to understand how complete and accurate can make a difference to your energy strategy.
The rabbit hole of undetected problems
Have you ever uncovered a problem only to discover a completely unexpected problem lying within? This will resonate with anyone who has ever started a kitchen or bathroom renovation and been overwhelmed by hidden problems. The same can apply when determining and targeting energy waste. As manufacturers continue to use process heat systems to fuel production, energy loss can occur in several places. And when you have snapshots of data, as provided by battery-powered sensors, you will only ever see what is on the surface. In contrast, self-powering sensors will reliably run continuously and report at a higher frequency.
The reality based on concrete data
DCO Systems' energy harvesting Energy Monitors work non-stop to help engineers understand current energy usage based on facts and evidence. In most use cases comparative measurements and analysis of trends over time are key. Those scenarios then lend themselves to simplified installation where non-contact devices can be used taking only current readings. Voltages are assumed and the measured currents are adjusted by a configurable power factor appropriate for the equipment being monitored. Voltage assumptions can be updated with live data from the grid (voltage and frequency) to improve accuracy. Spectral output (FFT) from the current sensing is also available to validate waveform assumptions and indicate whether instantaneous voltage readings are likely to be needed to provide the required accuracy.
Where greater accuracy is required, or complex (non-sinusoidal loads) are in use, reactive data is required. Sensor units can then also be connected to the phase voltages in use. Instantaneous current and voltage readings then permit derivation of active, reactive, and apparent power. DCO's Energy Monitoring can also provide accurate measurements for existing pulsed input or output meters associated with electrical, gas or water consumption. The IP54 and IP67 versions of our pulse counter units can support up to eight pulse / digital inputs each.
The path for true sustainability
Achieving sustainability relies on a well thought out energy strategy. But that strategy can only be effective if the current energy usage is accurate and energy loss is correctly identified. Only then can manufacturers make progress towards decarbonisation, cutting emissions, and creating a plant that is truly energy efficient.
A recent article by The Manufacturer states 'No matter the company, sustainability is a frequently emerging trend in strategies and business. Whether it's saving energy, reducing waste or introducing sustainable materials – the minimisation of carbon footprint is becoming an increasingly prevalent priority for organisations as they endeavour to align with plans to meet the government's Net Zero ambitions.' With DCO Systems' Energy Monitoring solutions, you can confidently execute your energy strategy and move forward purposefully. To get started with DCO's energy harvesting monitoring solutions, contact us at dcosystems.co.uk or email info@dcosystems.co.uk.