24 Apr 2022
The greatest setback for businesses in 2022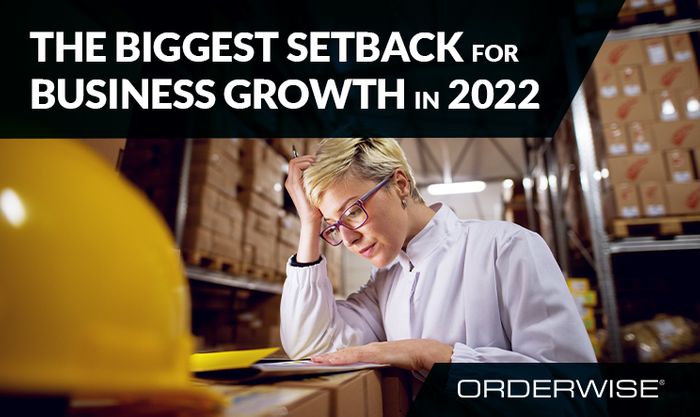 For a lot of businesses, 2022 will focus on maintaining current profit margins, and creating an infrastructure that's able to cope with any further economic turbulence. With fierce competition within the marketplace and pressure from the fallout of the pandemic and post-Brexit era, companies are looking for ways to create stability in their operations. Considering this, it's almost impossible for businesses to not look at what is, or more importantly, isn't going to serve them in the years to come.
The cause behind many of the setbacks businesses face when it comes to creating a solid foundation, can often be traced back to under-automation, especially in a warehouse environment. The reality of expanding or advancing your existing operation means accommodating your processes for increased or faster fulfilment, and always being one step ahead of any potential problems. Without utilising the right kinds of automation, you're relying on staff alone to accommodate an extra influx of business, as well as keeping an eye on any potential bottlenecks.
Hiring more staff isn't always the answer
Hiring temporary staff or expanding teams typically happens for two reasons:
The business is expanding their offering or entering new markets. Additional staff are required to cope with the increase in demand and expectation.
The business is overwhelmed during peak seasons and must hire additional temporary staff.
Seasonal hiring spikes depends on the industry, but the most noticeable period is found between November and February – from Black Friday and Cyber Monday, leading up to Christmas and the January sales period.
Inevitably, these spikes in orders, lead to spikes in recruitment and ultimately a spike in expenses, with additional salary only accounting for just some of that expense. Businesses will also be responsible for hiring or paying third-party recruitment services, training new starters, equipping them with the right tools, instructing them in health and safety, and all the HR admin that comes with a new recruit.
Thanks to modern ecommerce platforms making the buyer journey easier than ever, and the increase in delivery options, the buying process is undeniably fast. For businesses wanting to stay competitive, there is simply no room for error. Combine the speed of purchasing with different offers, discounts, and the sales that come about during different periods of the year, and you're left an incredibly large volume of customers.
As "supply and demand" becomes more convenient which draws in a higher number of customers, the supply part of the process can only go so far with an operation still heavily under-automating their processes. For some, warehouses have not seen any change, despite the ecommerce revolution happening right in front of them.
Responding to the times
A main theme of 2021 was making supply chains more resilient. However, preparing for increased capacity and holding on to inventory in anticipation of possible disruptions isn't cheap. Whilst production and delivery still relies heavily on people, the waves of redundancies in production through lockdowns resulted in labour shortages when demand picked up.
Worker shortages were particularly evident with lorry drivers in the UK with a sector already struggling from an ageing workforce and worsening working conditions. Brexit is also making it much harder for migrant drivers to work in the UK.
Ultimately, supply chains in 2021 showed the limitations of systems relying too heavily on manual labour. As companies and consumers adapt, current kinks will iron themselves out. However, as the pandemic wears on, and the reality of keeping businesses profitable comes back to the fore, businesses must make it a priority to look for other alternatives.
A business by your side
Overcome the biggest setbacks of your business and discover how automation is offering a stable and reliable infrastructure with the support of OrderWise. Talk to our specialists today about how we're maximising the efficiency and productivity of more than a thousand businesses across the UK.