The NL Camera Helps Prevent Disastrous Hospital Fires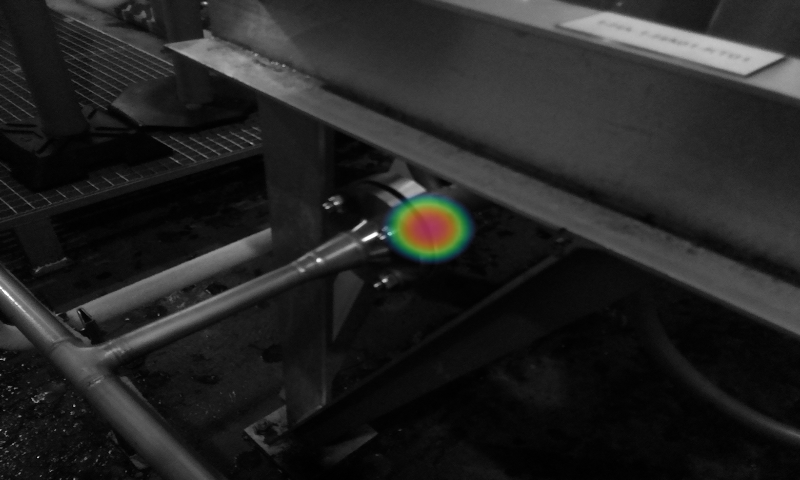 Description: ND Testaus performs valve inspections and diverse leak audits that detect compressed air, steam, gas, and vacuum leaks. Their clients include various factories, production plants, and hospitals.
Problem: ND Testaus needed a reliable, user-friendly ultrasonic leak detector for quickly finding leaks in hospital piping. These demand a compulsory leak audit every four years to prevent serious accidents, such as destructive fires. The hospital gases that have to be checked for leaks are compressed air, oxygen, nitrous oxide (laughing gas), carbon dioxide, and nitrogen.
NL Solution: NL Camera for air leak detection.
Results: ND Testaus is extremely happy with the ease of use and speed at which the NL Camera can find gas leaks in hospitals, hence improving the safety of everyone inside. The camera has been able to find leaks in a size range of 0.67–12 liters per minute and detect rare leaks, such as one in a hospital oxygen tank's flange joint that other devices could not find.
Esko Ryöppönen of ND Testaus knows how important his work is, as it can help save already compromised lives. Ryöppönen routinely inspects hospital piping for gas leaks that can be culprits or partly to blame for destructive hospital fires, which are a risk to patients' lives. Such important work requires the most reliable, efficient equipment. With this in mind, Ryöppönen always chooses the NL Camera.

Leaks Are a High Risk in Hospital Piping
The NL Camera for air leak detection is not just a tool for saving money on costly leaks. One of its applications is to increase hospital safety and protect patients' lives by detecting leaks in hospital pipe networks. These carry oxygen, compressed air, nitrogen for powering different instruments, nitrous oxide or laughing gas used as a sedative, and carbon dioxide that is utilized in some operations.
"Hospital pipe networks are very critical", Ryöppönen confirms. "Even the smallest leaks must be detected and fixed immediately because oxygen leaks especially are often a high-risk factor."
The NL Camera Finds Even the Trickiest of Leaks
Ryöppönen remembers an incident where the camera was the only device that could find an uncommon leak in a hospital oxygen tank's flange joint. This particular leak type is challenging to detect and analyze since any leaking oxygen spreads into such a wide area. For this reason, the hospital maintenance personnel, who were using leak spray, did not believe there was a leak until they saw it on the camera screen and it was further confirmed by an oxygen sniffer.
More common places where hospital gas leaks occur are the piping that runs above the ceiling, patient room plug sockets, operating room ceiling systems, oxygen tanks, and gas centers.
Results, Swiftness, and Ease Lead to Success
The main reasons why Ryöppönen trusts the NL Camera in his audits are how easy and fast it is to use. He appreciates that the camera shows leaks in a wide area without him having to direct the device toward a certain direction where he expects a leak to be, as he would do with older technology. Another feature Ryöppönen finds useful is the NL Camera's leak size estimate. This is thanks to the NL Analytics, which also further analyzes the detected faults in the NL Cloud.
When asked about his first experience of using the camera, Ryöppönen smiles widely.
"Starting to use the camera was easy: I just created an NL Cloud account, plugged in the battery cable, and got to work," Ryöppönen concludes, laughing. He then continues finding gas leaks and improving hospital safety with the most effective solution on the market.