18 Apr 2022
The reality of under-automation and manual labour in 2022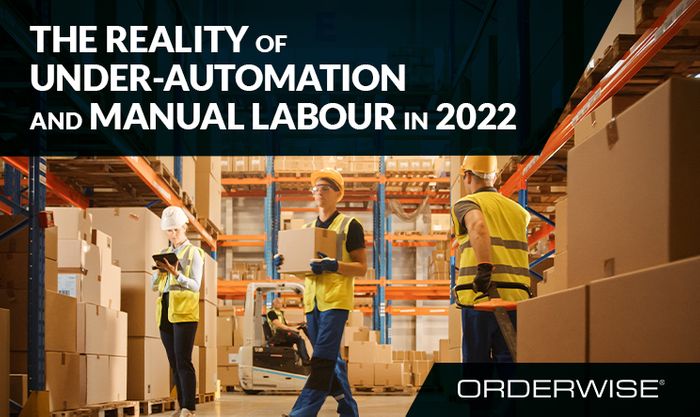 See the full truth of what is happening, why automation is essential, and why the changing landscape won't resemble what so many doomsayers claim
We now live in a world where automation is a critical aspect of navigating some of the biggest disruptions global supply chains have experienced in years. From stock and labour shortages to social distancing restrictions, automation has continued to provide a stable infrastructure for businesses to continue as 'normal'. And whilst automation doesn't exist to replace humans in the workplace, it has allowed employers to change the type of work their workforce are concentrating on. Through advances in this kind of technology, businesses do not get to do less work, but instead work 'differently'.
What then comes as a surprise, is how many businesses are still heavily relying on manual labour and under-automated processes.
Automation doesn't have to replace manual labour
According to research conducted in 2021, 92% of employees waste an average of 8 hours a week trying to find the right data1, and 24% lose up to a full day of productivity every week trying to locate information to serve their customers2. The burden of employees having to manually navigate spreadsheets, emails or outdated systems is still a huge setback for even the largest of businesses.
Imagine a manufacturing company investing in digital technology to manage their clients, resources, product quality and accounts, but are still relying on a manual process to cover some of their most basic warehousing tasks. That could be something as simple as pickers not being able to start their week without their line manager confirming what jobs need to be done and when by. Instead, this is an entirely manual process whereby the manager must collate what jobs have come in, what's still outstanding, and what resource is available to get these jobs complete.
What they are yet to consider, is that their competitor has automated this routine process so that all members of the team are automatically assigned their tasks straight to mobile devices, as soon as they clock in. No human intervention is required, all the necessary data has been pulled into individual reports for each member of the team. And for this company, production is faster, cheaper, and more efficient.
Despite highly automated businesses being six times more likely to experience an annual revenue growth of 15% compared to those under-automating their processes, there are still many business owners hesitant to embrace new levels of automation.
Automating with the times
If the last two years has taught businesses anything, it's the need to embrace change and flexibility. Of course, we're talking about the impact of the global pandemic. Combine that with the fallout of Brexit, and you're left with one of the biggest labour shortages the UK has seen since 1977.
Business owners across all industries need to be flexible enough to conquer these new worldwide changes. And for retailers, the sudden shift from physical retail to ecommerce meant having no choice but to take on new levels of automated technology. In fact, a report from ABI Research found that 90% of retailers were expected to increase investments for in-store automation in the coming years4.
The future of labour and automation
By the mid-2030s it's predicted that up to 30% of jobs could be automatable4. With that in mind, it's critical that businesses start diversifying and transitioning to accommodate more automation.
ERP software, for example, contains integrated applications—such as accounts, order management, EPOS, among others—that automate interactions across departments. The consolidation of data in a single shared database enables companies to perform enhanced data reporting, providing the tools for more informed business decision-making throughout all areas of the company.
Beyond more traditional forms of automation, are the new waves of automation. Despite fears that increased use of robotics will lead to job losses, many logistics and eCommerce companies insist they are in fact creating jobs as they open new warehouses to meet rising demand from faster fulfilment. Robotic automation also enables warehouse teams to increase efficiency without the health and safety risks.
Advanced AI automation is even appearing on check-outs in high street stores. Amazon was one of the biggest online brands to achieve high street presence in 2021, with the opening of its three Amazon Fresh stores in London. Customers would simply enter the store with their Amazon app, shop for what they need. From here they take items as they choose, leave the store, and automatically receive a bill to their Amazon account.
Automation has come on tremendously in the last several years, and as machine-learning algorithms have become more sophisticated and made more use of our data, the innovation will only continue to grow. Ultimately, automation is a key component to navigating the speed and efficiency that 2022 demands and relying on outdated processes is only denying your business the opportunity to thrive.
Sources
1,2: https://www.abbyy.com/company/news/amidst-the-great-resignation-52-percents-of-employees-believe-ai-skills-will-make-their-job-easier-according-to-abbyy-survey/
3: http://tradearabia.com/news/REAL_326295.html
4: https://www.pwc.co.uk/services/economics/insights/the-impact-of-automation-on-jobs.html