03 Apr 2022
The Rise of Online Retail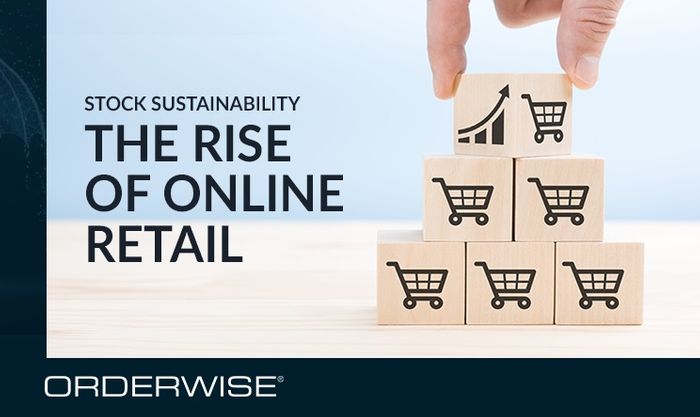 For the modern consumer, purchasing online is not just transactional. It's an entire experience.
With the sporadic lockdowns imposed over the last two years bringing abrupt stops to in-store purchasing for many businesses, it's unsurprising that we have seen a continued but dramatic increase in online retail.
Although in recent months revenue generated by online purchases has slightly decreased, the purchases and sales generated through internet retail are still up from 2019 and before.
While the pandemic can certainly be attributed to the increase in the popularity of ecommerce and online retailing purchases, accessibility is not the only reason internet sales have soared.
More than a product
For the modern consumer, purchasing online is not just transactional. It's an entire experience.
While online shopping may not provide the same service that your customers would receive from your front of house staff in-store, there are so many ways businesses can provide a premium online retail experience.
Ease of use
Whatever your customer's computer skills, they want to be able to navigate your online store with ease and clarity. With inbuilt search engines, product images, videos, 3D spins and parts diagrams, finding what they want online should be even easier for your customer than it would be manually in-store.
Delivery
Although online purchases can be made at the click of a button, items do not appear that quickly. However, some businesses do offer next day or even same day delivery. These fast turnarounds have come to be expected for online shoppers.
Click and collect
Sometimes, businesses offer a cheaper alternative to direct delivery, and give their customers the option of collecting their item in-store or at another ideal location to ensure faster delivery and guarantee a secure collection whatever your schedule.
Returns
30% of all online purchases are returned. Not necessarily through fault or error, it's just a modern approach to shopping. Buy in bulk or buy undecided and then commit to your order later. It's vital that the returns process is hassle-free and straightforward.
Order modifications
Sometimes the desired item can't just be plucked off the warehouse shelf and shipped as it needs bespoke work. Today's online consumers expect to be able to make amendments to their orders and items. For example, requiring additional parts.
Customer accounts
When shopping online, customers expect to have the option to checkout as a guest or to create a personal customer account. First-time customers often prefer to check out as a guest, whereas regular customers who are familiar with your brand, may want to personalise their online shopping experience by creating an account.
Promotions & Discounts
Customers also expect to be able to easily apply any discount codes their entitled to or automatically have their totals amended if they qualify for certain promotions.
Centralising your channels
With the number of purchases and profits generated from online ecommerce increasing year on year, businesses within the competitive market must ensure they're investing in their online platforms.
Whether it is your company's online store, or an integration with a third-party platform such as Amazon, eBay or Etsy, your business must ensure your online retail operations run as smoothly and accurately as possible.
OrderWise
By utilising an all-in-one solution that fully integrates your ecommerce platforms, you can achieve maximum visibility on all your online sales and optimal traceability on all your deliveries.
OrderWise provides both integration with your ecommerce site and popular third-party sales platforms such as Amazon and eBay. Additionally, OrderWise provides you an Online Store which can be configured to suit the requirements of both retail and trade businesses.
Suitable for both B2B and B2C businesses, these integrations centralise all your online sales, order processing, despatch, delivery and returns data and automate these processes.
With these operations managed and integrated from one place, you omit the need for manual data rekeying, streamlining your operations.
The more accurately and efficiently your business manages its online retail operations the more customers you attract and engage, boosting profits and accelerating growth.
Download our brochures on retail software.