18 Jan 2022
The true cost of doing nothing in your business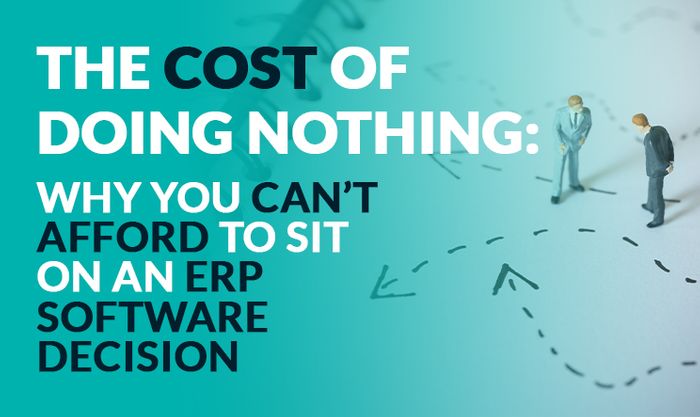 When it comes to onboarding new technology, how much does it actually cost to press pause on a software investment? Find out today…
Ignoring your difficult processes, disjointed systems and disgruntled workforce might seem like the easiest option after the economic downfall, but 2021 proved that a lack of technology investment could significantly harm your business. Research conducted by the Aberdeen Group reveals four significant costs:
1. Cash flow
The report found that cash collection took over ten days longer for businesses that didn't invest in software. These businesses rated financial reporting at 89% accuracy compared to 96% accuracy for those using the latest technology.
Poor cash flow is not something to be taken lightly. It can lead to trouble paying suppliers and debts and even stop you from being able to buy new stock and pay your staff's wages. Ultimately, this could lead to losing out on the big contracts that are keeping your business going.
2. Delivery
Businesses that didn't invest in technology only had 87% of orders delivered correctly and on time, compared to 91% for those that were using the latest technology.
Truth is, without technology, it's near impossible to manage deliveries efficiently. You're missing out on the holistic overview that software provides, enabling your couriers, transport team, 3PL and general logistics to stay connected and reap the profits from real-time data. The lack of visibility that you have for your delivery processes opens your business up to vulnerability, as you won't be able to spot any knock-on effects before they happen in the supply chain. What's worse is that your customers will suffer the consequences as a result.
3. Inventory accuracy
Businesses that didn't make a technology investment only had 88% accuracy on their inventory management, compared to 92% for those that had. It's no secret that inventory accuracy suffers when your business is using outdated software.
Accurate stock levels start at Goods In, so if you aren't clear on which stock is coming into your warehouse, that's an immediate red flag for your inventory processes. In these instances, your business is unlikely to be tracking items from Goods In to their location in the warehouse, meaning that stock can be lost, stolen or broken without being recorded, making it money thrown down the drain.
4. Customer satisfaction
Customer satisfaction rates were significantly lower for businesses that had not invested in technology at only 88%, compared to those that had invested at over 93%.
Of course, your customers are going to suffer the most when it comes to a lack of business technology. If you can't offer support to your customers in a timely manner or allow them to self-serve, they're likely to do business with a competitor that can provide it. It makes life harder for your staff, too. They will be unable to easily track your customers' transactions with the business, and will not be able to measure their customer service performance against KPIs, meaning excellent customer service can't be rewarded.
Get your money's worth with 25% in tax savings at OrderWise
Did you know that for every £1 spent on OrderWise software, your business could receive 25p in tax savings?
Following the announcement from the UK government that businesses will be able to use a 'super deduction' to reduce their tax bill, in most cases the money you spend on IT equipment, software and implementation services with OrderWise will be eligible! This covers the vast majority of our products and services, from ERP and WMS to multi-channel software and stock control. Click here to read more.
Rest assured, we have your needs covered to help you keep your profits, standards and satisfaction rates high.
You can contact a member of our team today to discuss the best kind of software investment for your business requirements. In the meantime, check out our latest blogs and updates on our socials.