11 Feb 2020
Weidmüller PROtop power supplies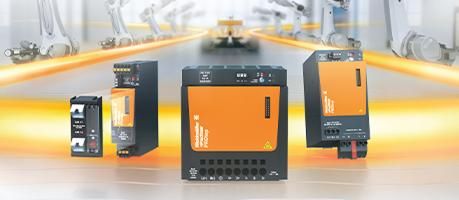 High-end power supplies must ensure reliable, sustained and efficient supply to electrical equipment, even in harsher industrial environments. The systems also need to have constantly available power reserves, long service life and insensitivity to surge voltage, ambient temperatures or vibrations. PROtop is ideal for this purpose, with its innovative features, such as peak current reserve or attachable communication module.
Effective employment of peak current reserves
PROtop is equipped with new-type DCL technology. This future-oriented technology provides considerable pulse energy reserves throughout. The resulting dynamic range is used for the reliable tripping of circuit breakers or powerful motor starts. Therefore, heavy loads can be operated more effectively. For example, up to 300% of the starting torque of an engine is available for approx. 100 ms or 150% for 5 s. Static power reserves of permanently 130% are available up to ambient temperatures of 40° C.
Maximising potential savings
PROtop power supplies benefit from a very compact design. The space-saving design allows additional assemblies to be accommodated, thus increasing the functional density in the control cabinet. Control cabinets and in fact the whole machine or system can subsequently be more compactly designed. PROtop is even more convincing considering its efficiency of up to 95.4%. It reduces heat loss and sustainably reduces energy costs. The high MTBF time of > 1,000,000 hours as stipulated by the IEC 1709 (SN29500) standard, in addition to a long service life of > 20 years, ensures a high level of return on investment over the entire operating life.
Optimise and analyse processes with the communication module for PROtop
Communication-capable components form the basis of sophisticated networked production. This is the only way to fully exploit the potential of Industry 4.0. Product and status-oriented data, as well as measured values internal to machinery and energy parameters are recorded and made available in the cloud. This is where data evaluation takes place and the evaluation results are made available to all
relevant network participants This enables system operators to set up new services to optimise and diagnose their production processes or for energy management. In order to prepare manufacturing companies for the Internet of Things (IoT) and data-based production control, Weidmuller strives towards the rapid integration of all devices and simple transfer to the cloud. With PROtop, a retrofit communication module can simply be plugged into the PROtop power supply, giving an interface for transferring process data to a higher-level control, thus laying the basis for process optimisation via condition monitoring and remote control facilitation.. Condition monitoring and remote control are prerequisites for ensuring that all machine or system automation components are in continual and reliable supply. Maintenance interventions can be planned and effectively minimised, therefore the profitability of the system is increased.
For more information, you can call us on 0845 094 2007 visit our website at https://www.weidmueller.com/int/products/electronics/power_supplies/protop.jsp