14 Jul 2022
What's stopping engineers from effective monitoring?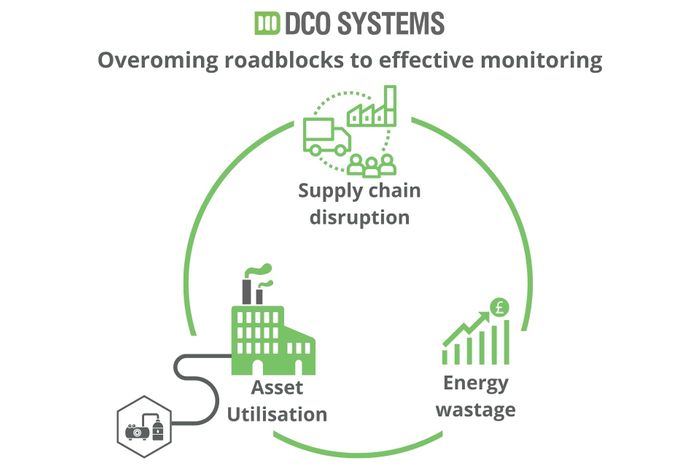 Are your current monitoring efforts running into roadblocks?
Exhibiting at tradeshows this year has sparked considerable insight into the challenges that engineers face when overseeing equipment. Several questions and conversations surfaced as a recurring theme. Many engineering teams and plant managers expressed the same challenges and why they're finding it hard to achieve effective monitoring results. Here we discuss these concerns and how DCO Systems are resolving them.
Asset utilisation- You don't know if it's working
One challenge within a plant is that much legacy equipment (and some modern equipment) lacks monitoring capabilities. Consequently, this equipment is often excluded from monitoring efforts and questions as simple as 'Is it working?' are hard to answer. This leaves plant managers asking themselves if they are getting the best use out of these machines. The assumption is that it's complicated and expensive to monitor the usage of equipment. However, DCO Systems offer an asset utilisation monitoring feature – a simple, cost-effective module that communicates when the equipment is idle and when it's working. Furthermore, the information is useful to determine the utilisation of expensive plant and equipment and correlates use with other parts of the production process. The end result is better visibility of machinery usage that supports productivity enhancement and return on investment programmes.
Energy wastage- You don't know what it's costing you
Lack of information ranks as another significant problem. Engineers confessed that they know energy is being wasted at an alarming rate, however, they do not know how much energy is wasted or what it's costing them. Consequently, the problem feels overwhelming and finding a starting point is difficult. In contrast, some engineers are collecting data, but there are gaps in the data collection due to infrequent reporting and it's impossible to accurately quantify energy usage.
DCO's answer to this is a whole system monitoring solution. This requires monitors that are easily programmed to extract a wide range of information with a higher reporting frequency. Because DCO's sensors are a self-powered, energy harvesting solution, they can measure more metrics in combination and report more persistently. Furthermore, they can be easily deployed in more locations throughout the plant to give engineers a full picture of energy consumption in a simple to understand format. As a result, engineers can fill data gaps and have an accurate data set to determine energy waste and cost.
Supply chain disruption- You can't get things done
Scheduling and implementing projects have become another challenge in recent months due to supply chain disruption. Acquiring items from oversees is now unpredictable and lead times are extravagant. In June, a report issued by Logistics UK stated that supply chain disruptions are expected to last throughout 2022. Now, more than ever before, engineers are seeking locally sourced products and solutions made in Britain. DCO Systems are proudly Made in Britain members and design sensors and data solutions in-house. This means that engineers can obtain and integrate monitoring solutions with predictability and confidence. Furthermore, because the sensors do not require an electrician or IT training for installation, they can be deployed immediately.
Engineers have an enormous task overseeing assets and equipment along with meeting carbon reduction and sustainability goals. DCO Systems are consistently working with engineers to meet and overcome these challenges. Consider DCO as an extension of your engineering team- creating the right monitoring solutions to obtain the right information! To get started with DCO's energy harvesting monitoring solutions, contact DCO Systems at dcosystems.co.uk or email info@dcosystems.co.uk