21 Feb 2022
Why automatic lubrication?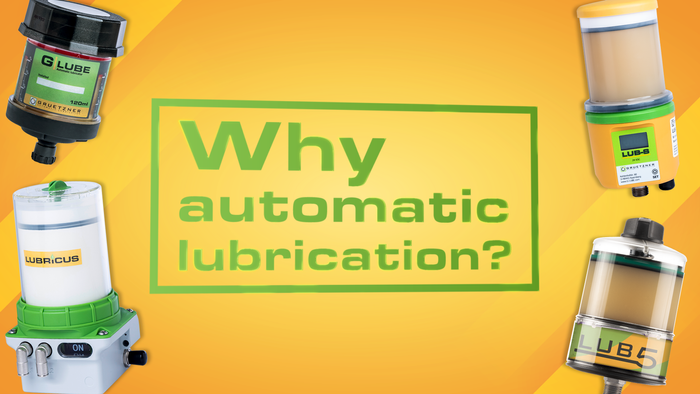 Automatic lubrication systems dispense small, precise amounts of lubricant at short, regular intervals.
The amount of time and personnel required for large plants, and machines located in hazardous areas mean that manual lubrication
is often dangerous, impractical and expensive. Automatic lubrication systems as part of maintenance can resolve this issue
Why automatic lubrication?
Unplanned production downtimes can be significantly reduced through preventive maintenance. A factor that should not be underestimated is the correct lubrication of bearings, chains, linear guides and spindles.
A high percentage of rolling bearing damage is due to incorrect lubrication.
The solution:
German lubrication sepcialist Gruetzner offers the perfect solution. Using automatic lubricators such as G-LUBE, the lubrication point is supplied with the correct lubricant in the correct dosage. The sources of error of manual lubrication (over-lubrication, insufficient supply, contamination, mix-up of lubricants) are thus prevented. A continuous, consistent and gentle lubrication is the result, repair costs and production losses are reduced.
Flexibility:
G-LUBE can be functionally checked at any time thanks to the transparent housing. Its three sizes enable a lubricant delivery from 0.16 ml/day up to 8 ml/day. This is set through the selectable emptying times from 1 month to 12 months, depending on the requirements.
A very wide range of accessories for installation enables a large selection of applications.
The right lubricant:
G-LUBE is provided with many standard lubricants, but can also be self-filled. Additionally, Gruetzner offers special fillings even for small quantities.
Work safety:
With a pressure build-up of up to 5 bar / 73 psi, G-LUBE does not have to be mounted directly on the lubrication point. Supply lines are also possible in areas that the user can comfortably reach. G-LUBE thus also contributes to occupational safety and reduces a large amount of time compared to manual lubrication. No tools are required for activation.
Proven technology:
The function of the G-LUBE is based on the proven technology of an electrochemical reaction, which generates inert nitrogen (N2) through the systematic use of an electrolyte. This type of pressure build-up means that G-LUBE is more temperature-independent than many conventional gas-powered lubricators: Temperature ranges from -20 °C (-4 °F) up to 55 °C (131 °F) are covered by G-LUBE. Thanks to its very robust housing, it can be used in in harsh environments as well as sensitive food areas and even EX areas.
Environmental protection:
Using the G-LUBE reduces lubricant and energy consumption for drives.
Further information can be found at www.G-LUBE.com