22 Feb 2022
Wise Robotics adds the VisionNav VNP15 to its range of automated forklifts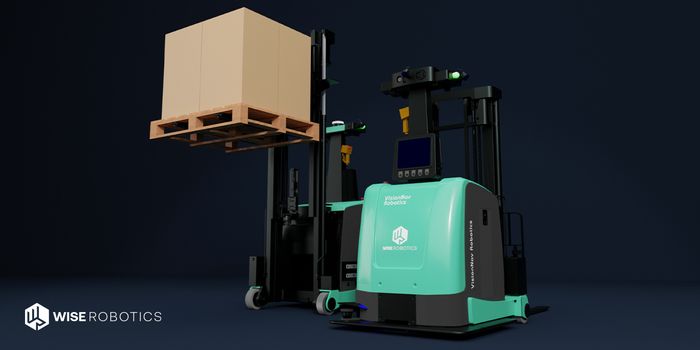 Wise Robotics is expanding its line-up of autonomous mobile robots with the VNP 15, a next generation automated forklift
Its technology enables it to learn and then navigate existing infrastructure, making it far more adaptable and easier to deploy with minimal site modifications.
The innovative VNP15 uses vision-based intelligence to automate material handling, storage and retrieval. Its technology enables it to learn and then navigate existing infrastructure, making it far more adaptable and easier to deploy with minimal site modifications.
The news comes after the announcement in January of a partnership between Wise Robotics and VisionNav, the world leader in vision-guided autonomous robotic forklifts. The new collaboration will help UK operators boost order fulfillment and reduce the ongoing costs associated with running warehouse facilities.
Head of Robotics at Wise Robotics, Joe Daft, explains that adding the new model is yet another important step as the organisation extends the automated capabilities it can offer to warehouse and logistics operators;
"The VisionNav VNP15 is an extremely sophisticated autonomous forklift. Make no mistake, this isn't a forklift that's retrospectively been automated. It's vision-based, which makes it especially adaptable to current warehouse layouts – and one of the key reasons we are supplying it is because it's compatible with all pallets, cages and racks, something we're seeing as a regular and important requirement of potential projects.
"An entire fleet of VNP15s can be configured and overseen remotely by a single operative. They are fully automated and require minimal infrastructure changes. Vision-based codes are installed on the walls and ceiling of a warehouse to enable the robots to navigate. It's a smart and effective solution that can be scaled up and down to meet demand.
"We're delighted to have the VNP15 as part of our robotics fleet, and we look forward to working with VisionNav in the future as we bring even more exciting innovations to the market."
VisionNav is a global leader in industrial driverless vehicles. Its Director of Sales, Europe, Jason Zhang said;
"VisionNav's driverless forklifts undertake every type of task that would be expected of a traditional manually-operated forklift – including vehicle loading and unloading, pallet put-away and retrieval in both standard and very narrow aisle racking configurations, as well as pallet and stillage movements throughout the warehouse.
"Visual navigation technology is not only highly efficient; it is quick and easy to install and brings a rapid return on investment. The highly flexible technology allows driverless industrial trucks to be adopted with minimal disruption to a site's existing intralogistics process and, typically, ROI is achieved after a period of 18-24 months.
"The new collaboration with Wise Robotics is very exciting, as this enables us to bring our innovations to the UK."
The VNP15 increases the capabilities of Wise Robotics' flexible and scalable automated solutions, and the model can integrate with its existing range.
Thanks to its advanced adaptability, innovative machine vision navigation and next-generation sensors, the model can lift large and irregular loads to exceptional height at high speed – working in perfect sync with goods-to-person, materials movement and production line operations.
Features of the VNP15 include:
An innovative counterweight design allowing it to lift 1.5 tonnes to heights of 3 metres
Pinpoint positioning thanks to advanced machine vision navigation
Speeds of up to 1.5 metres per second which unlock new levels of efficiency
A five-level protection system designed to work with existing systems and setups
Visit the Wise Robotics website to learn more about the VNP15 and VisionNav partnership, and see the robotics solutions in action at various UK industry events throughout the year including the upcoming IntraLogisteX show in Coventry in March.