12 Nov 2021
Wise Robotics and BS Handling Systems Announce New Partnership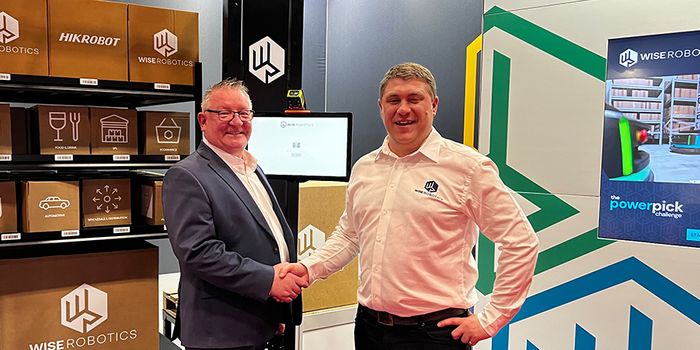 Wise Robotics announces its new strategic partnership with BS Handling, a move to promote the very best in materials handling logistics in the UK
WISE ROBOTICS AND BS HANDLING SYSTEMS ANNOUNCE STRATEGIC ALLIANCE TO DELIVER LARGE SCALE WAREHOUSE AUTOMATION
Supplier of flexible warehouse solutions, Wise Robotics has today announced a new strategic alliance with conveyor, sortation and storage systems provider, BS Handling Systems.
Formerly known as OW Robotics, Wise Robotics will now offer its autonomous warehouse robots, manufactured by Hikrobot, alongside BS Handling Systems' conveyor, sortation and storage systems solutions. Together, the two businesses will create large scale fulfillment automation for warehouse operators across all sectors.
The alliance has been set-up in response to the growing demand from businesses who require flexible, efficient and scalable hardware solutions to meet the growth of online sales and the increasing expectation around same and next day delivery.
Leicestershire-based BS Handling Systems has worked with brands including Ted Baker, ASOS and PrettyLittleThing to drive operational efficiency, increase warehouse capacity and order throughput through its conveyor, sortation and storage systems solutions. In harmony with Wise Robotics solutions, the two businesses will work together to provide end-to-end automated solutions that meet the complex needs of warehouse operations for the long-term.
Joe Daft, head of robotics at Wise Robotics, commented:
"We are pleased to announce our new strategic alliance with BS Handling Systems. It comes as businesses face some really tough challenges, with haulier and labor shortages hindering their ability to fulfil orders. While at the same time the expectation of fast delivery and easy ordering is arguably more important than ever to consumers.
"Recent reports indicate that the UK is facing its worst labour shortage since 1997 and this includes warehouse staff. Businesses are therefore needing to find long-term solutions to order fulfillment that allow them to bypass or reduce the impact of labour and supply chain issues on operations.
"Without a high level of automation and a well configured warehouse, these challenges become even greater. At Wise Robotics, we are speaking to an increasing number of businesses looking to automate key processes in their warehouse, with our A-to-B and F4 automated forklifts already being rolled out.
"The fact that we now have the opportunity to work with BS Handling Systems to offer our solutions alongside its fixed hardware, means we can work in collaboration to deliver automated solutions that meet the requirements of every business we work with."
Commenting on the new strategic alliance, Rob Brand Smith, managing director at BS Handling Systems said:
"We are excited to announce our new strategic alliance with Wise Robotics, especially at a time when businesses across the globe are seeking to drive warehouse efficiency through the introduction of automation solutions.
"With the ecommerce market continuing to grow at a rapid pace, businesses are seeking to increase storage capacity and order throughput – especially in the run up to the festive period. For some this involves the reconfiguration of existing space to create a more balanced warehouse that includes robotics, conveyors, sortation and storage systems.
"Others are investing in completely new sites, seeking our guidance and expertise during the planning phase to ensure the warehouse is set up for the future. I'm confident that our strategic alliance with Wise Robotics will improve the service we deliver to customers and help them navigate the many challenges currently facing the warehousing sector and the wider supply chain."
Wise Robotics supplies automated warehouse robotics solutions to businesses operating in retail, pharmaceuticals, manufacturing, wholesaling and in the building supplies industry.