Dr Jenifer Baxter CEng FIMechE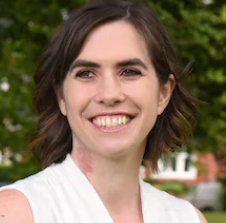 Dr Jen Baxter is an internationally recognised expert in energy system development and infrastructure, with specific expertise in co-generation and hydrogen production and use, industrial capabilities and clusters and the successful diffusion and commercialisation of new and emerging technologies and infrastructure. Jen provides advice and solutions on the likely suitability and risks associated with new developments for hydrogen projects and interconnected infrastructure.
Jen joined Protium Green Solutions in January 2021 as the Director of Innovation and Policy & Head of Protium Wales, a company delivering end to end hydrogen energy as a service. Jen is a Non-Executive Director at Industry Wales and is the former Chief Engineer of the Institution of Mechanical Engineers. Currently working on projects that investigate the future of air travel, shipping, hydrogen production infrastructure and industrial decarbonisation.
Jen has written several reports for IMechE, including recent reports on decarbonising passenger vehicles, shipping, train engines and fuels, hydrogen trains, fashion waste and gas use in the energy sector, with further short reports on Leaving the EU: Euratom Treaty as well as academic papers covering subjects as diverse as engineering out food waste, to perceptions of hydrogen futures and technological innovation systems.
Jen has a PhD from Cardiff University examining hydrogen from waste technologies, an MSc in Sustainability, Planning and Environmental Policy and a BEng in Environmental Engineering also from Cardiff University.
A Fellow of the Institution of Mechanical Engineers, member of IOM3, Jen is a Chartered Engineer and Scientist.