Steve Evans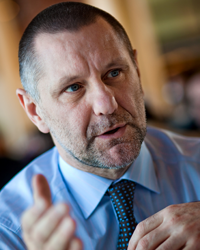 Director of the EPSRC Centre for Innovative Manufacturing in Industrial Sustainability (across Cambridge, Cranfield and Loughborough Universities plus Imperial College London)
Principal investigator on THERM manufacturing waste re-use modeling project.
Lead Author on the SIS sustainable industrial system program.
Principal Investigator on EPSRC sustainable engineering project.
Principal Investigator on leading Product-Service Systems project.
Specialist Adviser to the House of Lords inquiry into waste reduction.
Member of the Board of the Centre for Sustainable Engineering.
Advisor to the Carbon Connect inquiry into environmental technology.
Board Member of RiverSimple: open-source Hydrogen fuel cell powered future transport.
Member of Conservative Party Waste Commission.
Member of Technology Strategy Board Resource Efficiency Steering Group.
Supervisor of 8 current PhDs/EngDs.

"I work collaboratively with leading industrial and academic institutions from around the globe and have supervised over 120 PhD and MSc students at Cranfield.
My research seeks a deep understanding of how industry brings environmental and social sustainability concerns into its design and manufacturing practices.
I work with organizations in order to develop solutions that move us towards a sustainable future.

My recent work includes sustainable factories, food systems for people with reduced access to food, sustainable city re-generation design, sustainable design and operations for mainstream car manufacturers and cars with water for exhaust that do 300mpg (equivalent).
Each sector (and each company in it) is indeed unique, but only in the particular details which hold it back from better performance. The common issues – including lack of innovation, limited collaboration, poor performance management – can benefit from structured responses. I have helped organizations create and implement such structured responses to a variety of problems."