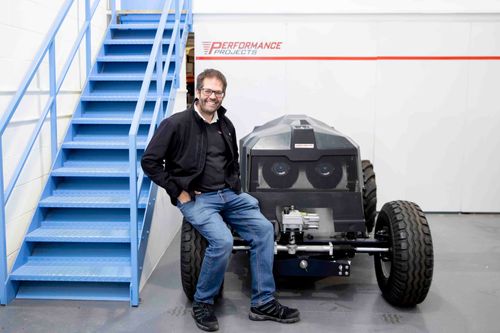 Chris Horton
Managing Director, Performance Projects Lt.
Chris Horton is Managing Director of Performance Projects Ltd and its driveline spinout OxDrive Ltd. He specialises in high performance and specialist vehicles and drivelines.
Chris is a Chartered Mechanical Engineer, with over 20years experience starting in motorsport and progressing, over a 10-year span at Cosworth, through Indycar, World Rally, Le Mans and Formula 1. In 2010 Chris completed an MBA at Cranfield University, and co-founded Performance Projects Ltd. Initially focused on motorsport, Performance Projects used the complete vehicle experience gained in motorsport to undertake niche road car projects for OEMs. In 2016 Performance Projects was commissioned to design a fully autonomous tractor, which has since led to the GoFAR autonomous platform and OxDrive off-highway electric drives.
In his spare time, Chris is a trustee of the Batten Fighters Forever charity (supporting families and children with the debilitating Battens disease), enjoys running in Parkruns and half marathons, and drives a Formula Ford that once raced wheel to wheel with Michael Schumacher.